MLB.com Columnist
Jonathan Mayo
Phillies Arizona Fall League overview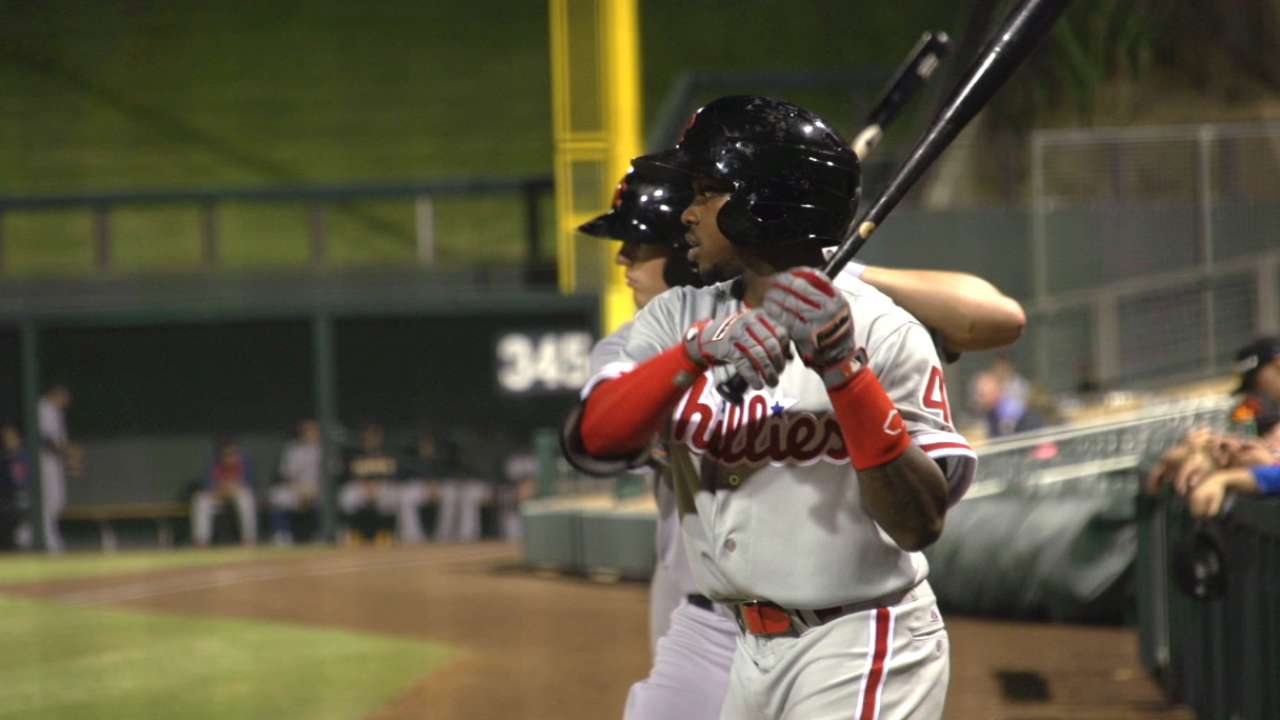 For Phillies prospect Roman Quinn, playing the outfield is like riding a bike -- even if he's spent the bulk of his professional career in the middle infield.
"It's easy making the transition to the outfield from short, because I played the outfield most of my life," Quinn said. "I feel great out there. It took me a week to get used to it. As soon as I started taking balls off the bat in BP, it helped me a lot. That's exactly what it was like -- riding a bike."
The Phillies might have liked to have gotten Quinn, No. 5 on their Top 20 Prospects list, on that bike sooner, but he couldn't start pedaling until mid-May because of a ruptured Achilles tendon suffered in the offseason. That injury came on the heels of a broken wrist that ended his 2013 campaign in late June. The '11 second-round pick is trying to make up for lost development time in the Arizona Fall League.
"It's just a blessing to be healthy again after the Achilles injury," said Quinn, who hit .257/.343/.370 with 32 steals in 88 Florida State League games this season. "I'm looking forward to getting more at-bats to get better and getting better in center field."
The switch-hitting Quinn has the chance to be a top-of-the-order catalyst if it all comes together for him. Still only 21, his injury track record hasn't forced him behind the curve just yet. Staying healthy, so he can continue to hone his approach at the plate -- especially on the left-hand side -- will be key. So, too, will his development with reads and routes in the outfield. His time with the Scottsdale Scorpions will be beneficial in terms of a head start for what could be a big 2015 season.
Quinn knows he wouldn't be at this point on his own. He had to lean on many to work his way back from his latest injury.
"I was very frustrated," Quinn said. "It was beating me up mentally. I had a good group of people helping me keep myself up, telling me to keep pushing forward. The trainers were absolutely amazing. I thank them for everything they knew and everything they helped me with."
Phillies hitters in the AFL
• It's unclear whether Logan Moore will develop into a possible replacement for Carlos Ruiz as an everyday catcher. However, this much is certain: Moore certainly can defend. He has an accurate arm, moves very well behind the plate and calls a good game. If his bat can catch up to his glove, he has the chance to be a regular. If not, he'll be a left-handed-hitting, defensive-minded backup, and those types of catchers often play a long time in the big leagues.
Phillies pitchers in the AFL
• Lefty Adam Morgan's innings in Arizona are his first in 2014. Once one of the more promising pitching prospects in the system, Morgan missed the regular season following shoulder surgery last winter. He threw during instructional league and is continuing to work back into shape in the AFL. With three pitches that have the chance to be above-average offerings, Morgan's work in Arizona could help in his efforts to impact the big league rotation next year.
• Some pitchers come to the AFL to try and prove they can start. Colton Murray is a no-doubt-about-it reliever. A bit max-effort with his delivery, he'll touch the mid 90s with his fastball at times, and he goes right after hitters. His breaking stuff needs to improve, something he's undoubtedly working on in Arizona.
• While some of the Phillies' arms in Arizona are of the power variety, Ryan O'Sullivan is all about pitchability. He'll mix his pitches -- a fastball that's a tick above-average at times, as well as a slider and changeup that are not as developed -- move them in and out, up and down, to try to keep hitters off-balance. Rule 5-eligible in December, O'Sullivan is competing for a spot on the 40-man roster -- or auditioning for 29 other teams, this fall.
• Perhaps the only thing Nefi Ogando needs to do in order to be ready to impact a big league bullpen is refine his command. The right-hander touches the upper 90s easily with his fastball. He combines it with a short, hard slider -- more than enough for a short-relief role. The 25-year-old needs to show he can locate his power combination more consistently to give him a chance.
• Ethan Stewart has two things going for him: his left-handedness and his breaking ball. His slurvy curve can be deadly against left-handed hitters. That, plus a low 90s fastball, might be enough for a career as lefty specialist. Stewart will need to show improvement with his changeup and his command to prove he can be a multipurpose reliever in the future.
Jonathan Mayo is a reporter for MLBPipeline.com and writes a blog, B3. Follow @JonathanMayoB3 on Twitter. This story was not subject to the approval of Major League Baseball or its clubs.