Braves Arizona Fall League overview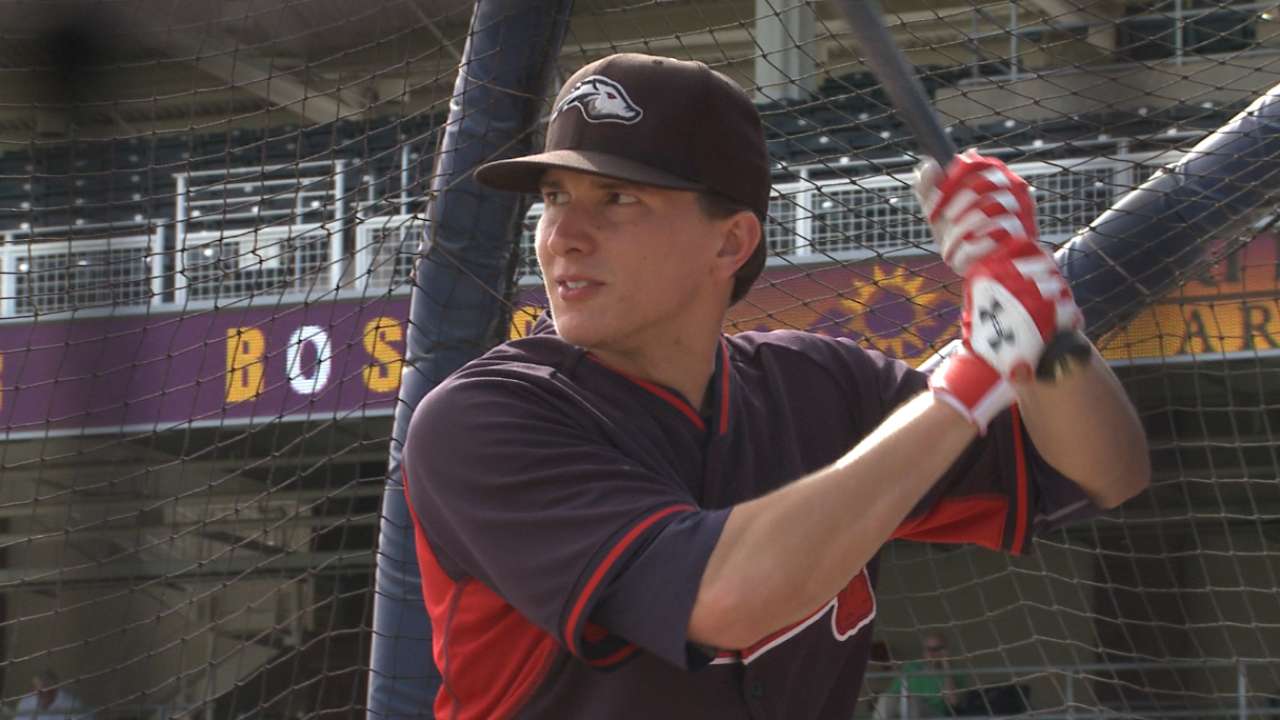 After an All-Star first half with advanced Class A Lynchburg, outfielder Kyle Wren was promoted to Double-A Mississippi in June, reaching the level a little more than a year after the Braves drafted him in the eighth round out of Georgia Tech.
In the Southern League, Wren found much more difficult competition, especially from the relievers.
"You've got starters that are definitely throwing a little bit harder, more movement on their fastballs, better command," Wren said. "But it seemed like every game in Double-A, the sixth or seventh inning came around and a lefty specialist was coming out to get me out. I really learned how to hit left-handed pitchers this year."
Wren, the Braves' No. 17 prospect, is continuing his education in the Arizona Fall League. Much as he did in the Southern League, Wren is facing elite pitchers -- from the starters all the way through the bullpens.
Unlike in Mississippi, Wren is not playing every day for Peoria. He is on the Javelinas' taxi squad, meaning he only plays on Wednesdays and Saturdays. He said while such a schedule can be difficult to adjust to after playing nearly every day during the regular season, it gives him the opportunity to improve in other ways.
"I enjoy watching baseball from the bench as well," Wren said. "You can learn a lot of things from watching the game, just as you can through playing. I'm going to try to do that as best as I can."
Wren has had plenty of opportunities to watch baseball thanks to his father, Frank Wren. The elder Wren has been a baseball executive throughout his son's life and spent the past seven years as the Braves' general manager before he was relieved of his duties in September.
Kyle Wren said he talks to his father every night about the game. He wants to tap into his father's considerable experiences in baseball.
"I try to utilize it as much as I can," Kyle said. "Just talking to him and learning, because he's been in the game for 30 years now. He's got so much knowledge, and I just try to extract as much as I can from him."
So far, Wren has been able to put that knowledge to work on the field. He understands that his role as a table-setter is to get on base and create opportunities for his teammates to score runs. In 132 games between Lynchburg and Mississippi this season, Wren hit .290/.350/.365 with 46 stolen bases and 74 runs.
Now, Wren is attempting to make the most of the opportunity to play in the AFL and build on his success during the regular season.
"It's awesome to be out here," Wren said. "I'm just trying to come to the field and work hard every day."
Braves hitters in the AFL
• Playing next to Braves' top prospect Jose Peraza at both Lynchburg and Mississippi this year, shortstop Daniel Castro had a breakout season. He hit .286/.312/.398 in 121 games between the two levels and impressed scouts with his defense. Castro doesn't have great range, but he makes up for it with a steady glove and strong arm. Castro is playing second base this fall and profiles best at that position.
• Signed as a shortstop in 2010, Edward Salcedo soon moved to third base and then right field, where he is playing this fall. His athleticism is a good fit for the outfield, but no matter where he ends up defensively, Salcedo will have to prove himself at the plate. He's advanced to Triple-A Gwinnett despite hitting .235/.303/.381 in five professional seasons. Salcedo has big raw power, but he needs to improve his approach at the plate to tap into it and take advantage of the rest of his tools.
Braves pitchers in the AFL
• The Braves signed right-hander Brandon Cunniff out of the independent Frontier League in 2013 and assigned the 24-year old to Lynchburg. He has pitched well out of the bullpen since joining the Braves organization, and he spent most of this season with Mississippi. The former Marlins pick throws a low-90s fastball, a short, biting slider and a changeup. With three potentially average offerings, he could become another example of the Braves' ability to find big league talent off the beaten path.
• Since being drafted in the 37th round in 2011, right-hander Ryne Harper has worked exclusively as a reliever and has advanced to Mississippi, where he has spent the past two seasons. He relies on his low-90s fastball and a slow curveball to get hitters out. He has a deceptive three-quarters delivery, making him especially tough on right-handed batters. He is capable of working multiple innings and profiles best as a middle reliever.
• As an undersized right-hander in the Braves system who has experience closing, Nate Hyatt sometimes gets compared to Craig Kimbrel. Hyatt also relies on a fastball-slider combination, but obviously few can match Kimbrel's dynamic stuff. Hyatt has missed plenty of bats in the Minor Leagues, averaging 10.95 strikeouts per nine innings in three seasons. He'll need to tighten his command to continue to work in high-leverage innings as he advances toward Atlanta.
• Right-hander Aaron Northcraft is back in the AFL after struggling last fall, when he posted an 8.00 ERA and a 2.11 WHIP in seven starts. Since then, however, Northcraft has earned a spot in the Southern League All-Star Game and was promoted to Gwinnett in the second half of the season. Northcraft isn't afraid to attack hitters with his sinker-slider combination, and he creates lots of groundball outs. He's starting for Peoria, though some scouts feel he profiles best as a reliever.
Teddy Cahill is a reporter for MLB.com. Follow him on Twitter at @tedcahill. This story was not subject to the approval of Major League Baseball or its clubs.