Astros' Arizona Fall League overview
Appel headlines class of eight Houston prospects playing for Salt River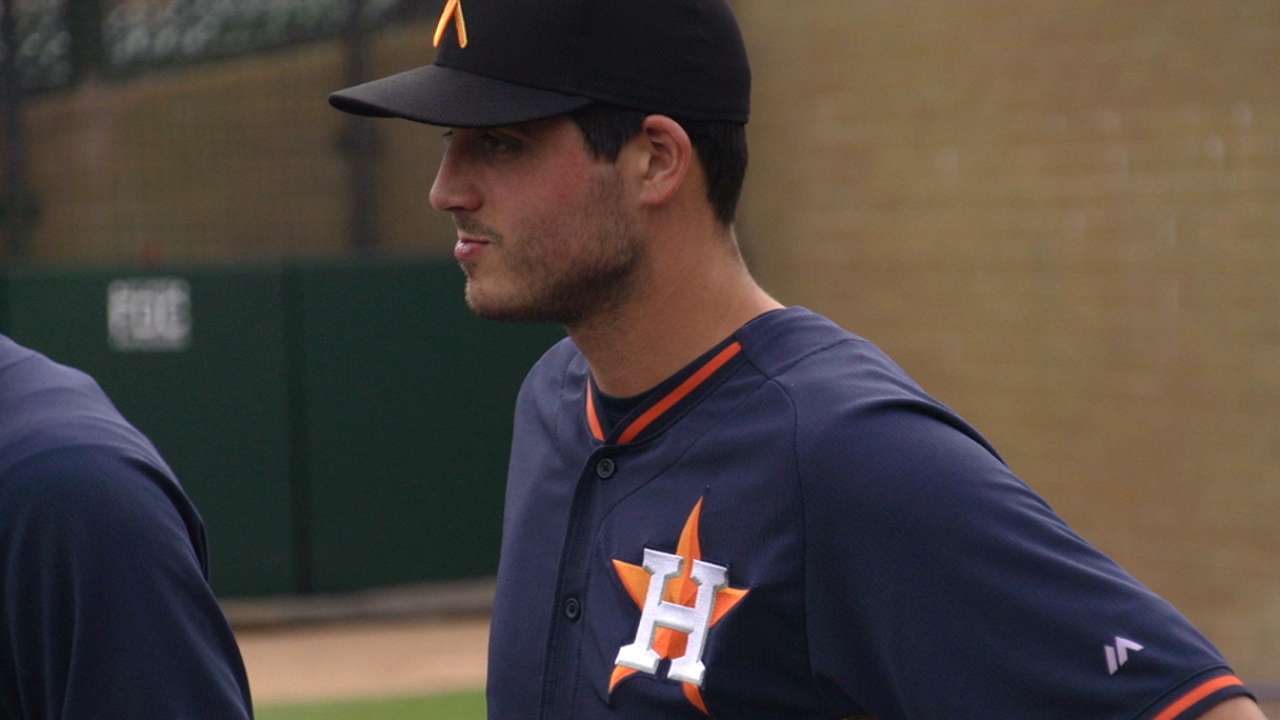 Mark Appel's first full professional season was a story of two halves. The right-hander started the year with Class A Advanced Lancaster, where he struggled, and ended it with Double-A Corpus Christi, where he thrived.
Appel, the first overall pick in the 2013 First-Year Player Draft, is hoping to continue his resurgence in the Arizona Fall League, where he is one of eight Astros playing for Salt River. He will get the chance to build more momentum going into the offseason by facing the elite competition the league provides. He's off to a good start, having begun the fall with 12 straight scoreless innings.
"I think the thing that everyone notices about the Arizona Fall League is just the talent that's here, both on our team and the teams that we're playing," Appel said. "It's a great opportunity for a guy like myself, who maybe didn't have the best season that they were hoping to have, to go out there and just compete and end on a good note."
After missing much of Spring Training as he recovered from an appendectomy, Appel, the Astros' No. 2 prospect, got off to a rocky start at Lancaster. In his first 11 starts for the JetHawks, he posted a 10.80 ERA and opponents hit .392 against him. His struggles were so acute that he spent most of May in extended spring training in an effort to improve his stamina.
Eventually, Appel turned his season around. In his final eight appearances, he posted a 3.60 ERA and opponents hit .234 against him. He advanced to Double-A Corpus Christi, where he delivered his best start as a professional -- a game in which he struck out 10 batters over eight scoreless innings.
Appel, ranked No. 41 on MLBPipeline.com's Top 100 Prospects list, said one factor in his turnaround was that he did a better job focusing on what he could control, while shutting out outside pressures.
"I wasn't trying to perform to anyone's expectations, I wasn't trying to perform to whatever the coaches thought, whatever my organization thought of me," Appel said. "I was just performing for me, for my teammates, for my coaches, for the fans in Corpus Christi and for God. I think when that's my focus, my competitive edge is even greater. I just have a better feel for my pitches."
Appel said his goal is to help the Astros win the World Series in the near future. Now that he has emerged from his struggles, he hopes he can move forward and work toward reaching the Major Leagues.
This season's disappointments at Lancaster will remain a part of Appel's history and his makeup. He said he learned from the experience.
"I think the thing I'm going to take away from Lancaster is knowing when tough times do fall, that I'll be able to bounce back, recover and be fine," Appel said. "Obviously, it took a lot longer than I was hoping to, and I think a lot of people were hoping to, or expecting to, but the fact of the matter is that that's in the past, and it's done."
Astros hitters in the AFL
• Catcher Tyler Heineman has experience working with elite pitchers dating back to his college days at UCLA, when he caught the likes of Gerrit Cole and Trevor Bauer. He was matched up with some of the Astros' top pitchers this season at Corpus Christi and has a good reputation for his defensive skills and ability handling a pitching staff. A switch-hitter, Heineman effectively uses the whole field but has minimal power.
• After selecting shortstop Carlos Correa with the first pick of the 2012 Draft, the Astros grabbed Rio Ruiz, another talented high school infielder, in the fourth round. The pair have teamed up on the left side of the infield in each of the last two years -- first at Class A Quad Cities and then at Lancaster. Ruiz, 20, shows impressive all-around skills at the plate, combining solid raw power with a disciplined approach. His defense is improving, and he profiles as an everyday third baseman in the big leagues.
• Joe Sclafani has moved quickly through the Minor Leagues since the Astros drafted him out of Dartmouth in the 14th round in 2012. He doesn't hit for much power, but he makes a lot of contact and is a tough out. Sclafani, who reached Triple-A this season, was a shortstop in college, but he has embraced a utility role as a professional and has played five positions as a professional.
• Andrew Aplin isn't the toolsiest player, but he has found a way to be productive at every level. He has a good feel for hitting, which helps him make a lot of contact despite his unorthodox swing. Aplin has some pop, but profiles best as a top-of-the-order hitter thanks to his on-base skills. He's a solid defender, capable of playing either center field or right field.
Astros pitchers in the AFL
• A 19th-round pick out of Arizona State in 2011, left-hander Mitch Lambson has proved to be capable of handling multiple innings out of the bullpen in the Minor Leagues. He doesn't pitch with much velocity -- his fastball tops out in the mid-80s -- and he doesn't have a plus secondary pitch, but he has solid control and finds a way to get results. Between Lancaster and Corpus Christi this season, Lambson posted a 2.14 ERA and struck out 63 batters, while walking nine in 54 2/3 innings.
• After spending the last two years in Lancaster's starting rotation, right-hander Tyson Perez moved to the bullpen this season, a change that helped him earn a promotion to Corpus Christi. His fastball-slider combination isn't overpowering and he doesn't miss many bats, but he found ways to get batters out in the Texas League and worked in high-leverage situations for the Hooks.
• Right-hander Vincent Velasquez began the season as Appel's teammate in Lancaster and went 4-1 with a 2.89 ERA in his first eight outings. A groin injury sidelined him for two months, but he picked up where he left off when he returned to the mound in July. Velasquez's fastball sits in the low 90s, and he has more velocity when he needs it. His changeup gives him a second plus offering, and he mixes in a solid curveball.
Teddy Cahill is a reporter for MLB.com. Follow him on Twitter at @tedcahill. This story was not subject to the approval of Major League Baseball or its clubs.