MLB.com Columnist
Richard Justice
SF's fast first frame KOs KC, quiets The K
Three-run inning gives Giants momentum, puts offense built on running game in big hole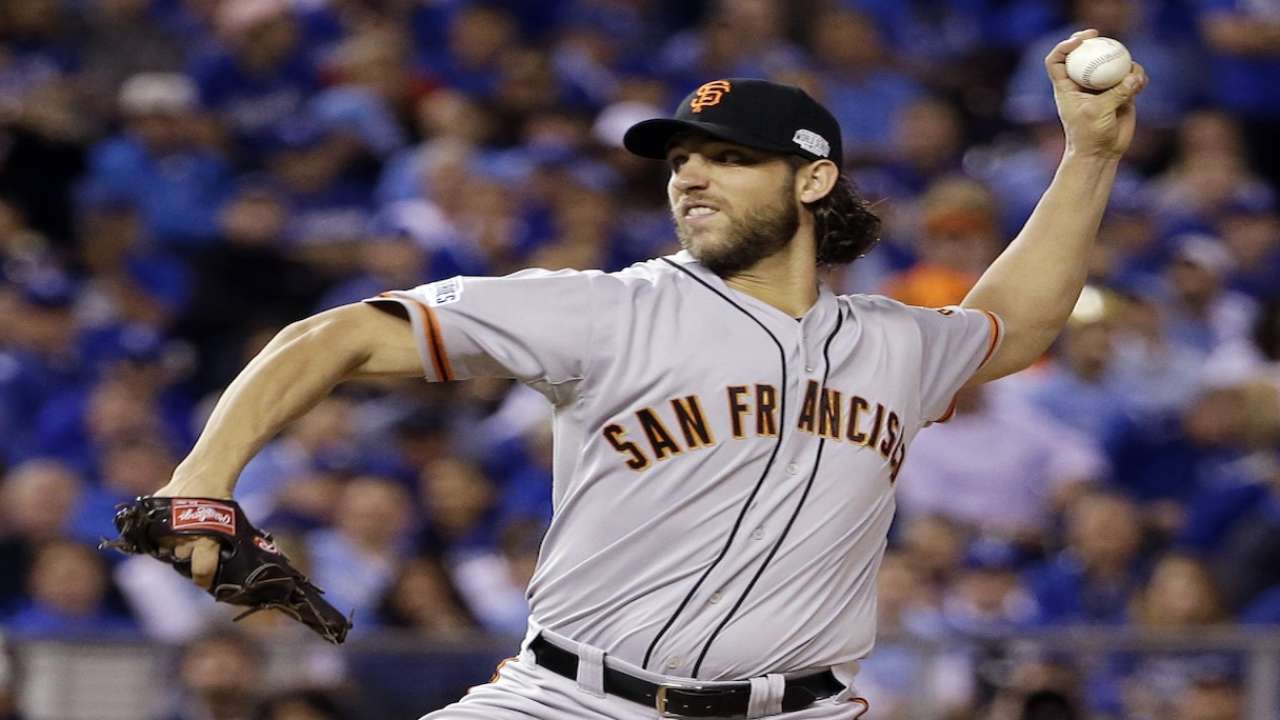 KANSAS CITY -- If there's a formula for beating the Royals, the Giants found it. Actually, it's the formula baseball teams have been using for more than a century.
First things first.
The Giants put up three runs in the first inning and cruised to a 7-1 victory over the Royals in Game 1 of the 2014 World Series on Tuesday night at Kauffman Stadium.
"There's nothing we can do to change it," Kansas City third baseman
Mike Moustakas
said. "We're already looking forward to tomorrow."
This World Series seems likely to be a lengthy one with two evenly matched teams. Both teams will have their resilience tested along the way, and with the Giants winning Game 1, the first real pressure of the series will be on the Royals in Game 2 on Wednesday (7:30 p.m. ET air time on FOX, 8:07 first pitch).
There'd been something almost mystical about these Royals as they ripped through this postseason on an 8-0 tear. As impressive as that sounds, it doesn't actually tell you how dominant they'd been. For one thing, they'd trailed after just two of their last 72 innings. In other words, they controlled games almost start to finish.
And then in Game 1, the Giants did something teams simply haven't been doing against the Royals. Right at the start, San Francisco delivered a punch. And then another. And another. When Hunter Pence slapped a two-run home run over the center-field wall against Kansas City starter James Shields for a 3-0 lead in the bottom of the first inning, a packed Kauffman Stadium went eerily silent.
Suddenly, the energy the Royals have fed off the last few weeks at home wasn't there.
"It got pretty quiet," San Francisco first baseman Brandon Belt said. "You just don't want them to get any momentum the way they're playing. It was nice to shut 'em down right now."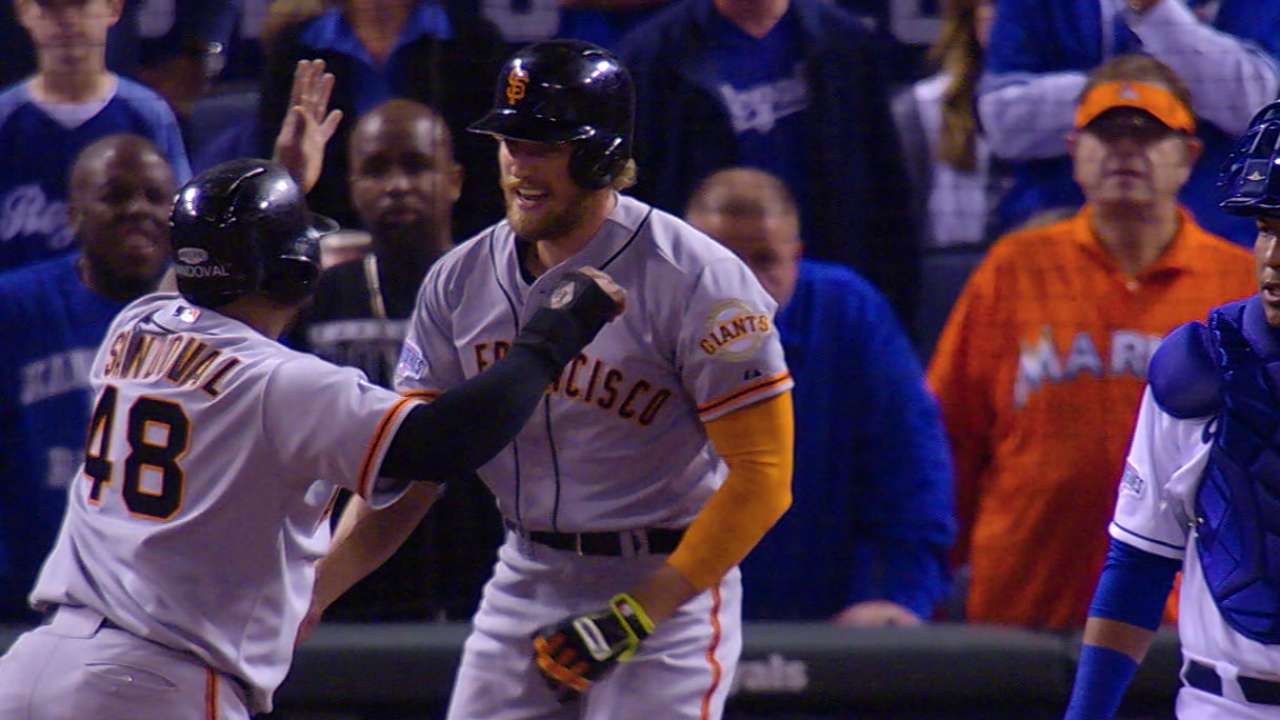 There was just one point when the Royals seemed close to getting back into it. That was in the bottom of the third inning when they had runners on second and third and none out.
Giants starter Madison Bumgarner stopped that opportunity cold and added a few more lines to his dazzling postseason record -- 6-3 with a 2.54 ERA in 12 playoffs appearances, including 3-0 with a 0.41 ERA in three World Series starts.
First, Bumgarner struck out Royals shortstop Alcides Escobar on a wicked 92-mph fastball. And then he rung up outfielder Nori Aoki on three pitches, the last a 75-mph curveball.
To throw 93 mph one pitch and 75 another is a reminder that Bumgarner has made himself one of the gold standards for postseason pitchers.
Bumgarner walked center fielder Lorenzo Cain to load the bases, but he got first baseman Eric Hosmer on a roller to second base to end the third inning.
That was pretty much that. Bumgarner breezed through the next four innings before San Francisco manager Bruce Bochy turned things over to his bullpen for the final six outs.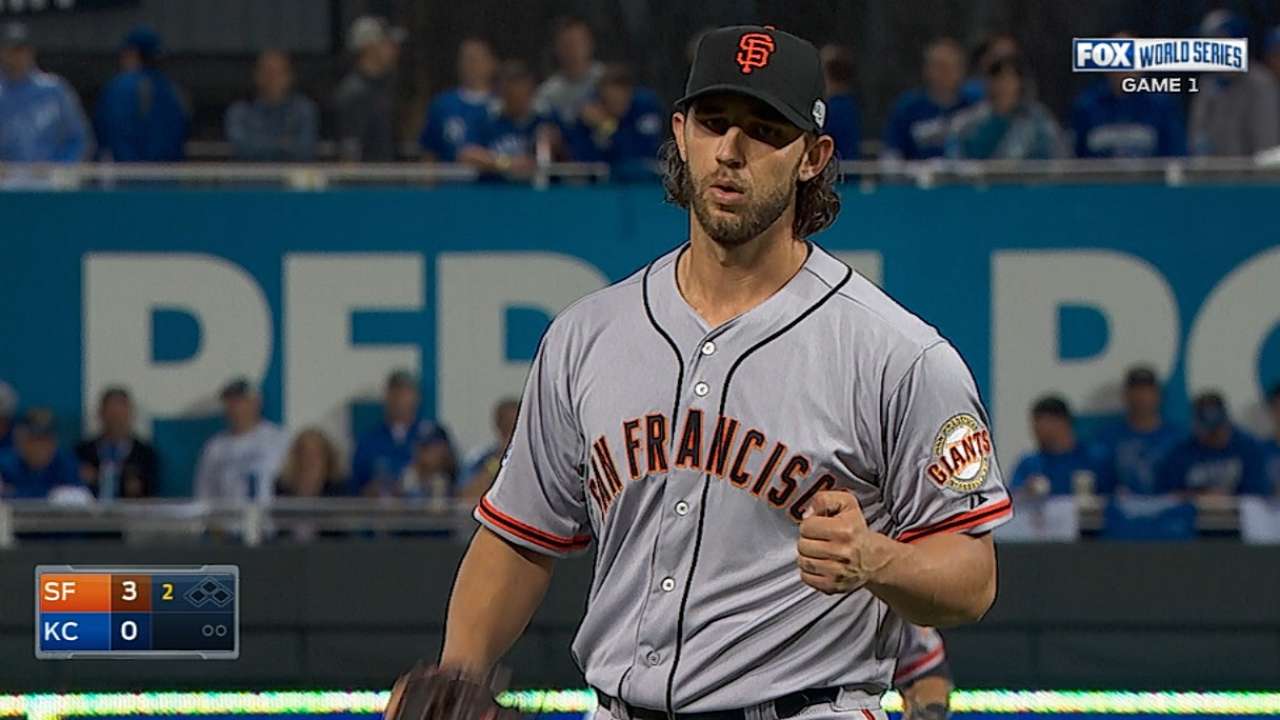 • Video: Bumgarner's great start
"Bumgarner, he was dynamite," Royals manager Ned Yost said. "I mean, man, was he good tonight."
When Hosmer was asked what a couple of runs would have meant in the third inning, he said, "It changes everything. For sure, that brings momentum to our side. It gives us energy. If we get two right there, it's a one-run ballgame. There's plenty of time after that. That's our mentality. It was a big opportunity."
The Royals scored two more runs off a shaky Shields in the fourth inning, and Bumgarner took it from there.
In striking quickly, the Giants put the Royals in a significant hole. Kansas City's strengths are a great defense and an offense built around a running game. And, yes, that shutdown bullpen.
So with Bumgarner his usual dominant self, allowing just four baserunners, and the Royals trailing by five in the third inning, the Giants turned it into their game.
"Well, we never got on base," Yost said. "That disrupts a lot of things when you don't get on base. The old adage is you can't steal first, and Bumgarner did a great job of keeping us off base. When you do that, we can't utilize our speed."
Kansas City refused to use the five-day layoff as a reason for the loss.
"Nothing to do with it," Yost said.
While it was a simple by-the-book way to beat the Royals -- or any other team -- it was something no other team has done lately.
"It's nothing we haven't been through before," Hosmer said. "You leave the locker room ready to go the next day."
Richard Justice is a columnist for MLB.com. Read his blog, Justice4U. This story was not subject to the approval of Major League Baseball or its clubs.