MLB.com Columnist
Phil Rogers
Ace-in-waiting Ventura may be Royals' wild card
Hard-throwing rookie has stuff to get KC back on track in Game 2 against Giants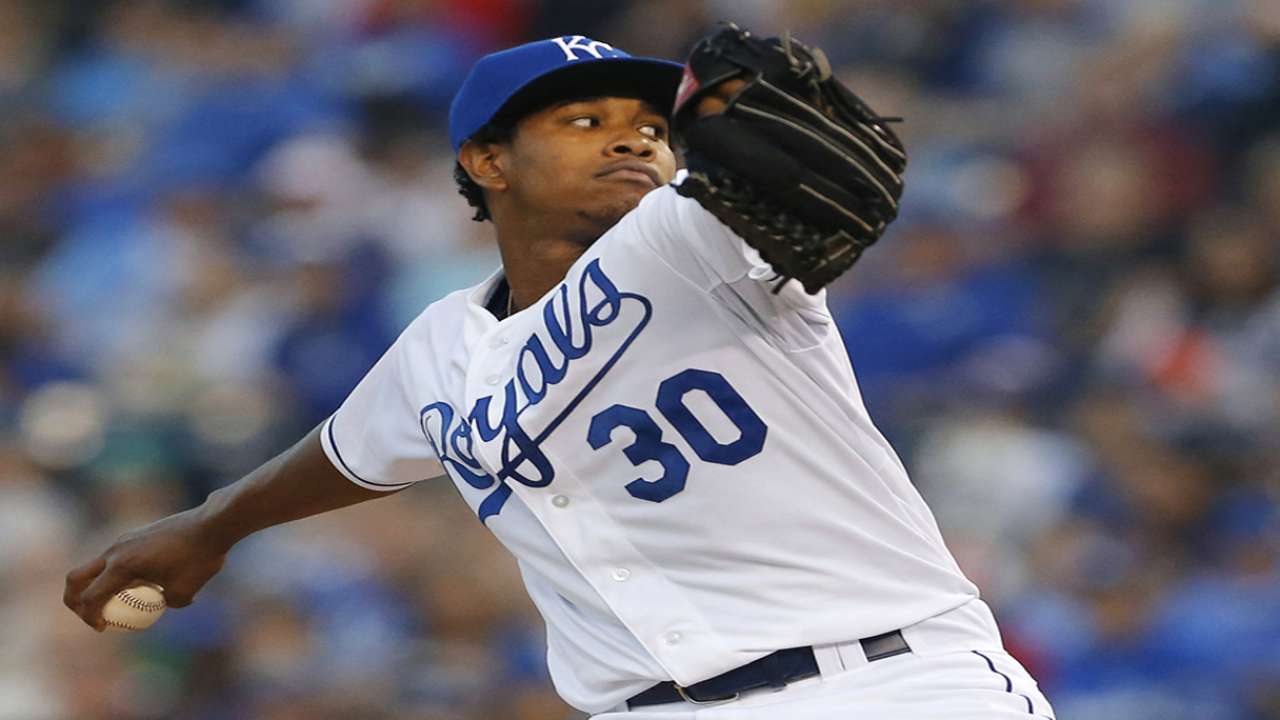 KANSAS CITY -- No matter how hard you look, how much you squint, you can never really see the proverbial torch actually being passed.
But the saving grace for the Royals after their ugly 7-1 loss in Game 1 of the World Series on Tuesday night at Kauffman Stadium is that they may get to experience one of those yesterday-tomorrow transitions in tonight's Game 2 (6:30 p.m. CT airtime on FOX, 7:07 first pitch). Yordano Ventura, the 23-year-old kid from the Dominican beach town, the guy with the triple-digit fastball and the crooked, backward baseball cap -- in the interview room, if not on the mound -- is perfectly positioned to do what No. 1 starter James Shields could not.
Shields, 32 and headed toward free agency, didn't have the bullets to match up with the Giants' Madison Bumgarner in Game 1, which was possibly his last start at Kauffman Stadium for the Royals. Shields has been a workhorse throughout his career, which is no small thing. But he was never a dominator, and the kid who follows him in the rotation has the kind of stuff to win a Cy Young Award, if his rookie season was any indication.
"He's not scared," Shields said after the loss. "He's got a lot of guts, a lot of heart. He's going to go out there with his stuff. This guy has [some] of the best stuff I've seen out of a starting pitcher. Hopefully, he can go out there and do his job, shut these guys down, and go to San Francisco 1-1."
Ventura is the perfect guy to face Jake Peavy and the Giants' increasingly confident lineup, which has produced five-plus runs in its last four games. Ventura might be the only guy they have at this point who would match up with Bumgarner -- the one true ace in an offseason where nine other No. 1s have combined to go 2-7 with a 6.67 ERA in 16 starts -- but there was no way that Royals manager Ned Yost wasn't going to make Shields his Game 1 guy, just like there is no way he'll hesitate to start him against Bumgarner again.
It's silly to think otherwise.
With that said, remember the academic discussion about whether the Cardinals would have been better off to move Adam Wainwright into the No. 2 spot in the rotation rather than send him out as a sacrificial lamb against Clayton Kershaw in the National League Division Series?
The theory was that it would be a waste to use Wainwright against the unbeatable Kershaw because you were going to lose anyway. It flies in the face of competitiveness, sure, but it is an arguable strategy. And without forcing it, Yost might have lined up his starters in exactly the right way, as these days it is asking an awful lot for anyone to beat the Giants when Bumgarner is on the mound. They've won 10 of his last 12 starts, including four of five in the postseason.
"Bumgarner's been doing that all season long," Shields said. "He's a tough guy to face. To be down, 3-0, [in the first inning] against a guy like that isn't how we planned it."
But the Royals know Ventura can be an equalizer. He was 14-10 with a 3.20 ERA in the regular season, showing much more command, polish and confidence than anyone expected from someone with such an eye-popping fastball.
"His talent was evident from the very first start that he made with us," said the Royals' Jeremy Guthrie, who is on line to start Game 3. "I think maybe the most impressive thing to those who were watching, teammates or opposing teams, was the level of command he had with above-average pitches. When you watch him, you realize it's not just 100 miles an hour that gets people out, but he has a very, very sharp curveball and one that anybody would hope to have in their repertoire. He pitches like he belongs and he believes that he belongs."
Like everyone on Kansas City's staff, Ventura is better because he's been around Shields, a pro's pro who has rubbed off on his younger teammates in two years as a Royal. But he's expected to price himself out of Kansas City after this season, and he isn't writing the ideal closing chapter.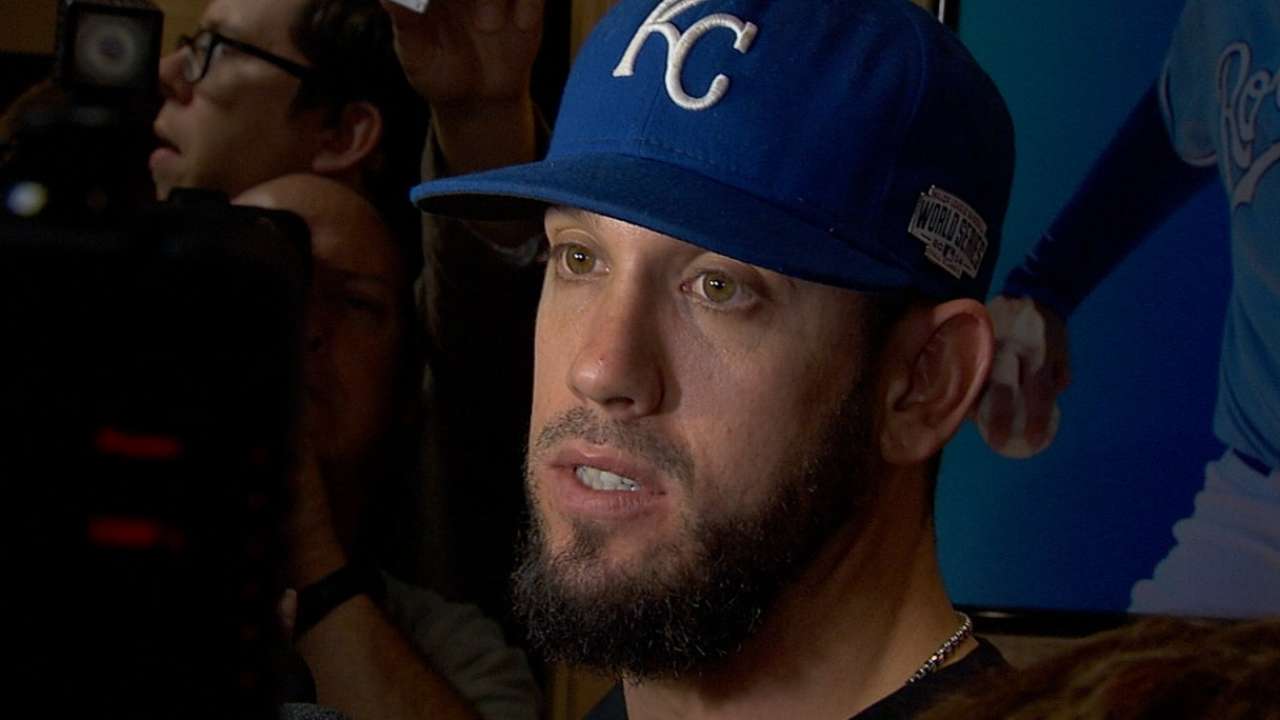 • Video: Shields discusses Game 1 loss
Shields is 1-1 with a 7.11 ERA in four postseason starts, lasting only a combined 19 innings. While the Kauffman Stadium crowd of 40,459 tried to will him to success, he didn't miss many bats on a splendid Tuesday night. Shields allowed five runs in three-plus innings on seven hits, including Hunter Pence's two-run homer to center field in the first.
Shields wasn't especially insightful in his postgame interviews, attempting to write it off as "just kind of one of those games." He picked his words carefully and only occasionally allowed his irritation to flash. One thing Shields definitely didn't do was make a concession speech.
"We're real resilient," Shields said. "We have a lot of character in this clubhouse, a lot of drive. The willingness to win in this clubhouse is at an all-time high. We just have to keep going. That's why it's a seven-game series."
When Peavy takes the mound on Wednesday night, the Royals also need to rediscover their thump. They scored 36 runs in their first 57 innings in the postseason, with the American League Wild Card Game comeback against Jon Lester driving them, but they have scored just seven runs in their last 32 innings, the downturn coming after pounding Baltimore's Bud Norris in Game 2 of the AL Championship Series.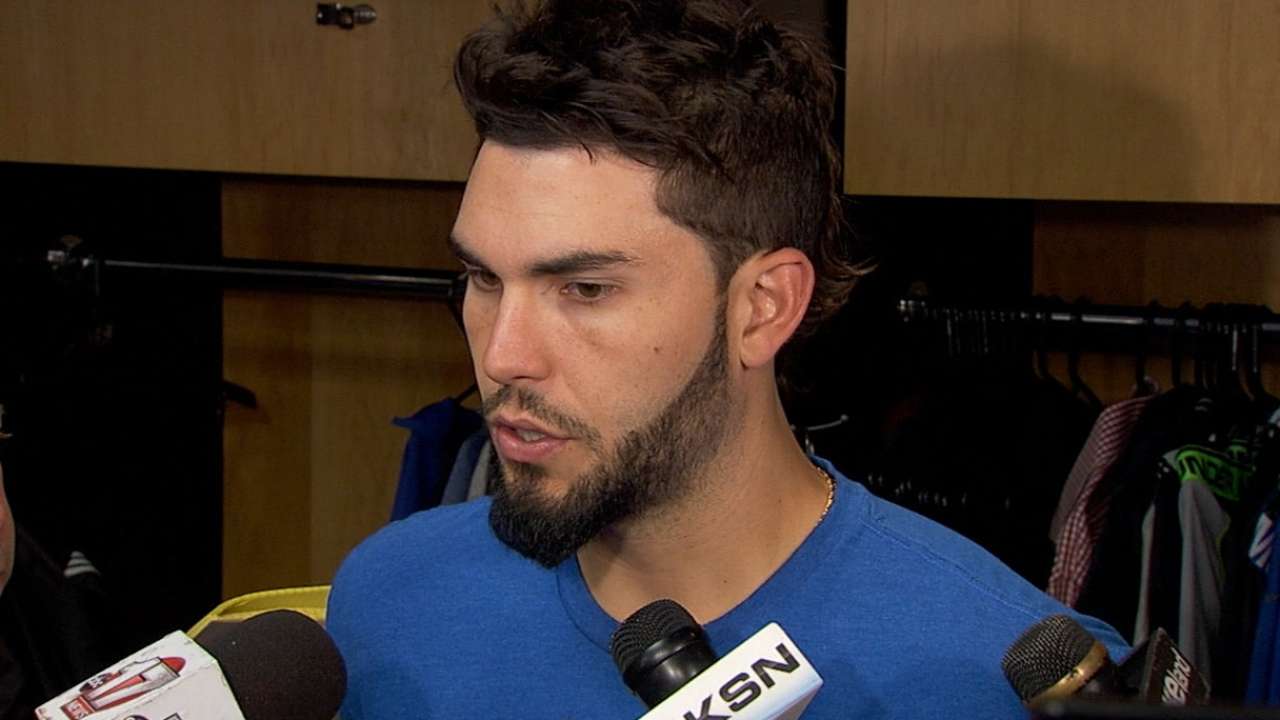 • Video: Royals look to bounce back in Game 2
"We have to get Ace [Ventura] some run support tomorrow," Eric Hosmer said. "We have to come out swinging the bats."
It's worth noting that Ventura left Game 2 against the Orioles after reporting that something was wrong with him physically. The situation was described as "right shoulder tightness" but MRIs showed no damage, and there has been little surface concern about his health.
"His side sessions have been absolutely dynamite," Yost said. "He's a kid with tremendous composure. He's a tremendous competitor, even for as young as he is. I can't recall too many pitchers in my career that have his type of composure, his type of confidence, and his type of stuff at that young an age. We're really confident that he's going to come out and pitch a great game tomorrow."
Ventura is an ace in waiting, and it doesn't look like he's going to have to wait long.
Phil Rogers is a columnist for MLB.com. This story was not subject to the approval of Major League Baseball or its clubs.