Bochy's call for pinch-hit bunt proves to be shrewd move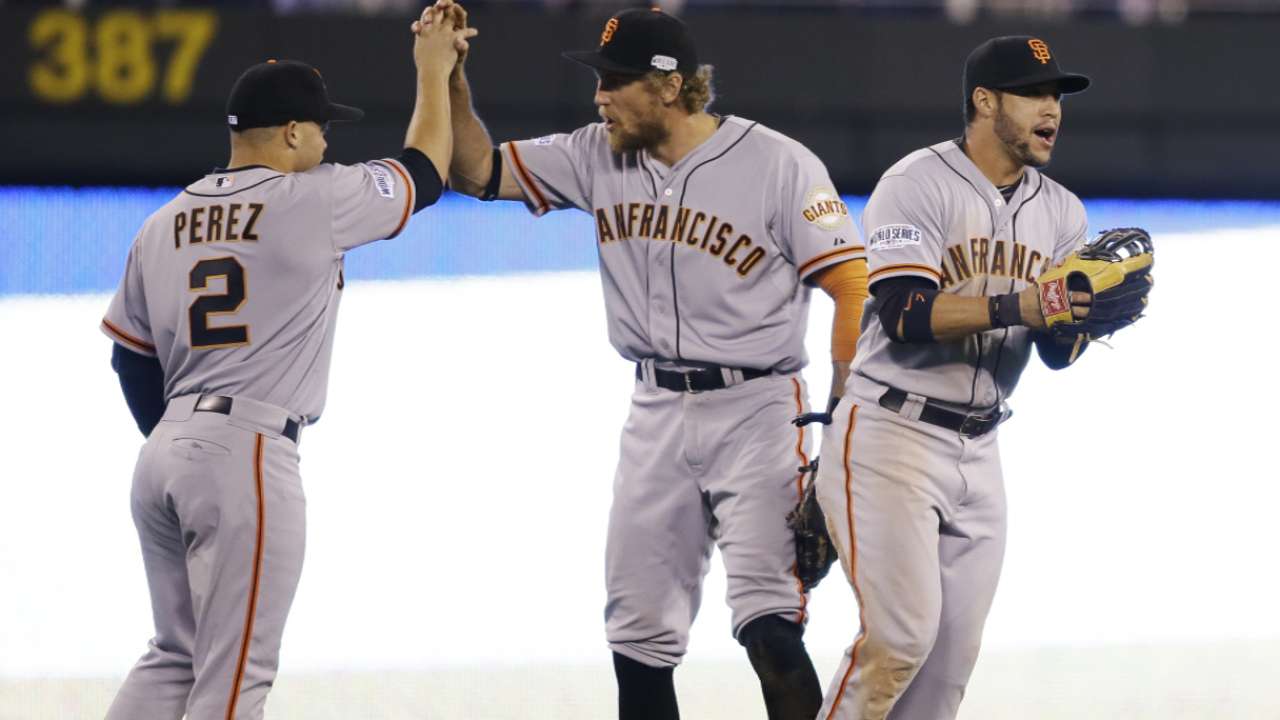 KANSAS CITY -- It is not a move that Bruce Bochy would probably make in April, or even September for that matter, but the Giants manager knows that October baseball is a different animal.
So when Bochy had a chance in the fourth inning of Game 1 of the World Series to tack on some runs in the Giants' 7-1 win and go for the Royals' jugular, he did.
At the time, the Giants were leading 4-0 and had runners on first and second with no outs. Royals manager Ned Yost removed right-handed starter James Shields in favor of southpaw Danny Duffy to face the left-handed-hitting Travis Ishikawa, the hero of the National League Championship Series. Bochy countered by sending up the right-handed-hitting Juan Perez, who was not only a better candidate to lay down a sacrifice bunt, but also a major defensive upgrade.
Perez laid down a beauty, moving the runners up. And two walks later, the Giants had another run and a commanding 5-0 lead.
Ishikawa, who was 0-for-1 in the game, had helped bring the Giants to this moment with his game-winning homer in the decisive Game 5 of the NLCS against the Cardinals, and he took the move in stride.
"I feel like Boch knows exactly what he's doing," Ishikawa said. "He's been in this situation before and I completely trust everything he does. I know that everything he does is for a reason, and again it worked out tonight, so there's no egos involved. We got the win in Game 1 of the World Series, a huge win on the road. So if I play four innings tomorrow and we get the win, you're going to see the exact same expression on my face and the joy of being just that much closer to a title."
Though a little unorthodox at first glance, the move made all kinds of sense strategically when you dig a little deeper.
"Now I know it's early in the game, but with the left‑hander out there, I just decided to hit for Ishi," Bochy said. "[Perez] is a good bunter, so you try to put a little bit more pressure on them. He laid down a perfect bunt. The next two guys have handled lefties fairly well all year."
Perez is a better defender than Ishikawa, so having him stay in the game in left also boosted San Francisco's defense.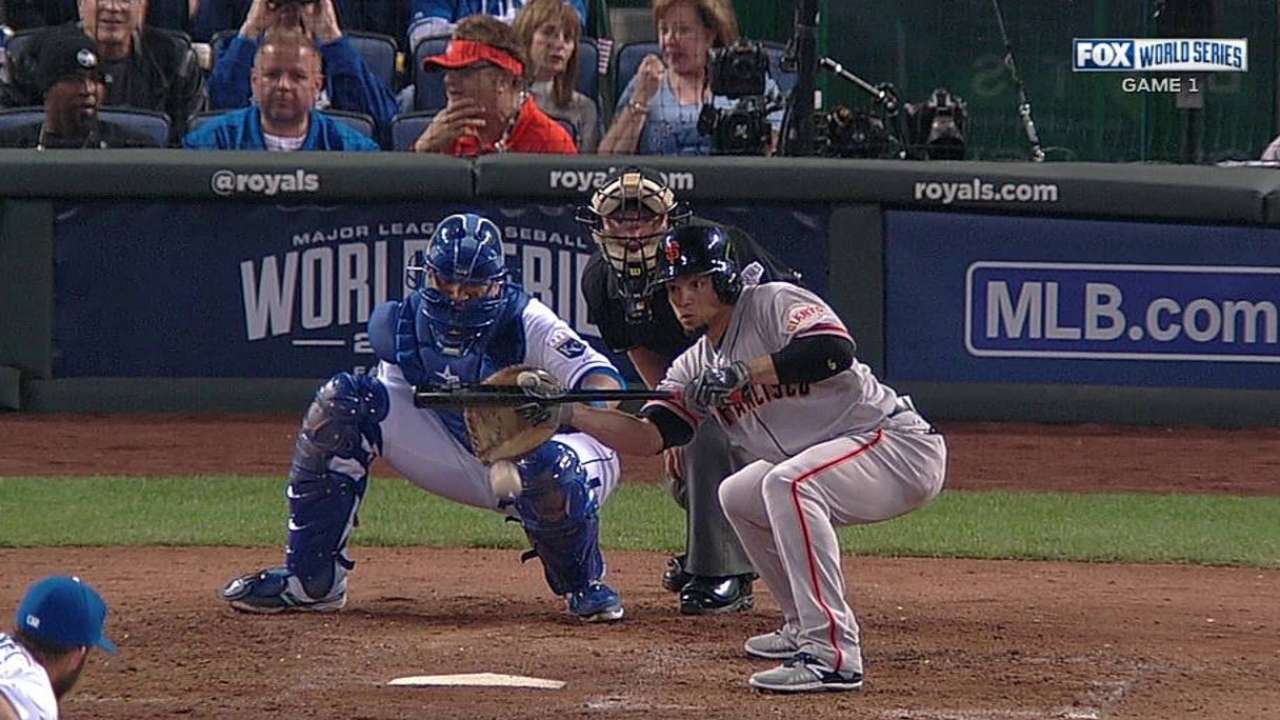 Video: Perez's bunt moves up runners
And even if it was a little early to think about defensive replacements, the way the Royals planned on using their bullpen made having another right-handed bat in the lineup an advantage.
"Sometimes I don't expect him to make a move and he does, and it works out," said veteran reliever Jeremy Affeldt, who has watched Bochy manage his way to three World Series and two titles. "I think he got into a situation where we had some pressure, Duffy was coming in, he also knows they have another lefty coming in, [Tim] Collins, we've got a lot of lefties in the lineup, so he's going to pull one of his lefties. He's got a defensive replacement and now he has another center fielder in the outfield. So in that situation, it's probably beneficial, because you've got a righty in and you've got a defensive replacement in."
That's exactly how it played out with Duffy staying in the game for three-plus innings before giving way to the lefty Collins for another two frames.
The least surprised person in the sold-out stadium when the move was made was Perez, who had advance warning from bench coach Ron Wotus.
"He told me, 'If the lefty comes in, you may be going into the game to bunt,'" Perez said.
Perez spent the regular season shuttling between Triple-A Fresno and San Francisco -- serving six stints with the big club -- and hit just .170 with the Giants.
One thing Perez makes sure he's always prepared to do is lay down a bunt if needed.
"Before the game, we always bunt the first two," Perez said of the beginning round of batting practice. "But I always make sure I get at least five or six so I can get the feeling of it, so in the game I'll be able to get it done. I've always been pretty good at it, and I work a lot on it in Spring Training and into the season. So I consider myself a pretty good bunter."
And once again, Bochy proved himself to be a pretty good manager when it comes to October baseball.
Steve Gilbert is a reporter for MLB.com. Read his blog, Inside the D-backs, and follow him on Twitter @SteveGilbertMLB. This story was not subject to the approval of Major League Baseball or its clubs.