Royals expect to bounce back quickly in Game 2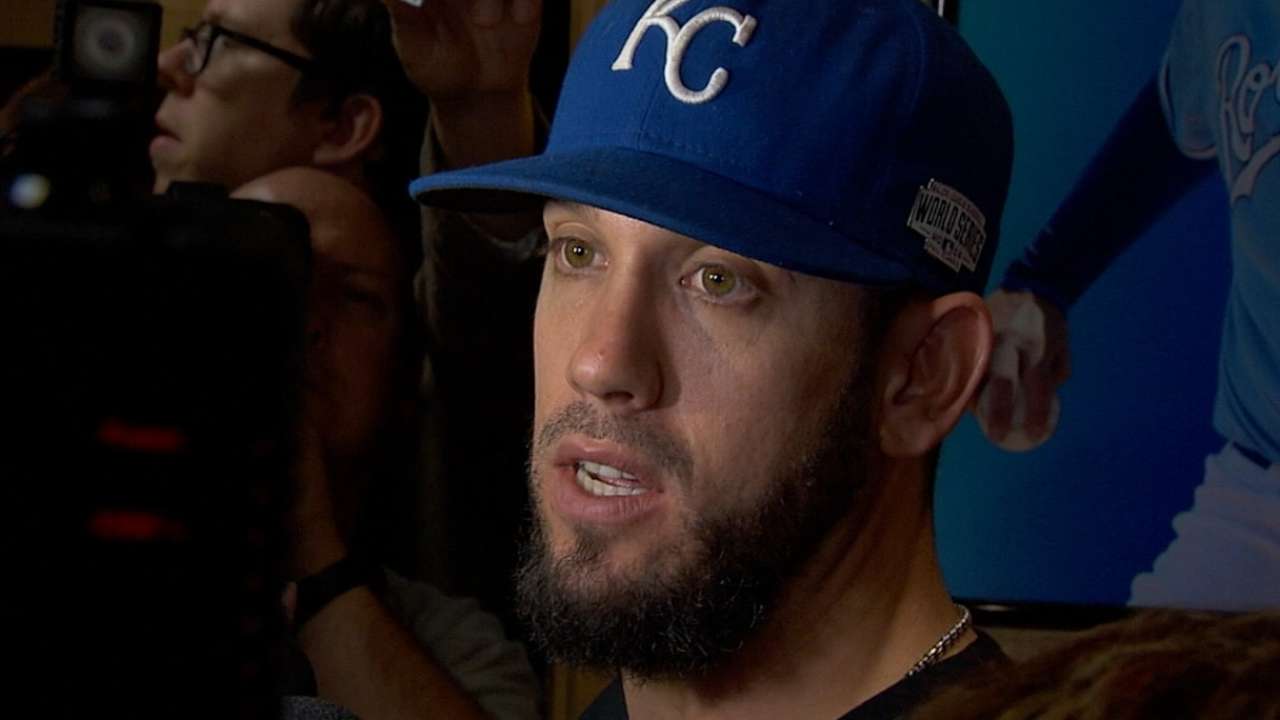 KANSAS CITY -- The first World Series game in Kansas City in nearly three decades proved anticlimactic, as the Giants subdued the Royals, and their home crowd, with a 7-1 victory behind seven masterful innings from left-hander Madison Bumgarner. That defeat snapped the Royals' record streak of eight consecutive victories to open the 2014 postseason while simultaneously raising the stakes for Game 2 on Wednesday night.
The second game in a best-of-seven series is far from a must-win, but history is not favorable to teams with home-field advantage which do not win either of the first two games in the World Series. Under the current 2-3-2 format, teams with home-field advantage that go down 0-2 are 3-10 overall, and they have been swept eight times. That's the bad news.
The good news? One of those three teams to rally was the Royals, who scored just one run in a 3-1 Game 1 loss in 1985, then lost Game 2, and yet rallied to beat the Cardinals in seven games, becoming the first team to do so. The next year, the Mets did the same, and then the Yankees accomplished the feat in 1996.
It had been a while, a 5-4 defeat by the White Sox on Sept. 27, since the Royals had to answer questions after a loss. And across the board, they downplayed Tuesday as just one game in a series, not adding any significance to the rest of them.
"It's a loss, we've lost before," Kansas City outfielder Jarrod Dyson said. "We know how to handle it. We know how to bounce back."
"We didn't expect to come in here and sweep the San Francisco Giants," Royals manager Ned Yost said. "We knew that this was a series that was going to go deep. We know how tough they are."
Game 2 will also be pivotal for the Giants, who will have the opportunity to take a commanding lead back to San Francisco. They were also quick to dismiss the notion of being satisfied with one victory here.
"We're not playing with house money. You should never say that," Giants pitcher and Game 2 starter Jake Peavy said. "It's a nice position to be in. You'd rather be here than on the other side, that's for sure."
Kansas City, however, would like to avoid having to repeat that task, and salvaging a split with a victory in Game 2 would increase its historical odds for winning the series. When teams with home-field advantage split the first two games under the current format, they are 24-19.
But these Royals have bucked every trend and obstacle in front of them this postseason to make it to the World Series, anyway.
• Royals drop Game 1 of World Series
"Nothing is insurmountable with this team," Royals reliever Danny Duffy said. "We're a very really resilient group, very scrappy and very confident, so we have the confidence that we can go out there and keep doing what we've been doing. It's all about bouncing back and we know how to do that."
Jamal Collier is an associate reporter for MLB.com. This story was not subject to the approval of Major League Baseball or its clubs.