Sandoval's October exploits becoming legendary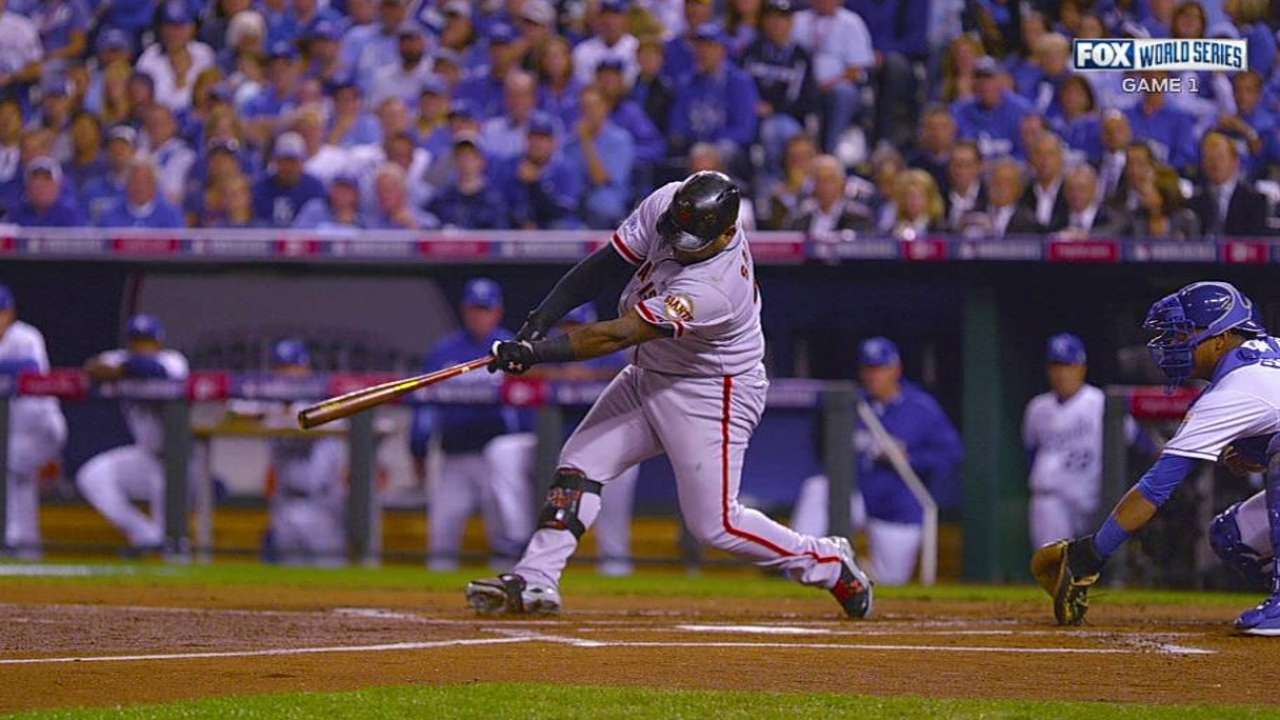 KANSAS CITY -- Pablo Sandoval moved ahead of Babe Ruth on Tuesday, because that's the type of thing Sandoval does in October.
With a 2-for-5, two-RBI performance in the Giants' 7-1 victory over the Royals in Game 1 of the World Series, Sandoval improved his lifetime postseason batting average to .328. That moved him above Ruth and just about everyone else on baseball's all-time list. Among players with at least 125 playoff plate appearances, Sandoval now ranks ninth.
Sandoval has reached base safely in 24 straight postseason games, baseball's longest active streak and the fourth-longest ever -- seven shy of Miguel Cabrera's record of 31.
"I feel great that we won -- that was the more important thing," Sandoval said. "We scored runs. That's the only thing that I care about right now. My teammates did a great job of taking advantage of all the mistakes that [the Royals] made."
The key mistake that Sandoval took advantage of was a first-inning James Shields curveball, which Royals manager Ned Yost defended as a decent pitch but one that Shields said he hung.
Either way, Sandoval lashed it into right field for a double, and he scored on Hunter Pence's subsequent homer. Sandoval singled to drive in a run in the seventh inning, and he reached base a third time on an error in the ninth.
"They're tough, man," Yost said of Pence and Sandoval. "Both of them."
Yet Pence's playoff reputation is only just beginning to blossom. Sandoval's has been unfolding for half a decade.
A part-time contributor to San Francisco's 2010 title run and a star of the proceedings two years later, Sandoval has once again been an October force in 2014. Appearing in all 11 of the Giants' postseason games, he has amassed a .356 batting average by hitting safely in 10 of them. Sandoval has hit in 20 of his last 21 playoff games and reached base in each of his last 24. He has 12 multihit postseason games to his credit.
Some nights, Sandoval contributes singles. In one memorable World Series game two years ago, he hit a trio of home runs. Tuesday's output was relatively modest by Sandoval's October standards: a single, a double and two RBIs.
• Video: Sandoval on Game 1 win
Tacking on production night after night is what makes Sandoval special. He has been a good regular-season hitter throughout his career, batting .294 with 106 home runs in seven years. But Sandoval has been legendary in October, hitting a Ruthian .328 with six home runs in 33 games.
"I just work on all my things and practice in the cage, just try to do the best that I can," Sandoval said. "I just try to do my job, take care of the pressure."
Anthony DiComo is a reporter for MLB.com. Follow him on Twitter @AnthonyDicomo. This story was not subject to the approval of Major League Baseball or its clubs.