Royals strike out on third-inning opportunity
Kansas City unable to cash in two-on, no-out scoring chance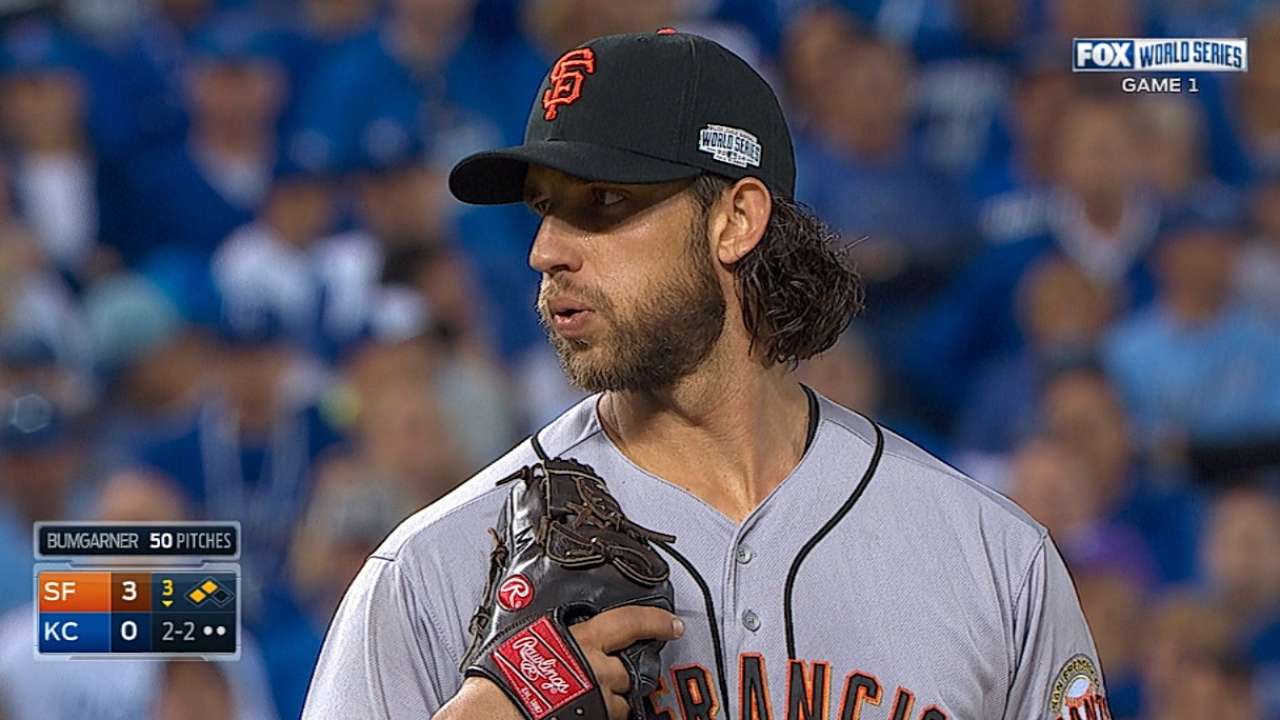 KANSAS CITY -- Shortly after James Shields put them in an early hole and right before the Giants ran away with their eventual 7-1 victory in Game 1 of the World Series, the Royals stumbled into a premium opportunity to recapture momentum, liven a sold-out Kauffman Stadium crowd and hurt a dominant Madison Bumgarner.
All they had to do was the one thing they did better than anyone in baseball this season: put the ball in play and manufacture a run.
"We usually score a bunch of those," Billy Butler said amid a solemn Royals clubhouse late Tuesday evening. "We just didn't tonight."
Kansas City already trailed, 3-0, in the bottom of the third, but Omar Infante led off with an infield single and Mike Moustakas followed with a double, putting runners on second and third with none out for the top of the order.
Then Bumgarner recorded back-to-back strikeouts against a team that struck out far less than any other in baseball during the regular season, fanning Alcides Escobar and Nori Aoki before getting Eric Hosmer to bounce out two batters later.
The next half-inning, the Giants plated two runs. And by the end, it wasn't even close.
But if the Royals cash in during that third inning?
"It changes everything," Hosmer said. "Crowd's back into it, everyone's back into it. It's kind of how this postseason has been, just chipping away here and there, and when it gets closer to crunch time, we make a move."
Were the Royals able to push across a couple runs, or even tie it at 3, and hold it there for another two innings, then their best weapon -- the Big Three of Kelvin Herrera, Wade Davis and Greg Holland -- comes back into play. But in uncharacteristic fashion, they could not get it done.
Three-hundred and thirty-two times during the regular season, a Royals player came to bat with a runner on third and less than two outs. One hundred and ninety of those times, a run scored. That's a 57 percent success rate, better than any team in baseball.
Then Bumgarner got Kansas City's two tablesetters to chase.
"Those strikeout situations, we were going for them and trying to keep them off the board," said Bumgarner, who retired 12 of 13 batters after that third inning, giving up only a Salvador Perez home run in seven innings. "That's one of my favorite things to be able to do in baseball is to work through a situation like that one."
Escobar, the Royals' leadoff hitter, saw four elevated pitches in his crucial plate appearance and swung at all of them. Three of them were fastballs and the last two were up near his head. He fouled the first one off and swung through the second.
One out.
"I'm not going to look for curveballs, sliders or anything like that," Escobar said. "The pitch I hit best is the fastball. His ball moves a little bit. It's not as easy as it looks."
Next up was Aoki, a man who sported the fifth-best ratio of plate appearances per strikeout during the regular season. Kansas City's right fielder saw only three pitches. Two of them were fastballs he fouled back. The third was a slow curveball, and Aoki tried to check his swing -- but could not -- as it hit the dirt.
Two outs.
"Wow," Escobar recalled thinking, "that guy is tough, because Aoki doesn't get too many strikeouts."
Bumgarner pitched around Lorenzo Cain, the American League Championship Series' Most Valuable Player. He missed with four straight fastballs after getting ahead 0-2. But that was just fine. First base was open and a fellow left-hander was up next. One pitch later, Bumgarner threw Hosmer an 86-mph cutter -- pitchF/X calls it a slider, but the Royals swear it's a slow cutter -- and Hosmer rolled over on it, grounding out to the right side to end the inning.
Three outs.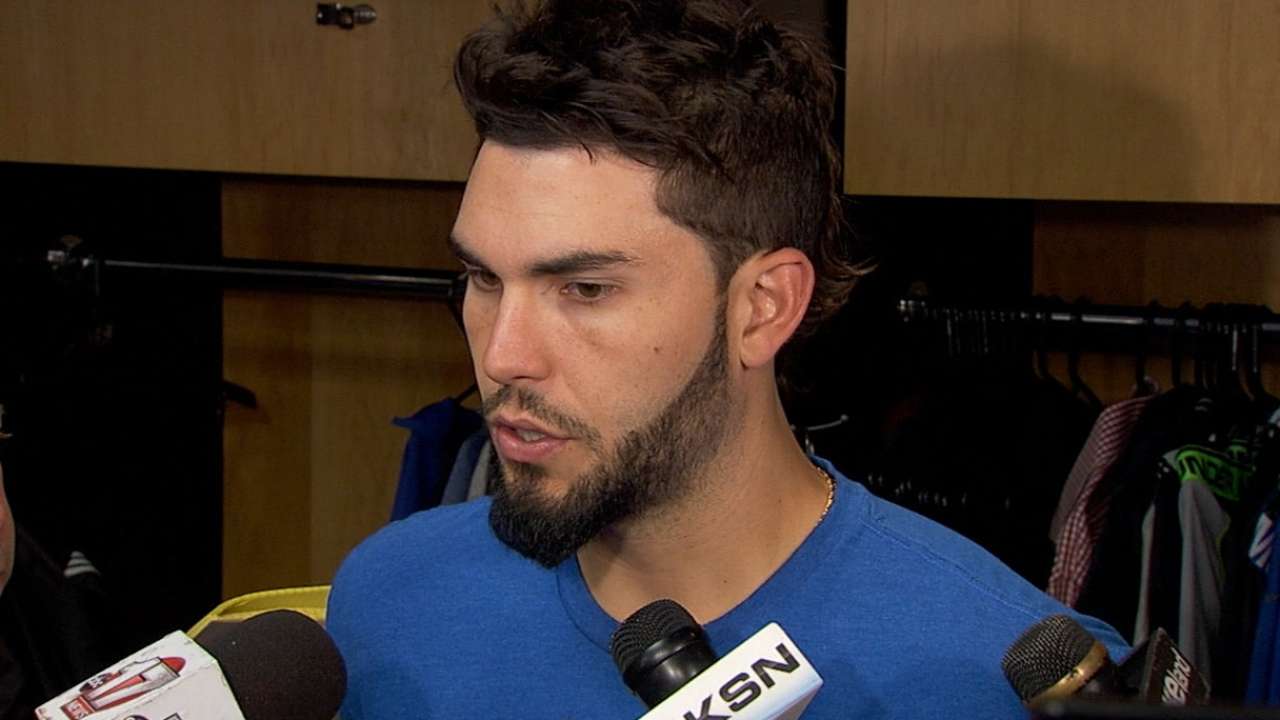 • Hosmer discusses Game 1 loss
"You see it well the whole way, and then when you go to swing, it has that bite going away from you," said Hosmer, who put the first pitch in play only 56 times during the regular season, less than 110 other players. "It's obviously a pitch he's been using a lot, and that's what makes him so good."
Kansas City's manufacturing style doesn't really lend itself to scoring runs in bunches, which is required to rally when trailing early.
Before October, the Royals were 11-23 when trailing after the first inning, so if they were going to rally, the third was it. Once they got deeper into the game, their chances of rallying faded, with Kansas City going 12-52 when trailing after the fifth, 11-58 when trailing after the sixth, 7-64 when trailing after the seventh and 4-65 when trailing after the eighth. Now the Royals must bounce back from their first postseason loss, a game in which they were behind from start to finish.
At least they know they had their chance.
"It didn't work out the way we wanted it to, but we knew it wasn't going to be easy," Hosmer said. "We'll see what we're made of."
Alden Gonzalez is a reporter for MLB.com. Read his blog, Gonzo and "The Show", and follow him on Twitter @Alden_Gonzalez. This story was not subject to the approval of Major League Baseball or its clubs.