Duffy shakes off rust, carries bullpen's burden
Barely used in postseason, left-hander gets key outs in Game 1 loss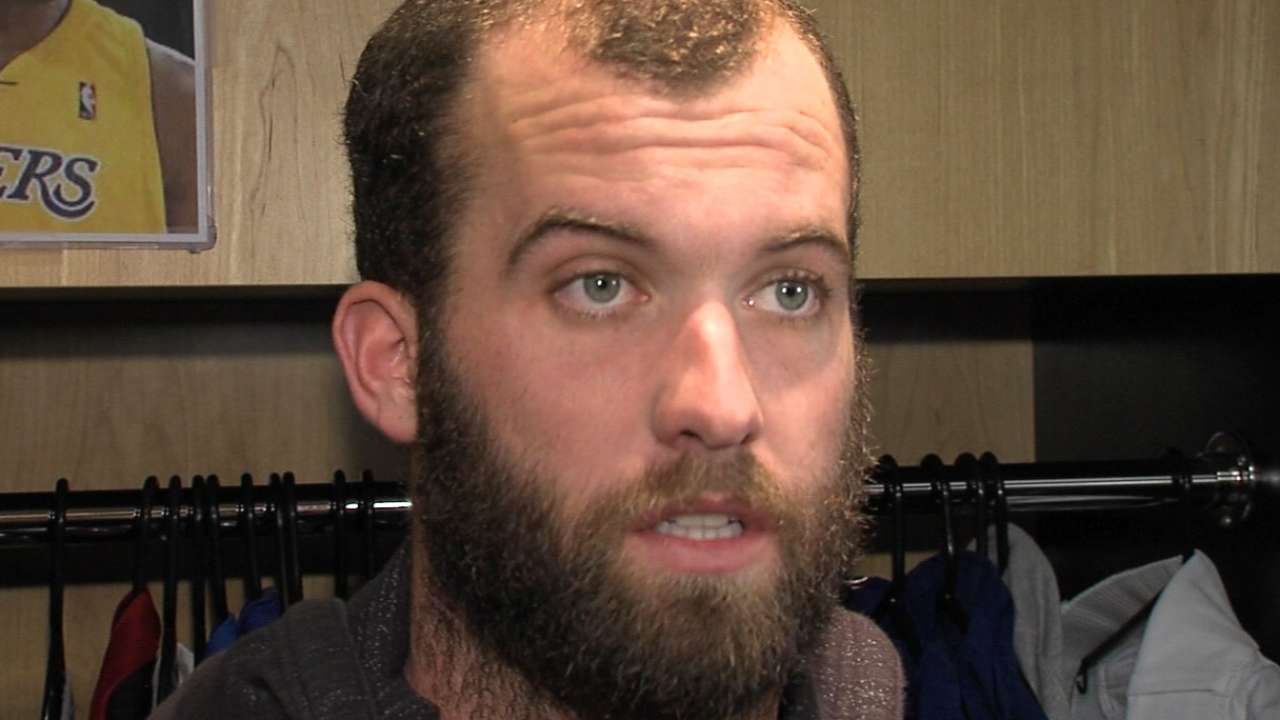 KANSAS CITY -- As deflating as Tuesday's 7-1 loss was for the Royals, a positive sign emerged in Game 1 of the World Series at Kauffman Stadium.
The good omen came in the form of an appearance by pitcher Danny Duffy, a head-scratching rarity during Kansas City's magical postseason run.
After being absent from the mound for nearly the entire past three weeks, Duffy tossed three-plus innings of relief, his first outing of more than one inning since a disappointing final regular-season start on Sept. 27.
"I didn't feel rust at all," Duffy said "[Between appearances] we've been doing a lot of work and keeping my delivery right. And my delivery felt better out there today than it has in a long time."
The situation Duffy entered left something to be desired.
Royals manager Ned Yost asked him to extinguish a fire set by starter James Shields, who had put his team in a 4-0 hole in the fourth inning, and left Duffy with a pair of runners on base and no one out.
"Pitching is pitching," Duffy said. "You still got to execute no matter what position you come in, it's all the same."
Duffy responded exactly how one would expect from a pitcher 19 days removed from his last outing and a history of control issues. He walked a pair of Giants, with the second free pass allowing San Francisco to tally its fifth run. The bleeding stopped there as Duffy retired the next two to escape the fourth with the Royals trailing, 5-0.
"I wish we could have kept those runners on base and stranded them," Duffy said. "I'm not satisfied with what I did to contribute today, but we'll keep working. I did my best."
After the fourth, Duffy showed why he finished with the best ERA (2.53) among Royals starters in the regular season. He plowed through the fifth and sixth innings, recording 1-2-3 frames and a pair of strikeouts.
But as Duffy's pitch count mounted, the control issues from the fourth returned in the seventh. He issued a leadoff walk to Gregor Blanco, his third free pass of the night. Then Joe Panik hit a liner to right that Nori Aoki could not corral, resulting in an RBI triple, and the end of Duffy's night.
Duffy completed three innings, allowing one hit, two runs and three walks, while striking out three.
"I was really happy with his outing," said Yost.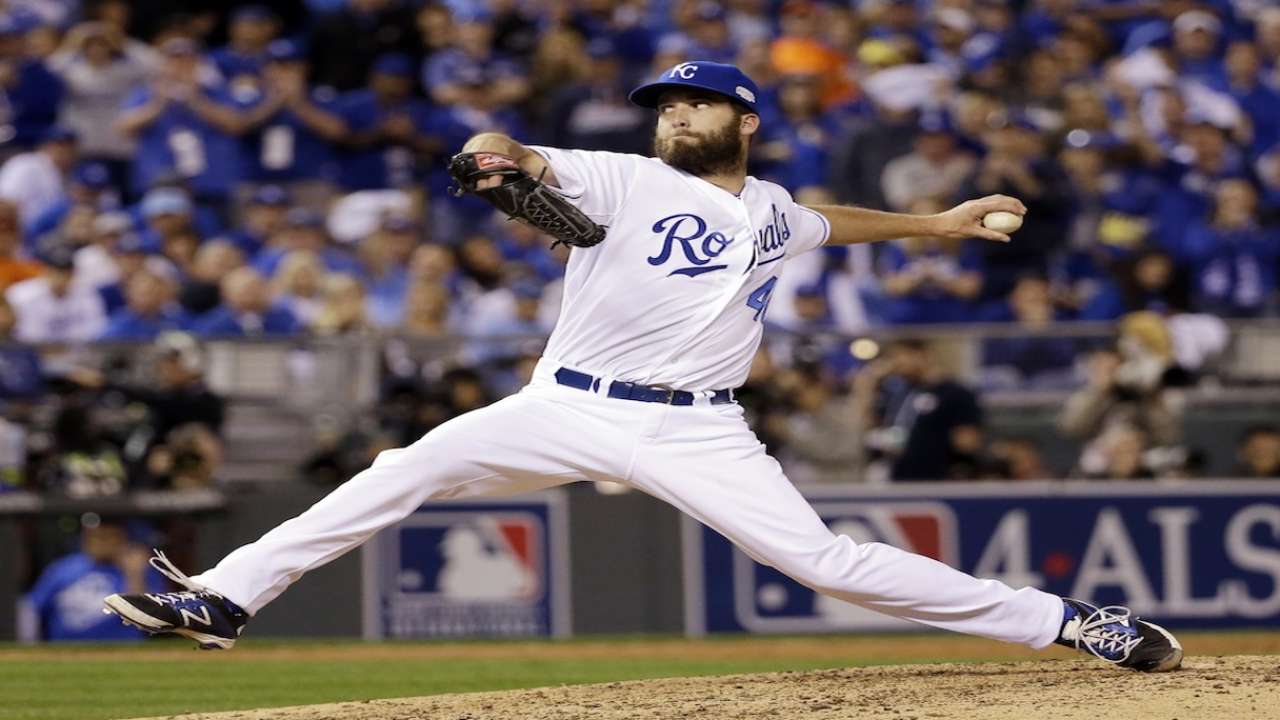 • Yost discusses Duffy's Game 1 outing
Duffy's mysterious lack of use derives from the Sept. 27 start at Chicago. He lasted only two innings, and questions about his health percolated. Two starts earlier, Duffy, who underwent Tommy John surgery in 2012, lasted just one pitch, exiting the Sept. 6 start at Yankee Stadium with shoulder soreness.
Duffy insists that he is healthy.
"There's nothing wrong with my shoulder," Duffy said. "Everyone's got something going on at this time of year."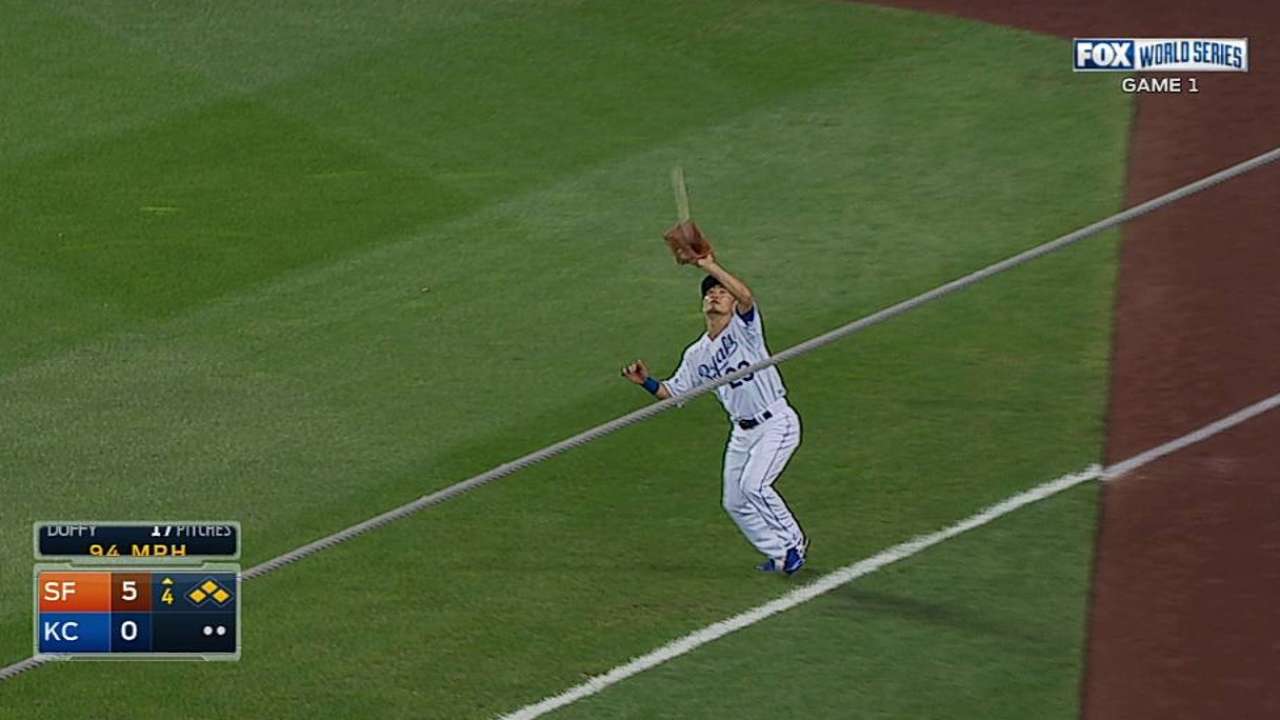 • Video: Duffy ends bases-loaded threat
The poor start in Chicago put Duffy out of contention for making a start in the American League Division Series and AL Championship Series. Before Tuesday, his postseason contributions on the mound were restricted to one scoreless inning of relief in the ALDS.
Yost declared Shields his starter for a potential Game 5, likely keeping Duffy in a relief role for the remainder of the World Series.
"I can't call it," Duffy said on whether he could and should start. "Skip's going to do whatever he wants to do. And it's going to be the right decision, so that's really all I have to say about it."
Jackson Alexander is an associate reporter for MLB.com. This story was not subject to the approval of Major League Baseball or its clubs.