Game 1 combines Adm. Winnefeld's top interests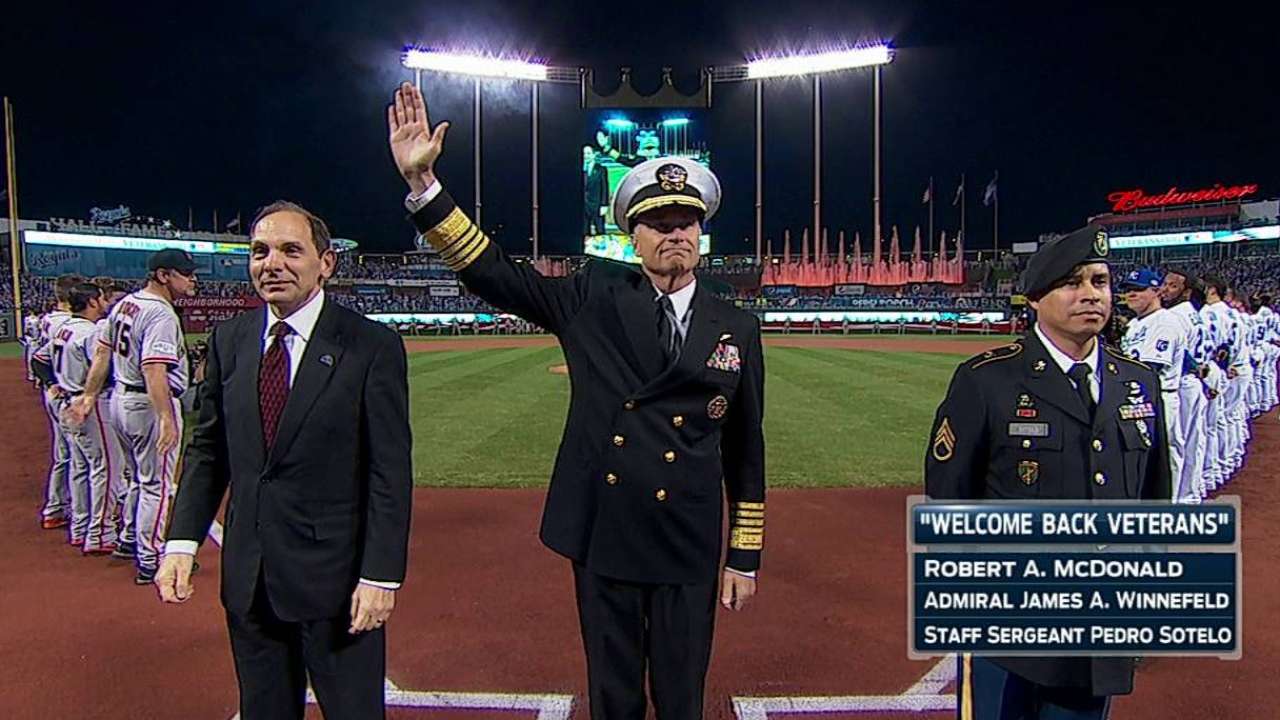 KANSAS CITY -- James "Sandy" Winnefeld Jr. is a four-star Admiral who currently serves as the ninth Vice Chairman of the Joint Chiefs of Staff, making him the second-highest-ranking officer in the United States Armed Forces. He also is an MLB.TV subscriber, a regular at Washington Nationals games, a former player and the father of a son who is currently pitching in high school.
"Well, we wish the Nats were here," Winnefeld told MLB.com on Tuesday. "Otherwise, I think it's really unique that you have two Wild Card teams who really brought their game to the top level at the very end of the season. October baseball is what it's all about. I've got to hand it to the Royals and the Giants -- they really stepped it up and they both deserve to be here."
Winnefeld was especially happy to be in Kansas City on Tuesday, as his two great interests converged: "America's veterans and America's game. What a better combination can you think of?" The admiral said that during a moving speech at the Kansas City VA Hospital Honor Annex, where he appeared along with Major League Baseball Commissioner Bud Selig; Commissioner-elect Rob Manfred; secretary of veterans affairs Robert McDonald; Royals CEO David Glass and president Dan Glass; Royals legend and military veteran John Mayberry; and Staff Sgt. Pedro Sotelo, who threw the ceremonial first pitch at Game 1.
For the sixth consecutive year, MLB is dedicating the first four games of the World Series to important causes associated with charitable initiatives and MLB partners. Game 1 is dedicated to veterans and military families, putting the focus on the Welcome Back Veterans, the initiative started by MLB and the Robert R. McCormick Foundation in 2008, with $30 million raised to date.
"It's a great honor for [my wife] Mary and I to be here this afternoon and this evening, representing the many men and women who wear the cloth of our nation in uniform in the United States military today," Winnefeld said. "It's a real honor and a thrill for us.
"I will tell you, around 2 1/2 million of those young men and women have served in the last 15 years in either Iraq or Afghanistan. Thanks to the miracles and the advancements in battlefield health care, from the battlefield all the way through our medical facilities to Germany, back to places like Walter Reed Army Medical Center and on to the wonderful VA hospitals we have throughout this country, many more of those men and women are coming home and surviving wounds that they never really survived in the past.
"And these are wounds that are seen, but also wounds that are unseen -- traumatic brain injury and post-traumatic stress. Those are insidious problems that people have that most of us cannot even begin to understand. When you wake up in the morning and you don't feel like you can drive your car, you don't want to read a book because you just have a hard time concentrating, and even bright lights drive you into a place you don't want to be. It's hard for us to understand what these young men and women go through all the time."
The admiral was clearly in his element talking baseball with Selig and others. Winnefeld's wife threw out the first pitch of the last game of the regular season in Cincinnati, and that just happened to be the day that Jordan Zimmermann threw a no-hitter for the Nationals. Not surprisingly for a "Top Gun" movie advisor, Winnefeld used technology to his advantage.
"I was at the Reds-Pirates game, where my spouse was honored to throw out the first pitch," he said. "It was a real treat for me to have be able to do that, because it recognizes the spouses that we all hold near and dear, especially those of us who wear the uniform.
"We were on our iPhones the whole game. Absolutely, we were on MLB.TV, like everybody else these days. We were up there in the suite, and you know, 'Gosh, it's a no-hitter through four!' And then, 'Oh my goodness, it's a no-hitter through seven! Is he gonna make it?' What an electrifying experience for us to have Jordan Zimmermann pitch a no-hitter the last day of the year."
Winnefeld savored the Nationals' runaway National League East title, and he was disappointed to see them lose to these Giants in four during the NL Division Series. He is bullish on 2015, thinking that is when the Nats will get over the hump.
"So we're unhappy that our Nats couldn't get here, but we had a great time watching them this year; it's a fabulous baseball team and a fabulous organization," Winnefeld said. "I think when you go through what they've been through the last three years, with all the talent they have and all the wonderful locker room chemistry they have, it's just going to bring them back more determined next year. I think [Nationals manager] Matt Williams will learn, as all new managers do, from every experience that he's had this year, and I really look forward to another year of great baseball in Washington, D.C."
Winnefeld said he was a shortstop and pitcher in high school and Pony League ball.
"I wasn't good enough to move up to the next level, but that didn't stop me from loving the game," he said.
Now they have a son who is a junior in high school, and he was pitching in a game at the same time that his father was on hand for the big pregame ceremony at Game 1 of the Fall Classic.
"He loves the game, he's a pitcher," Winnefeld said. "He has the mentality of a pitcher, he has the amnesia that a pitcher has to have, and he's got three or four good pitches, and I love to watch him. It's just a treat."
Mark Newman is enterprise editor of MLB.com. Read and join other baseball fans on his MLB.com community blog. This story was not subject to the approval of Major League Baseball or its clubs.