Shields' struggles continue in Series opener
Royals' ace charged with five runs on seven hits in three-plus innings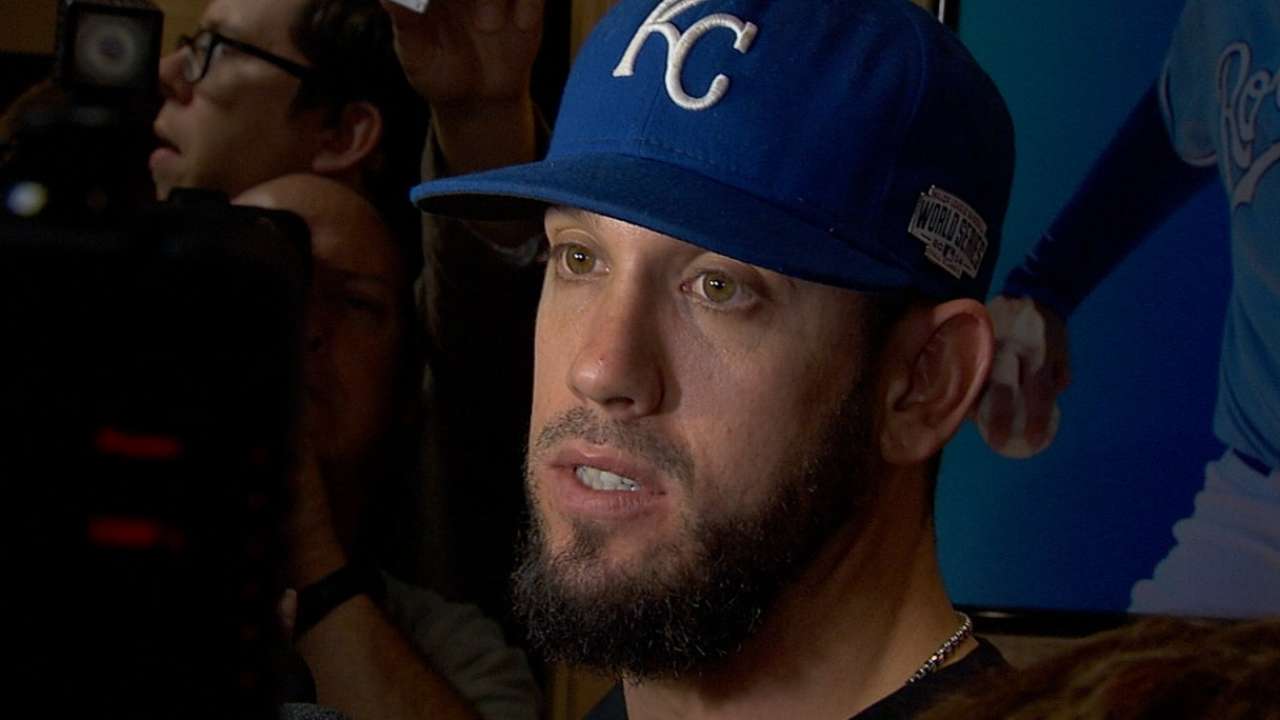 KANSAS CITY -- The nickname has trailed him since high school, innocently bestowed upon the right-hander by a buddy hardly prescient enough to know it would follow James Shields all the way to what really is the game's biggest stage.
What was once thought to be a fun nod to Los Angeles Lakers star James Worthy -- the original "Big Game James" -- has now become the label that Shields can neither shake, nor yet live up to. His latest attempt fell especially flat, with the Royals' ace yanked before recording an out in the fourth inning as the Giants built an early lead en reroute to a 7-1 victory in Game 1 of the World Series on Tuesday night.
In what may have been Shields' final home start at Kauffman Stadium -- the 32-year-old is due to be a free agent this offseason -- he posted his shortest start since 2008. Consider, though, that the only two of his 295 career starts that ended earlier were due to an ejection and a scheduled one-inning appearance. This featured no such built-in pretext. "I don't know, maybe just overthrowing," said Shields, searching for an explanation for the subpar fastball command that allowed the Giants to tally five runs and seven hits off him. "I was probably just overamped a little bit. I have to bear down and get the job done right there. That's the bottom line. I didn't get the job done tonight. Hopefully, I get another start." He will, Kansas City manager Ned Yost asserted, as long as the Royals can avert a World Series sweep. Hushing speculation about a potential Game 5 starter swap, Yost reiterated his belief in Shields' big-game ability, even though the righty has so far trudged through October, having allowed 15 runs on 28 hits (including four homers) in 19 innings.
The Royals' ability to bail Shields out by scoring eight or more runs in his first three postseason starts couched some of the earlier calls of concern. This time, the offense found itself down, 3-0, before getting their first crack at San Francisco ace Madison Bumgarner.
"He's a guy that when his stuff is right, he's dominant," Yost said of Shields. "You have to know that he's a tremendous competitor. He has the ability to make adjustments. Right now he just hasn't been as sharp as he has been. But with the extra rest and then coming back five days from now, we think [that] will benefit him."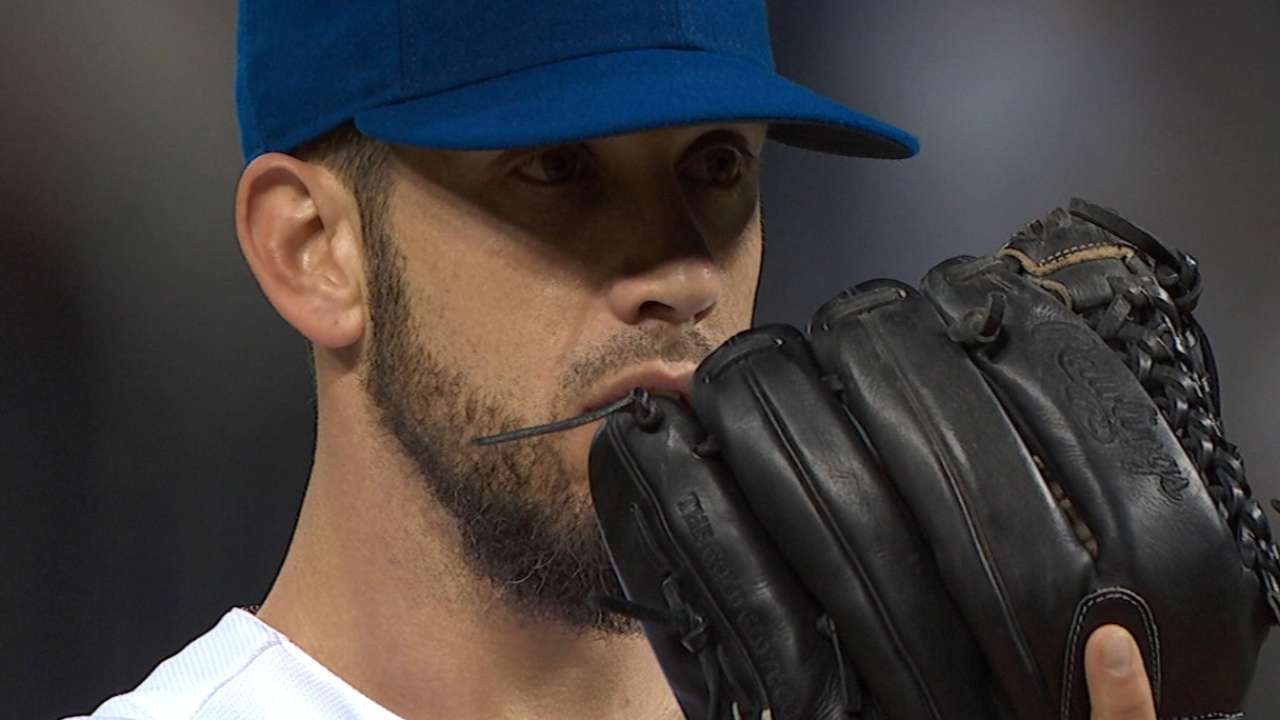 • Video: Yost on Shields bouncing back
Shields was pitching on plenty of rest Tuesday, having had 10 days off since his American League Championship Series start against Baltimore. He sidetracked a question about whether passing a kidney stone during that layoff hindered his performance.
"I'm not worried about that right now," he stated. "I'm just worried about my pitching."
He also dismissed rustiness as an excuse.
"Physically," he said, "I felt good throwing a couple bullpens in between [outings]."
Postseason pitchers who have thrown on 10-plus days of rest haven't done much better, with the 54 who did so before Shields combining to go 18-19 with a 4.17 ERA. Four of the last nine pitchers on that list faced the Giants; none won.
Throwing the first World Series pitch at Kauffman Stadium since 1985, Shields ran into an immediate roadblock. Lacking fastball command and his usual reliance on the changeup, he fell behind five of the seven first-inning batters he faced. Five tallied hits, the biggest Hunter Pence's two-run blast off a teed-up fastball. It was Pence's first hit off Shields in 12 career at-bats.
"He was around the plate a little bit," catcher Salvador Perez said. "That surprised me. He's doesn't usually do that. He's usually getting ahead in the count. It was a bad day today."
Shields, who allowed three or fewer runs in 26 of his 34 regular-season starts, has been snakebitten by the first inning in the postseason. Oakland scored twice off him in the opening frame of the AL Wild Card Game. Angels outfielder Mike Trout stung him for a first-inning home run in Game 3 of the AL Division Series.
That makes for two first-inning home runs allowed by Shields in four October starts after he served up only three over the six months that preceded the postseason.
Shields bandaged the first-inning bleeding with an inning-ending strikeout, the first of seven straight outs he'd record. That string ended with Pence's leadoff double in the fourth. After facing two more batters, Shields headed for the dugout, his three-inning start the shortest (non-injury related) by a Game 1 starter in the World Series since St. Louis' Woody Williams lasted 2 1/3 innings against Boston in 2004.
Facing the same San Francisco club he silenced while twirling his ninth career shutout just a little more than two months before, Shields would be charged with five runs.
"We had good at-bats tonight," Giants manager Bruce Bochy said. "It's good to give your guys some early runs there, and Bum was superb."
The Giants have made three deep postseason runs in a five-year span by knocking around other teams' best. The 10 Game 1 starters to face the Giants since 2010 are a combined 0-8 with a 6.96 ERA.
"We wanted to win the first game, but we had a tough pitcher today in Bumgarner," Shields said. "He did amazing tonight. I didn't do my job."
Jenifer Langosch is a reporter for MLB.com. Read her blog, By Gosh, It's Langosch, and follow her on Twitter @LangoschMLB. This story was not subject to the approval of Major League Baseball or its clubs.