Royals pitchers short in stature but bring heat
Club boasts several hard throwers who lack prototypical size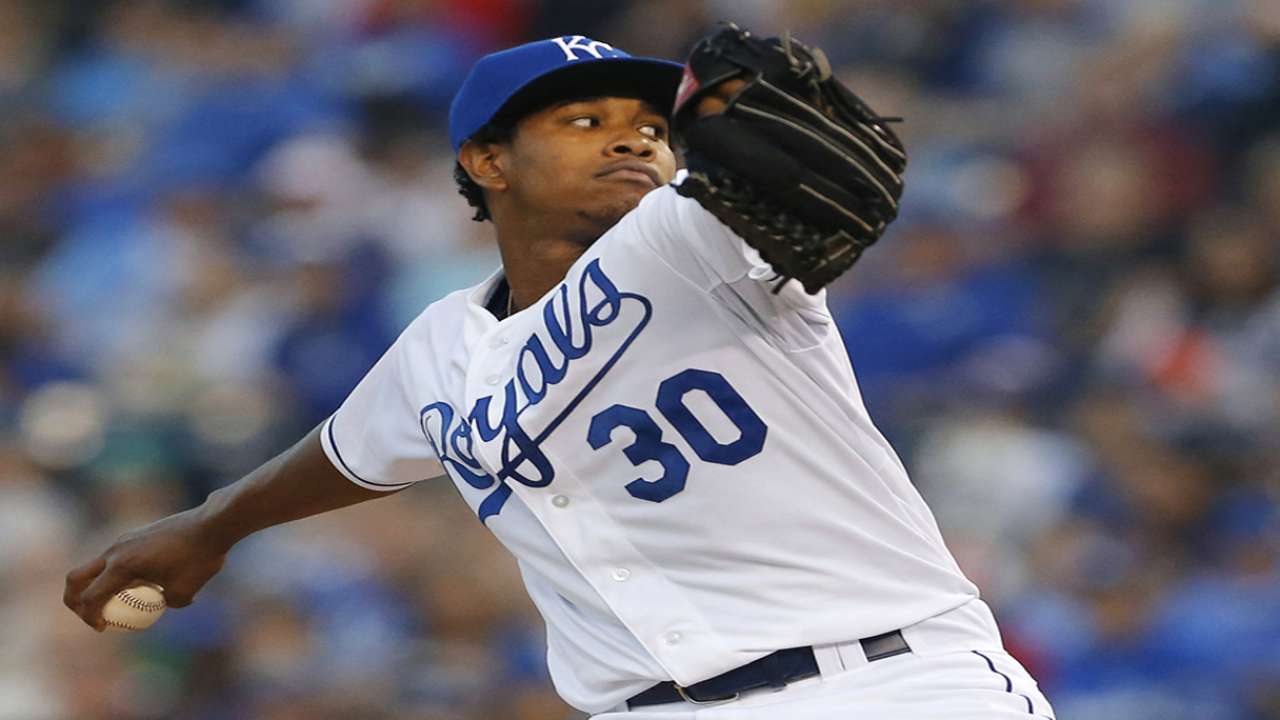 KANSAS CITY -- In reaching the World Series, the Royals flipped one of baseball's most accepted formulas for offensive success, replacing power and patience with speed and aggression.
But Kansas City's entrance into the Fall Classic was also partially predicated on a deviation from another form of conventional wisdom, one that does not show up in the box score.
The Royals employ three-right handed pitchers under 6 feet tall -- Kelvin Herrera (5-foot-10), Greg Holland (5-foot-10) and Jason Frasor (5-foot-9) -- and one more listed at a generous 6-feet in World Series Game 2 starter Yordano Ventura, a rarity considering a somewhat notorious scouting bias in regard to diminutive right-handed hurlers.
Want proof? Just 28 (5.6 percent) of 496 current Major League pitchers are right-handed and 5-foot-11 or shorter.
Kansas City is bucking that trend, and if you include left-handers Brandon Finnegan (5-foot-11) and Tim Collins (5-foot-7), the Royals have the largest sub-6-foot pitching contingency for a single team.
"Everyone wants the prototype -- sturdy, long, lanky, 6-foot-4 power guy," said Royals general manager Dayton Moore before his club dropped Game 1 to the Giants, 7-1, on Tuesday night. "But big league pitchers come in a variety of sizes. Some guys are tall and lanky, some guys are a little shorter or squatty or whatever."
And not only are these Royals pitchers short in stature, they also bring the heat.
According to PITCHf/x data, Kansas City owned the first-, second- and sixth-place finishers in pitches thrown 95 mph or more by hurlers 6-foot tall or less. Ventura threw a league-leading 1,752 pitches over 95 mph, nearly doubling Herrera, the second-place finisher, who threw a MLB-best 72.7 percent of his pitches faster than 95. Holland checked in at sixth with 421 pitches thrown over 95.
The trio also placed fourth (Herrera), fifth (Ventura), and sixth (Holland) in pitches thrown over 95 mph (among the 6-foot-and-under crowd) since PITCHf/x data became available in 2008. Frasor checked in at 30th.
"Sure, everyone's looking for Roger Clemens, but good scouts are able to recognize pitchers of all different sizes and shapes," Moore said. "All of the commonalities of those guys you mentioned [Herrera, Ventura, Holland] are they're not afraid to attack."
The Royals look for three things, foremost, when drafting or signing amateur pitchers: bodies, arm action and deliveries.
Those who fit all three criteria, explained assistant general manager J.J. Picollo, usually make up Kansas City's first few picks, like Finnegan, whose lack of height was overlooked by the Royals because of his "physical body." Kansas City used its first pick of the 2014 First-Year MLB Player Draft on Finnegan.
Even then, so much more comes into play when evaluating pitching talent than just size. The Royals take into account a scout's knowledge of the player, the prospect's athleticism and aptitude, their willingness to make mechanical adjustments, and what they've previously been taught and how willing they are to learn new things.
Size factors into prospect evaluations, but it's not the be-all end-all.
"The bottom line is you've got to have a good working arm," Moore said. "You've got to be able to repeat your delivery and command your fastball. That's the formula for success."
Short pitchers in the Major Leagues are rare because of the injury concerns, fair or not, attached to them.
"If you're under 6-foot tall, you don't have as much leverage than a taller guy, so I think naturally they're more at risk," Picollo said. "But it's not an absolute that they're going to be injury prone."
While wary of the risk, the organization would never write off a pitching prospect based on his size.
"That would be very short-sighted in my view," Moore said.
"I think you've got to be careful in saying that, 'We can't draft anybody other than a certain height,'" Picollo said.
When Ventura takes the mound on Wednesday for the biggest game of his young career, credit the Royals for not succumbing to this scouting bias and taking a chance on Ventura, 5-foot-10 and 143 pounds at the time of his signing in 2008.
"If [a smaller pitcher] can get people out and he has what it takes to handle innings in high-pressure situations, you're not going to shy away from him," Piccolo said. "If you are, you're probably making a mistake."
Jackson Alexander is an associate reporter for MLB.com. This story was not subject to the approval of Major League Baseball or its clubs.