MLB.com Columnist
Jonathan Mayo
Marlins Arizona Fall League overview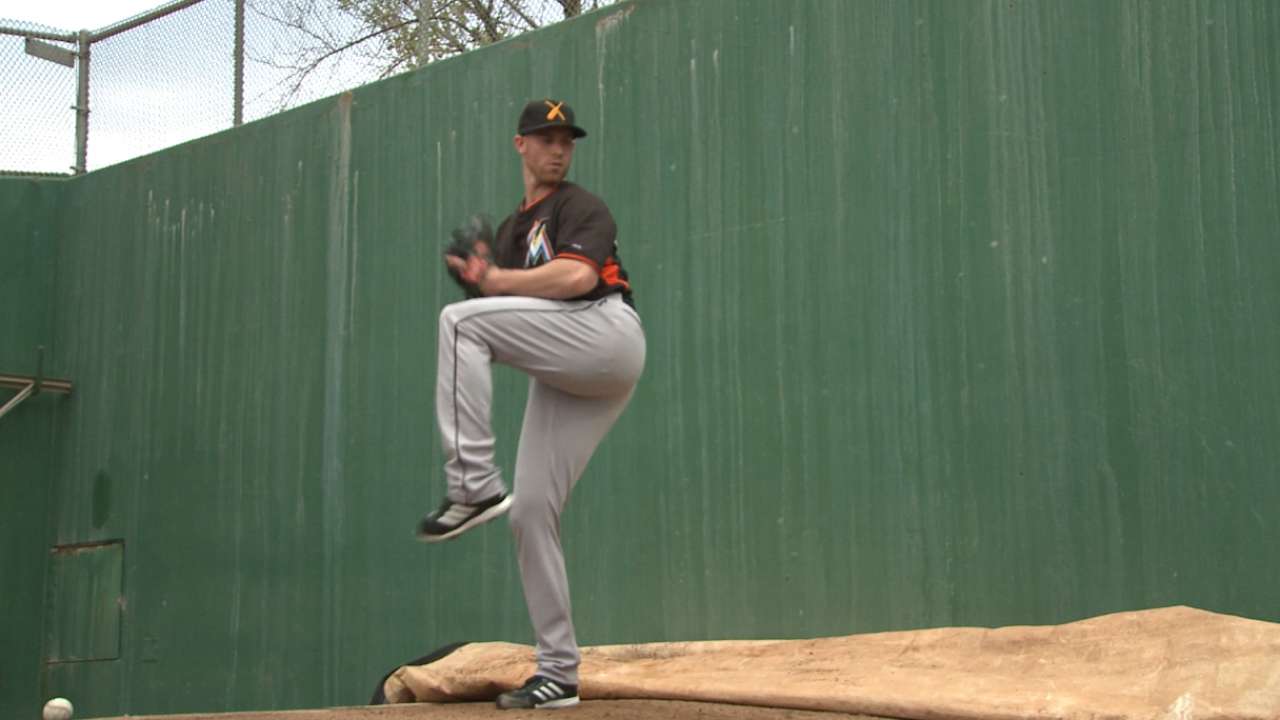 Anthony DeSclafani, the Marlins' No. 3 prospect is spending his time with the Salt River Rafters in the Arizona Fall League working on the pitches he needs to complement his fastball while also making up for some lost innings.
"This is a good spot for me to work on my secondary stuff," DeSclafani said. "Getting a taste of the big leagues was a big motivator. I went up and down a lot this year. I want to stick up there next year, for sure. To get my stuff where it needs to be is going to be huge for me."
DeSclafani was called upon to make 13 appearances (five starts) in 2014 and he finished with a 6.27 ERA. More than anything, his inability to throw his slider and changeup reliably is what was responsible for his struggles. The former University of Florida standout wants to take those lessons into his work this fall, with hopes of a strong carryover to Spring Training in '15.
"You know what works and what doesn't work up there," DeSclafani said. "I learned some of my flaws up there -- I have to be able to throw my secondary stuff a little more consistently. This is a great opportunity to work on that. I want to make the jump next year, become a better pitcher and try to stay up in the big leagues."
DeSclafani has always been one to pitch largely off of his fastball, and he does so aggressively. He's pitched in relief in the past, working as Florida's closer in his final season with the Gators. He does have a decent slider and has shown a feel for his changeup, but he needs to trust those pitches more to have success long-term at the Major League level. If not, the bullpen, where he did throw well in eight appearances in August and September, could be beckoning.
"If I want to prove myself, I have to be consistent," DeSclafani said. "That's going to come with being able to throw my secondary stuff. I like attacking hitters, that's usually my gameplan. I think I can start up there; I know I can. It comes down to me proving it."
Because he rode the shuttle to and from Miami several times, and was asked to pitch out of the bullpen at the end of the season, DeSclafani ended up not making as many starts as might have been expected otherwise. That may have taken away some development time at Triple-A to improve his breaking ball and offspeed stuff.
"I have to make some innings up," DeSclafani said. "This is a good place to get them. There's good competition here. I just have to sharpen up my stuff and get my innings in and hopefully compete for a job next year."
Marlins hitters in the AFL
• The son of former big leaguer Tim Wallach, Chad Wallach is following up a very solid first full season of pro ball in Arizona. The '13 fifth-rounder didn't start catching full time until his final year at Cal State Fullerton, so he's still learning the nuances of the position, though he should be able stick behind the plate. He can really hit with good on-base skills (.322/.431/.457 in '14). Handling, and facing, higher level pitching in the AFL should get him ready to move up in '15.
• Justin Bohn also hails from the '13 Draft, a seventh-rounder out of Feather River College in California. He's played more shortstop than anything as a pro, though he's also seen time at second and third. He's played both middle-infield spots in the AFL to date and has shown an ability to make consistent contact and get on base throughout his first full season.
• Austin Nola's younger brother, Aaron, was a first-round pick of the Phillies this past June, but he only went to LSU so he could play with his brother for a year before he turned pro. A senior sign in '12, Nola spent the '14 season in Double-A, playing mostly shortstop and showing good on-base skills. He's played more second in the AFL, with his future likely as a utility man at the highest level.
Marlins pitchers in the AFL
• Brian Ellington, a right-handed reliever taken by the Marlins in the 16th round of the '12 Draft out of West Florida, has moved slowly up the organizational ladder. He did strike out 10.6 per nine (and walked 4.6) in '14. He brings an above-average fastball and decent slider combination with him to the Salt River Rafters' bullpen.
• Edgar Olmos made his big league debut, helping out of the bullpen in '13. This past year, however, he spent in Double- and Triple-A, not receiving even a September callup. He's capable of pitching multiple innings, and the left-hander could use the AFL to audition for a middle relief role in Miami for the '15 season.
• A Florida State League All-Star who earned a promotion to Double-A in '14, Reid Redman is another Marlins reliever on the Salt River staff, though his path is a bit different. A one-time infielder in the Phillies' system, the Marlins signed him and put him on the mound. He has an outstanding fastball and is continuing to work on his slider this fall.
Jonathan Mayo is a reporter for MLBPipeline.com and writes a blog, B3. Follow @JonathanMayoB3 on Twitter. This story was not subject to the approval of Major League Baseball or its clubs.