MLB.com Columnist
Jim Callis
Rangers Arizona Fall League overview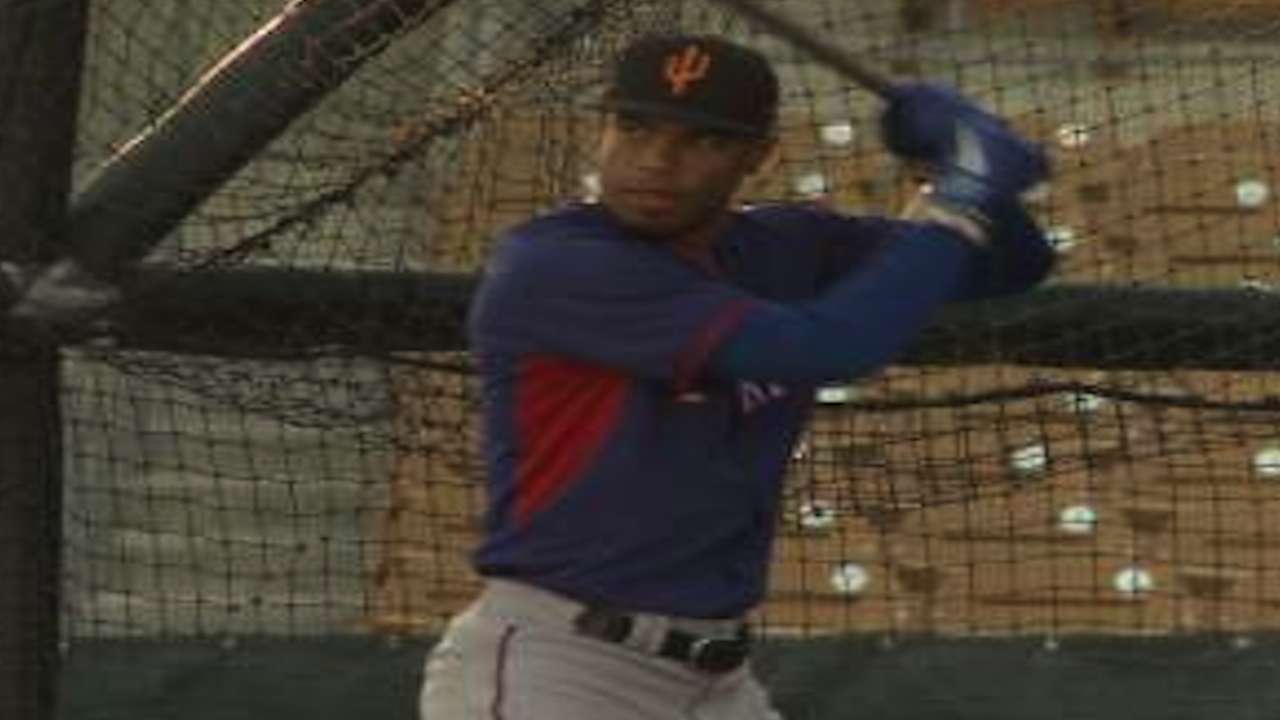 Perhaps more than any other farm system, the Rangers are teeming with toolsy, young position players. Outfielder Nick Williams is the most consistent hitter among them, but even he realizes he has more work to do before he's ready for the big leagues.
Promoted to Double-A in August, Williams scuffled for the first time in pro ball. After hitting a soft .226 in 15 games as one of the youngest players (age 20) in the Texas League, he understood that he'll have to adapt his approach against more advanced pitchers. To help him do that, Texas sent him to the Surprise Saguaros in the Arizona Fall League.
Much like in Double-A, most AFL pitchers are able to command multiple pitches and don't have to rely heavily on their fastballs. Williams said he's trying to work counts more efficiently so he can pick out a good pitch to hit.
"Seeing more pitches, getting more at-bats," Williams said. "As far as just seeing more of location-wise, that's about it. Lot of off-speed, so being more patient and more selective as far as not being too, too overaggressive."
Williams didn't draw a walk and struck out 11 times in his first 10 games with Surprise, though that hasn't prevented him from being productive. Through Monday, he's hitting .300/.317/.500 and ranks fourth in the league in both RBIs (nine) and total bases (20).
He has been similarly effective if undisciplined in the Minor Leagues. Since signing for $500,000 as a second-round pick out of a Texas high school in 2012, Williams has batted .293/.342/.489 with 32 homers and 29 steals in 255 pro games. He has 53 walks and 200 strikeouts in 1,114 plate appearances.
Williams generates tremendous bat speed from the left side of the plate, and he shows a natural feel for barreling balls when he's not chasing pitches out of the strike zone. Once he tones down his approach and strengthens his 6-foot-3, 195-pound frame, he could hit for average and power and fit nicely in the middle of a Major League lineup.
A good athlete, Williams has solid speed and good baserunning instincts. Though he has spent most of his time as a pro in left field, he has average arm strength and is capable of at least spot duty in center and right field.
Rangers hitters in the AFL
• A budget-minded third-round pick in 2012 after being part of Stony Brook's Cinderella run to the College World Series, Pat Cantwell signed for $50,000. A light-hitting catcher with decent catch-and-throw skills, he posted the best numbers of his pro career (.268/.360/.341) in Double-A this year.
• Dominican shortstop Michael DeLeon is the youngest player in AFL history at age 17 after finishing the regular season in high Class A. Signed for $550,000 the previous summer, he's a sure-handed defender who batted .248/.307/.314 (mostly in low Class A) in his 2014 pro debut.
Rangers pitchers in the AFL
• Though he spent most of his Minor League career as a reliever, Dominican right-hander Lisalverto Bonilla became the first Ranger ever to win each of his first three big league starts this September. His hard slider was his best pitch while he was with Texas, and he also has a solid fastball and an average changeup. He spent most of 2014 in Triple-A, where he had a 4.10 ERA and a 92/25 K/BB ratio in 74 2/3 innings.
• An eighth-round senior sign who turned pro for $5,000 out of Fresno State in 2012, right-hander Cody Kendall has posted a 2.32 ERA in 91 pro relief appearances. He's not overpowering but gets a lot of groundouts with his 89-92 mph sinker.
• Another low-cost college senior from the 2012 Draft, right-handed reliever Josh McElwee signed for $1,000 out of Newberry (S.C.). Though his fastball and curveball both rate as fringy offerings, he has managed to strike out 213 in 155 1/3 pro innings while compiling a 2.95 ERA.
• Yet another college senior, right-hander Sam Wolff has the best stuff among the Rangers' AFL arms, with a 93-95 mph fastball that touches 98 and a hard breaking ball. A 2013 sixth-rounder from New Mexico who signed for $65,000, he went 9-5, 3.37 with an 81/35 K/BB ratio in 120 1/3 innings as a starter in high Class A during his first full pro season.
Jim Callis is a reporter for MLB.com and writes a blog, Callis' Corner. Follow @jimcallisMLB on Twitter. This story was not subject to the approval of Major League Baseball or its clubs.