Yearwood sings anthem; Staff Sgt. throws first pitch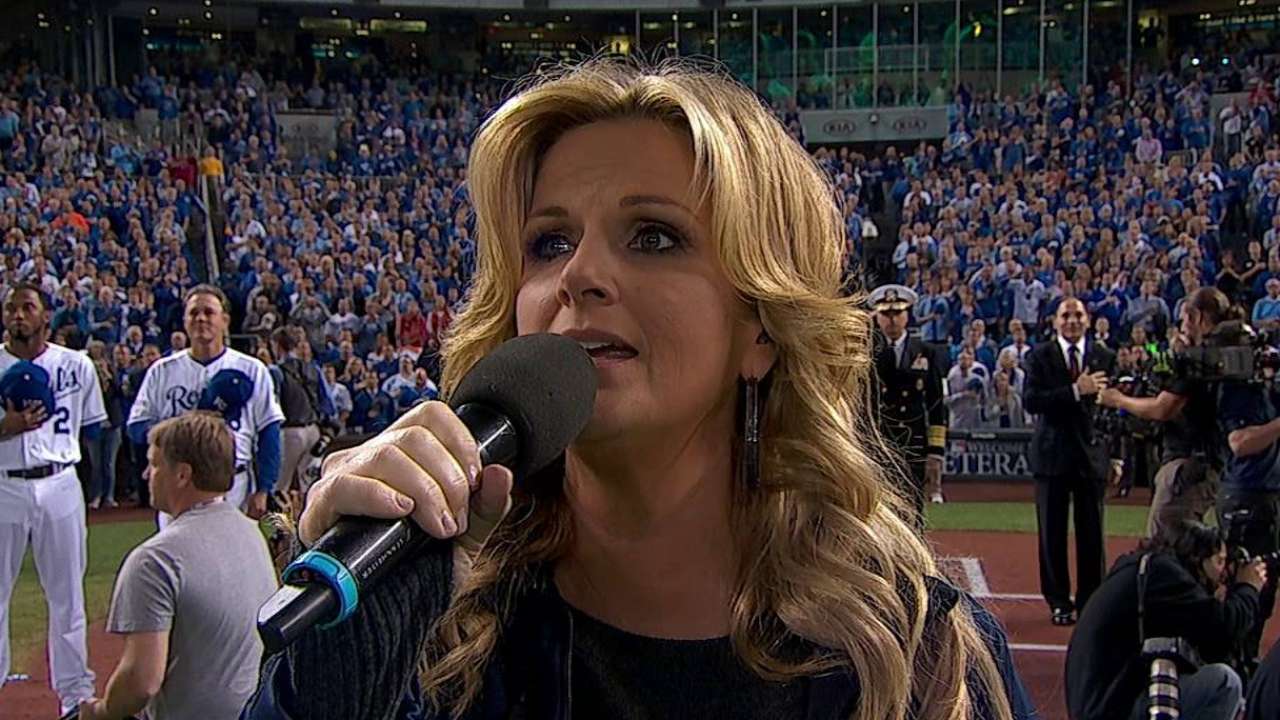 KANSAS CITY -- Trisha Yearwood has performed the national anthem at several World Series, but no matter how many of these she's asked to do, it never gets old.
"I love to do it," the country music star said while taking in the scene from the field during batting practice before Game 1 on Tuesday night at Kauffman Stadium. "It's such an honor."
Yearwood, a chart-topper since releasing her debut album in 1991, is in the middle of touring with her husband, Garth Brooks. When she got the call asking her to sing the anthem, she was hoping she could fit it in her schedule. The timing was perfect.
"I knew when the window of the World Series was, and I said, 'If I can do it, I'd love to do it,'" she said. "I was so excited that I got to be here for Game 1."
A Georgia native, Yearwood grew up a Braves fan, attending games in the 1970s with her sister and dad "when nobody went to Braves games," she said with a laugh. "We've been watching the game our whole lives. It's exciting for me to be here."
Although her Braves roots run deep, Yearwood, like many fans throughout the country, has been pulling for the Royals, a team that entering Game 1 had strung together an unprecedented eight-game winning streak to start the postseason.
It also doesn't hurt that Yearwood's husband has a good relationship with the Royals.
"Garth's charity has done a lot of work with kids and a lot of work with Major League Baseball, and he actually did Spring Training with the Royals a few years ago," Yearwood said.
A Grammy, CMA and ACM Award-winning vocalist, Yearwood is a few weeks from releasing her 12th studio album, "Prizefighter: Hit after Hit," on Nov. 17. The album will feature six new songs, including her new single "Prizefighter," and 10 hits, including her No. 1 hits "She's in Love with the Boy," "XXX's and OOO's," and "How Do I Live?"
Music is not Yearwood's only passion. She's a fantastic cook as well, writing two New York Times bestselling cookbooks, "Georgia Cooking in an Oklahoma Kitchen" and "Home Cooking with Trisha Yearwood." A third cookbook is on its way, titled "Trisha's Table."
Major League Baseball dedicated Game 1 of the World Series to honoring veterans and military families, highlighting support of the Welcome Back Veterans initiative. The pregame ceremony was especially military-centric, with representatives from three prominent armed forces gathering at home plate for a special salute from the crowd: Secretary Robert A. McDonald and Adm. James A. Winnefeld, who is the nation's second-highest-ranking military officer, along with Staff Sgt. Pedro Sotelo, who is disabled and separated from service.
Sotelo was born and raised in San Juan, Puerto Rico, but he has lived in Kansas City for the last 23 years. He was deployed to Iraq in 2003 as part of a special operations unit in the U.S. Army Reserves, and upon his return home, he was diagnosed with post-traumatic stress disorder (PTSD) in '05.
Today, Sotelo volunteers at the local VA Hospital as part of the Vet4Vet group helping other veterans, and he is a mentor with Wounded Warriors and Soldiers to Summits, a program that uses mountaineering to help veterans overcome PTSD and traumatic brain injury issues.
"To me, it's our duty as citizens to welcome back veterans who have served us and kept us safe," Sotelo said. "It's a sacred duty, to be able to help them. I volunteer in the city trying to help those who have served as well. It's part of who were are, not only as a country, but as a person. They sacrificed for us, so now it's our turn to give back to them."
Sotelo threw out the ceremonial first pitch, one of the final moments of the pregame ceremony before the Royals took the field to officially begin the Fall Classic.
The flyover was conducted by members of the United States Navy, and the singing of "God Bless America" in the seventh inning was to be performed by Ret. Naval Petty Officer 1st Class Generald Wilson.
Alyson Footer is a national correspondent for MLB.com. Follow her on Twitter @alysonfooter. This story was not subject to the approval of Major League Baseball or its clubs.