Game 1 dedicated to veterans, military families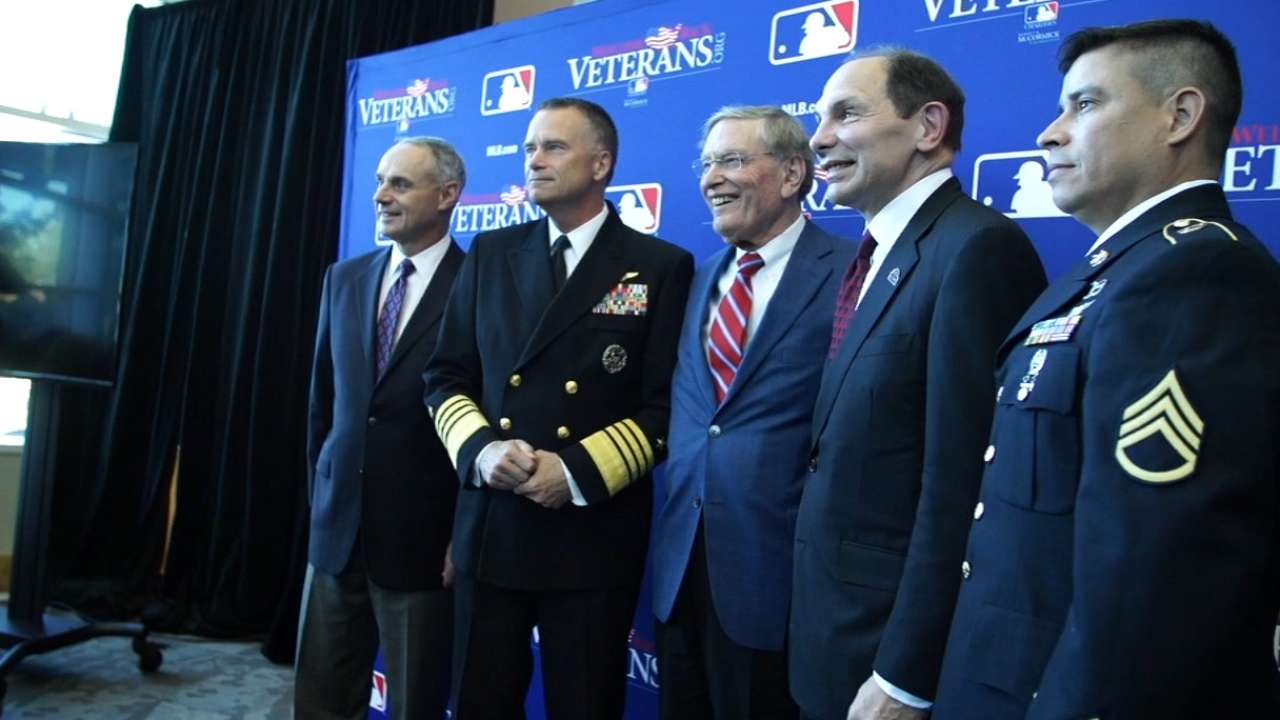 KANSAS CITY -- Major League Baseball dedicated Game 1 of its 110th World Series to veterans and military families, and the daylong activities included a visit by Commissioner Bud Selig, U.S. military brass and Royals legend John Mayberry to the Kansas City VA Hospital Honor Annex near Kauffman Stadium just before the Giants-Royals opener.
"Every time I go to one of these, it just brings so much pride that you're able to do this," Selig said. "Because after all, these people have made the supreme sacrifice, in many cases. They need help and need understanding, so I'm very proud that we're doing something. You have no idea the satisfaction. ... We are a social institution. There are so many manifestations of it, and you come to something like this and you realize what we are doing, it's a privilege."
Also making the visit to the VA were Rob Manfred, MLB's chief operating officer and Commissioner-Elect; Admiral James Winnefeld Jr., vice president of the Joint Chiefs of Staff; Secretary of Veterans Affairs Robert McDonald; Royals CEO David Glass and president Dan Glass; Mayberry, the former Kansas City slugger and a National Guard veteran; and Staff Sgt. Pedro Sotelo, who threw the ceremonial first pitch before Game 1.
For the sixth consecutive year, Major League Baseball is dedicating the first four games of the World Series to important causes associated with charitable initiatives and MLB partners. Dedications are also to include Education & ALS Awareness (Game 2), Advancing the Fight Against Cancer (Game 3) and Youth Outreach (Game 4).
Game 1 put the focus on Welcome Back Veterans (WelcomeBackVeterans.org), the initiative started by MLB and the Robert R. McCormick Foundation in 2008, with $30 million raised. Approximately 10,000 military veterans have benefited from that organization. To date, about $17 million in grants have been awarded to nonprofit agencies and hospitals supporting the greatest needs of returning Iraq and Afghanistan veterans and their families, focusing on treatment and research of post-traumatic stress disorder and traumatic brain injury.
"I'm pleased to join Commissioner Selig and Major League Baseball in focusing the nation's attention on the contributions of our veterans at the start of this year's World Series," McDonald said. "For all that we do for veterans, there is still plenty more than needs to be done. So we depend on patriotic partners like Major League Baseball, which is doing so much for veterans, through programs like Welcome Back Veterans, begun by Mets owner Fred Wilpon, and Home Base Program, supported by Tom Werner's Boston Red Sox.
"It's partnerships like these that teach us all what it means to be Americans. It means coming together as one to give back to those who have done so much for all of us."
After meeting with veterans at the VA Hospital Honor Annex -- which MLB was instrumental in building -- the dignitaries headed to Kauffman Stadium for a night of celebrating those who have served America's forces and the family members who have endured so much with them.
Two public service announcements in support of Welcome Back Veterans were unveiled during the game. The spots capture both the emotional spirit and significance of baseball's unique role in welcoming back our servicemen and -women. Watch one of them here.
Bank of America provided American flags for fans at each Kauffman Stadium entrance and asked those in attendance to participate in a "Stand and Salute" moment during the seventh-inning stretch, immediately following "God Bless America," to honor service members and veterans.
The moment culminates the bank's efforts to capture 1 million expressions of thanks for members of the military in 2014 as part of its "Express Your Thanks" campaign. To celebrate reaching the goal, Bank of America, in partnership with Welcome Back Veterans and the Massachusetts General Hospital Home Base Program, worked with 2013 World Series Most Valuable Player David Ortiz to surprise three veterans with tickets to this game so they could be present for the "Stand and Salute" moment.
Through the "Express Your Thanks" program, Bank of America is generating a $1 million donation to be shared by Welcome Back Veterans and Wounded Warrior Project to help service members and veterans succeed at home. This year's donation will add to the $1.4 million already raised through the campaign since 2012. Fans can visit BankofAmerica.com/troopthanks to learn more about this program and how they can express their thanks.
Mark Newman is enterprise editor of MLB.com. Read and join other baseball fans on his MLB.com community blog. This story was not subject to the approval of Major League Baseball or its clubs.