Rested and ready: Peavy sees benefit to layoff
Giants right-hander used time off to fix mechanical issue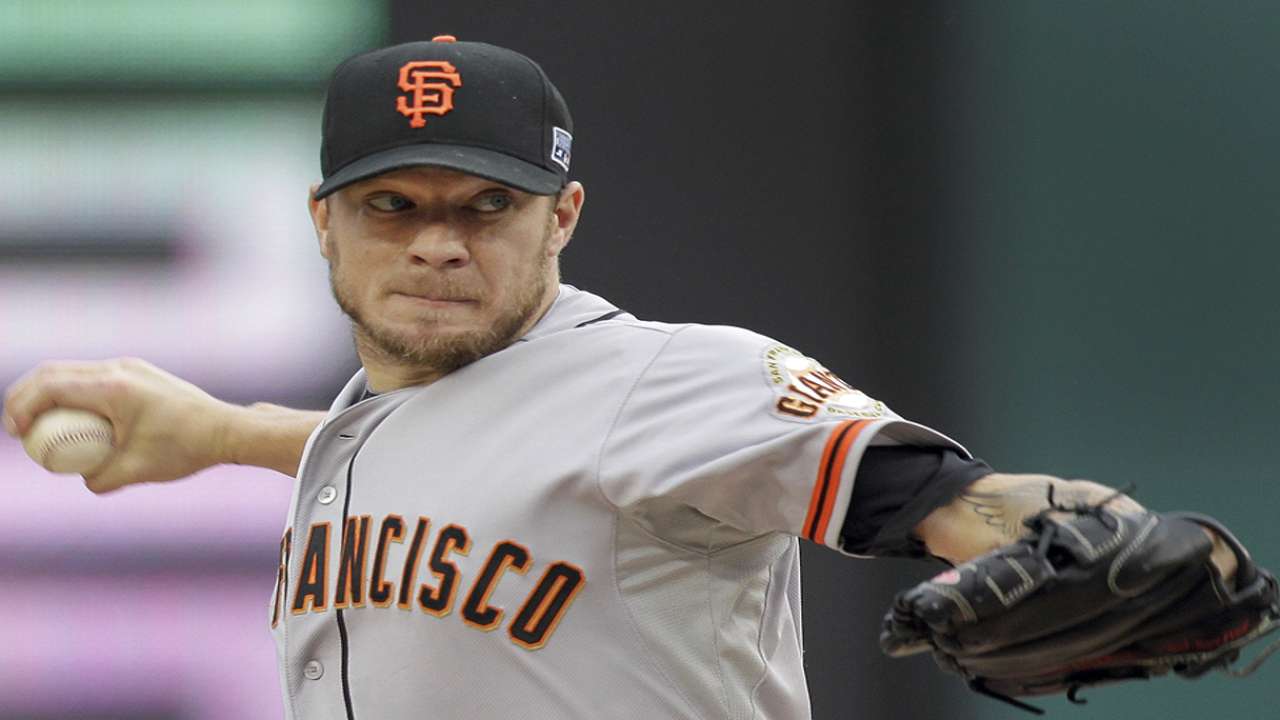 KANSAS CITY -- When Jake Peavy takes the mound to start tonight's Game 2 of the World Series (4:30 p.m. PT airtime/5:07 p.m. PT gametime on FOX), he will be pitching on 10 days' rest, but while such a long layoff can sometimes be difficult for a pitcher, the Giants right-hander thinks it will work to his advantage.
After lasting just four innings against the Cardinals in Game 2 of the National League Championship Series, Peavy had some work to do to smooth out his mechanics.
"I needed some time to make sure we got things back in place," Peavy said. "I fought myself a little bit in that start in St. Louis. So we just made a small mechanical adjustment."
Peavy will try to keep the Giants' momentum going after they beat the Royals, 7-1, behind Madison Bumgarner in Game 1 on Tuesday night.
Peavy threw two bullpen sessions rather than the customary one to compensate for the layoff, and he's confident that the adjustments he's made will pay off.
It's not like Peavy pitched terribly against the Cardinals, allowing just two runs over those four innings, but it was a struggle throughout.
"When you go out there like I did in St. Louis and you realize you're not in sync early, you find that you've got to fight yourself a little bit as you're fighting the opposition," he said. "That makes for a tough night."
As for the long layoff becoming an issue, pitching with extra rest is nothing new for Peavy. In three starts with six-plus days' rest this year, Peavy is 1-1 with a 4.19 ERA, and his start in Game 2 of the NLCS was after a nine-day layoff.
It has never been hard to read how Peavy is feeling when he's on the mound. A fiery competitor, he wears his emotions on his sleeve, alternating between fist pumps of joy and yelling out loud to himself in frustration.
When he got a key double play against the Nationals in Game 1, his kids told him that his reaction made him look like he had turned himself into the Incredible Hulk.
Peavy said that could not be further from the way he is when he is away from the ballpark. Laid back is how he would describe himself, a guy who lets life come to him.
"That being said, I don't feel that's the way to play baseball," Peavy said. "I don't apologize for showing that emotion, and I think it shows my teammates and the fans, so to speak, how emotionally invested you are in this and how much it means to you. I think it sometimes can elevate your team because they see how bad you want it, and it makes them want it no less than that."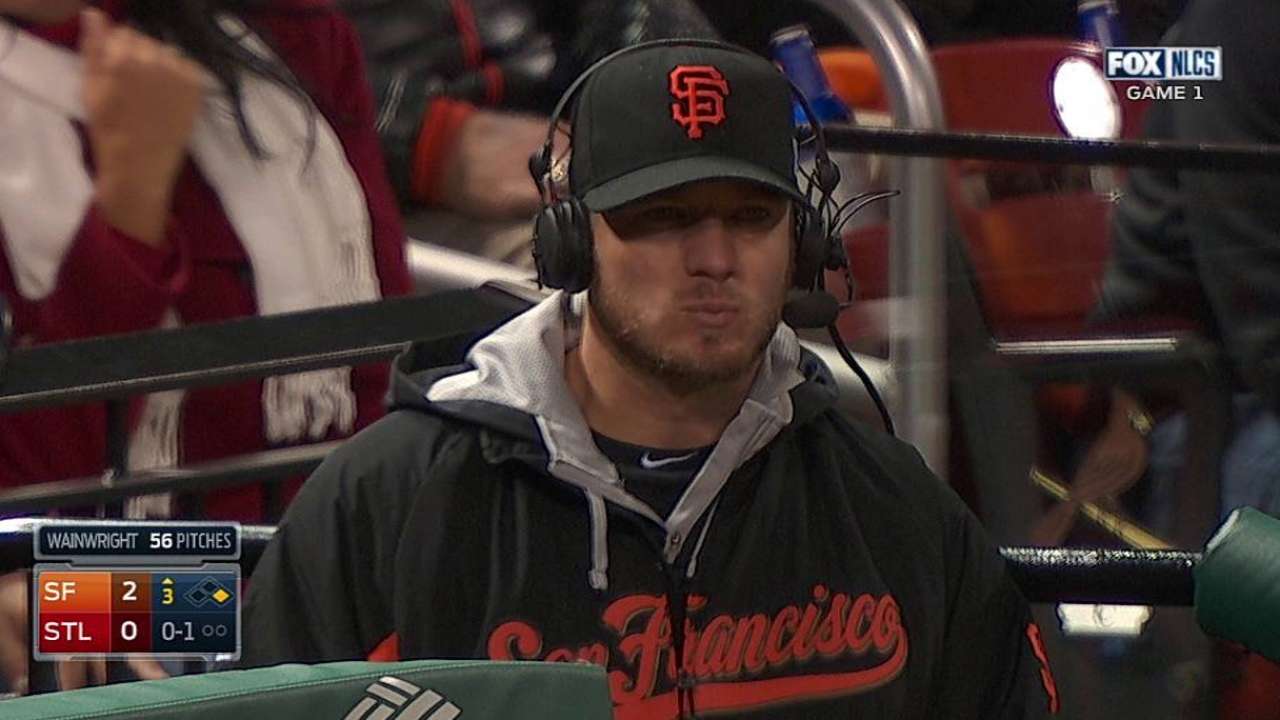 After 11 years of trying to get to the World Series, Peavy finally arrived on the big stage last season with the Red Sox, and though he did not get a decision in his lone World Series start, he did wind up with a World Series ring.
His performance last October -- one good start, one pretty good one and one clunker -- helped ease the fact that he had struggled early in his career in those situations.
With the Padres, Peavy lost Game 1 of both the 2005 and 2006 NL Division Series and gave up 13 runs in 9 2/3 innings in the process. And in 2007, he allowed six runs in a one-game NL Wild Card tiebreaker in Colorado, which the Padres lost.
Peavy was acquired by the Giants five days before the non-waiver Trade Deadline with the expectation that he would come up big in important games.
"He really has impacted our clubhouse," Giants manager Bruce Bochy said. "With his experiences and his knowledge, I think he has just ramped up the intensity and the focus on these guys."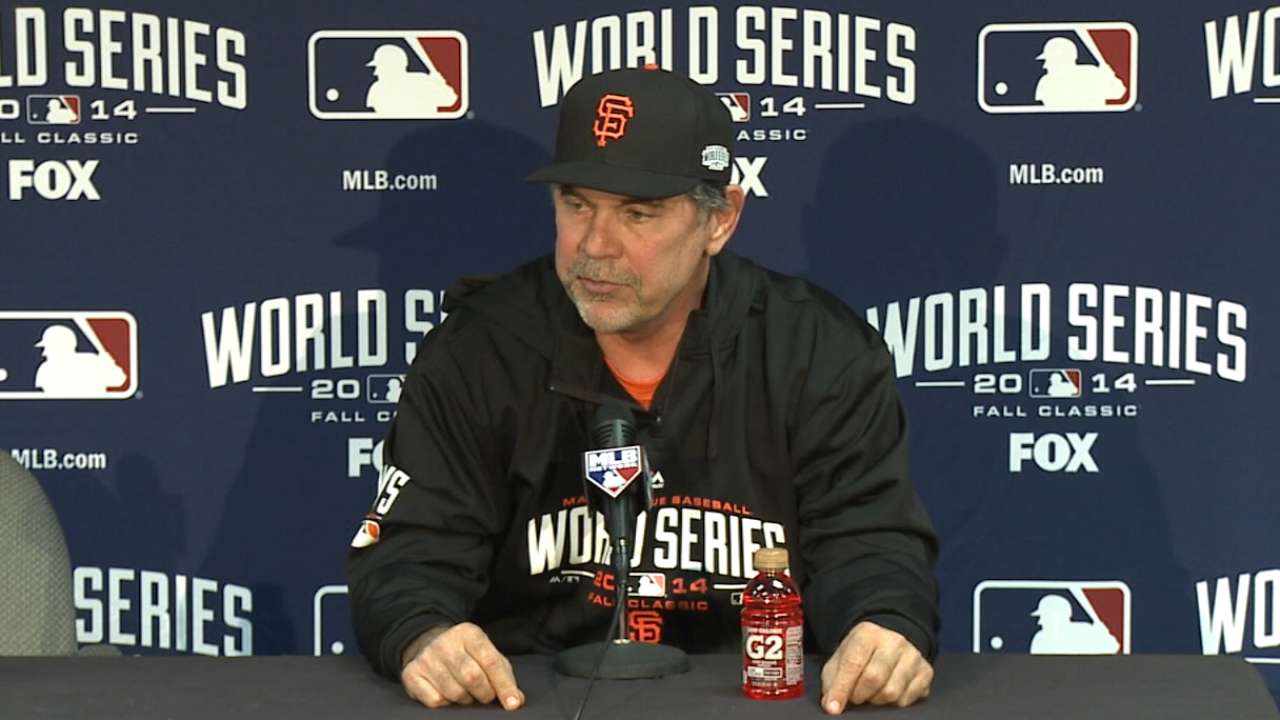 Speaking of focus, Peavy will have to devote a great deal of it to slowing down the potent running game of the Royals.
That was not a strength of Peavy's early in his career. In his Cy Young Award-winning 2007 season, a stunning 21 of 23 runners who attempted to steal on him did so safely. This year, of the 14 runners that attempted to steal against him, six were thrown out.
The key, Peavy said, is to vary his time to the plate to make it difficult for runners to get a gauge on him. In the process, he realizes that he runs the risk of getting out of his rhythm, but so be it.
"When guys get on base and especially those speedsters, you have no choice but to be out of rhythm because you're going to have to hold the ball, you'll have to slide-step and you'll have to pick off," he said. "I'm glad this happened late in my career, because early in my career it's hard to process every bit of that -- what you're doing to the hitter, making quality pitches and trying to keep the guys at first base who are really fast."
Steve Gilbert is a reporter for MLB.com. Read his blog, Inside the D-backs, and follow him on Twitter @SteveGilbertMLB. This story was not subject to the approval of Major League Baseball or its clubs.