MLB.com Columnist
Richard Justice
MLB shines light on worthy causes at Fall Classic
World Series begins with initiative that focuses on veterans and military families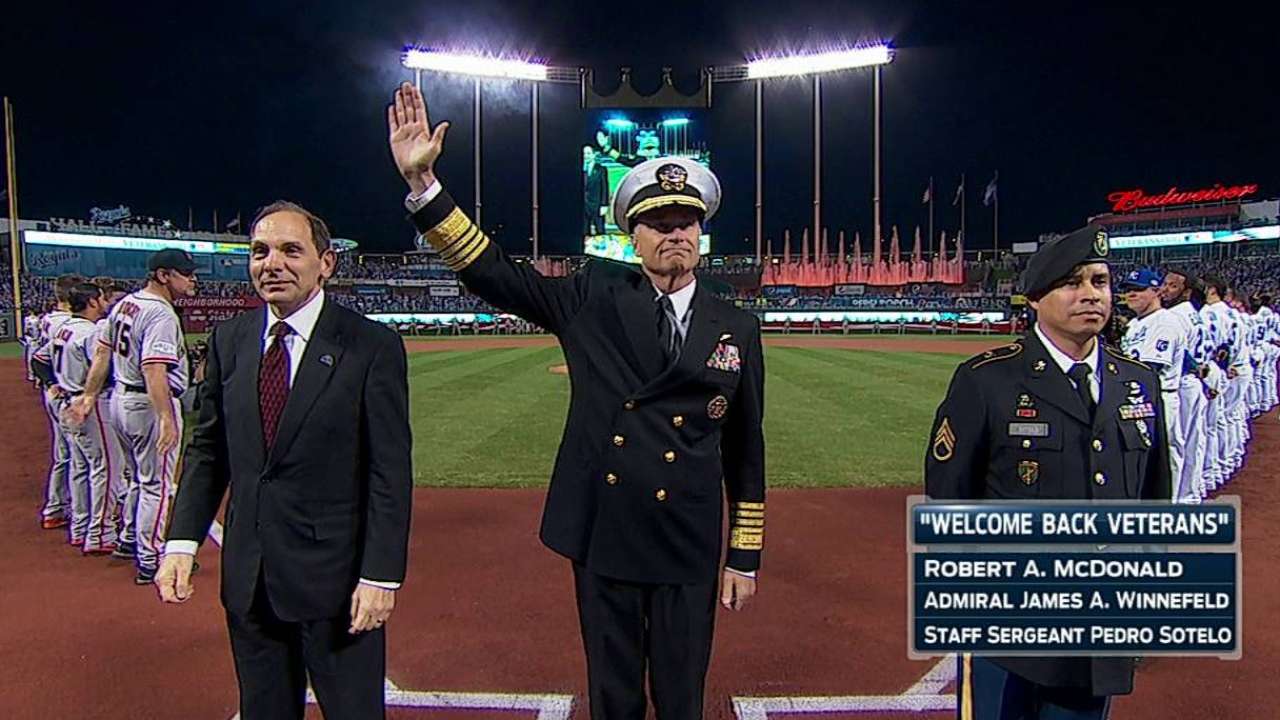 KANSAS CITY -- The World Series is Major League Baseball's bully pulpit, and the league intends to use it. So with a worldwide stage available, baseball will again shine a light on a series of causes.
This is the kind of thing that can happen when a sport is led by a man who sees it as a social institution. One of the enduring themes of Bud Selig's 22 years as Commissioner is that baseball must be about more than games and money and all that stuff.
Those things are important. Without them, these other opportunities don't exist. To use them is the important thing.
Starting tonight, and during the first four games of the World Series, MLB will promote four causes:
Game 1: Veterans and military families
Game 2: ALS awareness
Game 3: Cancer prevention and research
Game 4: Youth outreach initiatives
When Selig considers his legacy, he'll proudly point to a dramatic reshaping of the sport. Under his leadership, baseball has achieved labor peace, set attendance records, increased competitive balance, added Wild Card playoff berths and made an assortment of other advances, including a company called Major League Baseball Advanced Media, which has transformed how we consume the sport.
Selig has also used his time to highlight the role Jackie Robinson played, not just in baseball, but in the civil rights movement in the United States.
And for Game 1 of the World Series on Tuesday at Kauffman Stadium, the men and women who protect and defend us around the world were center stage.
For an entire sport, a proud moment.
"Major League Baseball is proud to utilize the global platform of the World Series to highlight causes that are important to so many of our fans and our culture as a whole," Selig said. "Baseball is a social institution with significant social responsibilities, and it is a privilege to draw attention to organizations that work tirelessly to address these challenges."
Selig began the Game 1 effort on Tuesday morning, leading a group to visit veterans at the Kansas City VA Medical Center Honor Annex. Among the pregame honorees was Staff Sgt. Pedro Sotelo, who handled the ceremonial first pitch before Game 1.
Sotelo's story includes a 2003 deployment to Iraq with a special operations unit in the U.S. Army Reserves. He was diagnosed with post-traumatic stress disorder (PTSD) in 2005 and now counsels Wounded Warriors on dealing with PTSD.
Baseball will also debut a series of public service announcements during Game 1 to support Welcome Back Veterans. Since 2008, MLB and the Robert R. McCormick Foundation have contributed more than $30 million to WelcomeBackVeterans.org.
One of America's greatest heroes, Bob Dole, also was recognized during the middle of the fourth inning in Game 1. Dole was badly wounded during World War II, and through the sheer force of his iron will, he recovered and eventually became one of the most respected members of the United States Senate, representing Kansas.
In all of this, there's a larger message. That is, baseball wants to use its place in the hearts and minds of sports fans to highlight other causes, to educate and to raise money.
In that way, Major League Baseball hopes to use the games to do some good. This World Series features two evenly matched teams, two teams that have been expertly constructed and smartly managed.
This World Series has veteran stars like Hunter Pence and James Shields. It also features other players coming of age right before our eyes: Salvador Perez and Brandon Belt and others.
In so many ways, baseball has never been more appealing or entertaining than it has been the past few weeks, as the games have largely been close and the outcomes decided late.
But Major League Baseball can take pride in the efforts it is promoting around the games. These, too, are part of this World Series. A proud part.
Richard Justice is a columnist for MLB.com. Read his blog, Justice4U. This story was not subject to the approval of Major League Baseball or its clubs.