MLB.com Columnist
Lindsay Berra
Retired Marine sits in Buck O'Neil's seat for Game 1
Royals honor legacy of Kansas City Monarchs star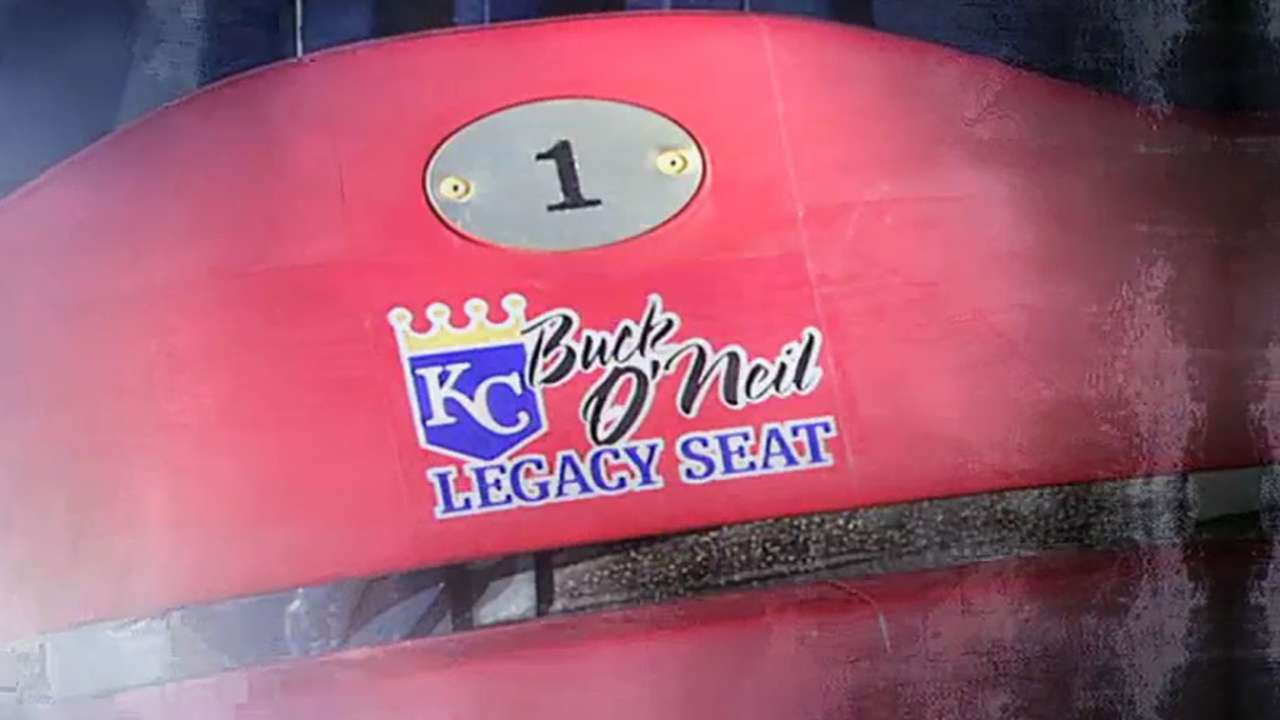 KANSAS CITY -- There is one red seat in the sea of blue that is Kauffman Stadium in Kansas City, home of the Royals. It is Seat 1 in Row C of Section 101, and it belonged to Buck O'Neil.
The star of the Negro League's Kansas City Monarchs became the first African-American coach in Major League Baseball when he was hired by the Cubs in 1962. Later, as a scout for the Royals and as a fan, he spent countless days and nights watching games from his seat behind home plate.
To honor O'Neil, the Royals began the Buck O'Neil Legacy Seat program in 2007. Every night, they fill "Buck's Seat" with a special person who, on a large or small scale, represents Buck's spirit through work done in the community.
For Game 1 of the World Series, as Major League Baseball honored veterans and military families, Tony Clark of Augusta, Kan., was in the red chair.
Clark, an active duty U.S. Marine from June 1996 through April 2002, ran his first marathon in Honolulu in 1999 when the USO offered Marines from his ship free entry into the race. After his honorable discharge from the Marines, Clark continued running marathons, but soon decided he wanted something more.
"I reached a point with marathons where I was like, 'What's next?' " he says. "So I got into ultra-marathons."
Clark began with 50-mile races, then graduated to 100-mile races. In 2010, Clark ran 224 miles across the state of Kansas, from north to south, from Nebraska to Oklahoma. The trip took 59 1/2 hours and raised nearly $35,000 for the Wounded Warrior Project.
In 2011, Clark was invited to run California's Badwater 135, which is commonly known as "The World's Toughest Footrace." The 135-mile course runs from Badwater, which at 282 feet below sea level is the lowest point in the United States, through Death Valley to the Mt. Whitney Portal at 8,360 feet above sea level. Temperatures in the desert commonly top 130 degrees. By completing that race, Clark raised $10,000 for Operation Freedom Memorial Foundation in Wichita, which honors those who lost their lives in Iraq and Afghanistan.
In 2012, Clark ran the Badwater 135 again, raising nearly $20,000 for the Descendants of Sparta, an organization that helps combat suicide and PTSD in veterans.
Clark's wife of 10 years, Angel, who often runs, bikes and drives a van to support Clark in his running efforts, accompanied him to the game on Tuesday night. However, neither Tony nor Angel are actually Royals fans.
"I was raised a Cardinals fan by my father, and actually went with him to Games 3, 4, and 5 of the 1985 Series at Busch Stadium," Clark explains. "I'm actually kind of happy the Cardinals didn't make it, because I don't think I could have sat in this seat and worn red."
Rather, Tony and Angel were decked out in Royals blue, and proud to honor O'Neil's legacy.
"Of course, I knew who Buck O'Neil was as a baseball player and coach, but I didn't know about his community service until I got nominated for this," says Clark, who was called by the Royals public relations department on Saturday and invited to the game. "It's all very cool."
Lindsay Berra is a columnist for MLB.com. This story was not subject to the approval of Major League Baseball or its clubs.