Yanks' Austin starts late rally in Fall League win
Leadoff single sparks four-run eighth inning, Scottsdale climbs back from 6-1 deficit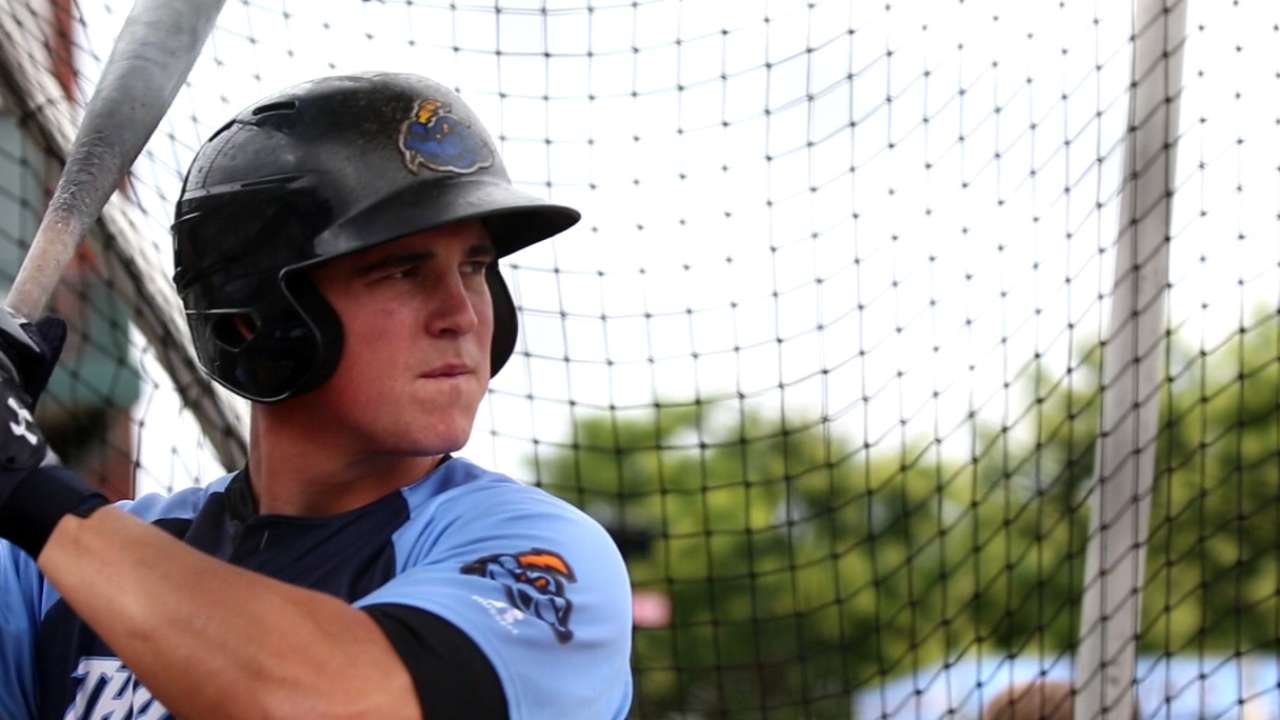 For six innings Tuesday, Glendale right-handers Francellis Montas and Parker Bridwell silenced Scottsdale's offense. Despite some wildness that led to two runs, the pair held the Scorpions hitless, allowing the Desert Dogs to open a four-run lead.
When Bridwell was relieved after two innings, however, the rest of Glendale's bullpen couldn't keep the no-hitter going. The Scorpions broke through for their first hit and another run against left-hander Scott Snodgress in the seventh and then plated four runs to take the lead against right-hander Mychal Givens in the eighth.
The late rally proved to be enough and Scottsdale held on for a 7-6 victory, its second against Glendale in as many days.
Tyler Austin started the Scorpions rally with a leadoff single in the eighth. The inning snowballed from there and Scottsdale batted around and scored four runs on four hits, a walk and two errors. The second error, on catcher Michael Ohlman, allowed Dante Bichette Jr. to score the go-ahead run from first base on Kelby Tomlinson's double.
Austin said even after the Scorpions fell behind early in the game, they were confident in their ability to mount a comeback.
"Nobody on the team felt like we were going to lose the game, honestly," Austin said. "We got down early and fought back made it a good game. It was a quality win."
Austin, the Yankees' No. 15 prospect, finished the day 2-for-5 with a double, a run and two RBIs. His ninth-inning double was his second extra-base hit in nine games this fall.
Austin played for Double-A Trenton during the regular season. He hit .275/.336/.419 with nine home runs in 105 games.
With Scottsdale, Austin is hitting .278/.366/.361. He said he is still making adjustments at the plate.
"It's still a process and there's still things I'm working on," Austin said. "But I feel pretty good. Just got to keep my head up and keep improving."
Tomlinson was the only other Scorpion to record two hits Tuesday. The second baseman went 2-for-4 with a double, an RBI and a stolen base. Bichette, Austin's teammate in the Yankees' organization, added a hit and two runs.
Glendale took the lead with four runs in the second off Scottsdale starter Adam Morgan. Garabez Rosa and Nick Ramirez hit back-to-back home runs in the inning and Brewers top prospect Tyron Taylor added an RBI single. The Desert Dogs built on their lead with two more runs in the fifth.
Rosa finished the game 2-for-4 with a run and two RBIs. Shortstop Corey Seager, the Dodgers' top prospect, added two hits.
Given the early lead, Montas and Bridwell did their best to make it stand up. Montas, the White Sox No. 3 prospect, struck out three batters, walked two and allowed one run in four innings. Bridwell, the Orioles' No. 12 prospect , struck out two, walked three and also allowed one run -- his first in four games this fall - in two innings.
Austin said Montas and Bridwell did a good job keeping hitters off balance, but the Scorpions stayed confident at the plate.
"They're a couple of good pitchers hitting their spots and throwing everything for strikes," Austin said. "But we didn't give up. We kept battling and we came out on top."
This year is Austin's second trip to the AFL. His time in the league was cut short last year by wrist discomfort and he was replaced on the roster early in the fall after playing in four games.
In Austin's return to the desert this year, he is working to improve his defense in both corner outfield positions. He has mostly played right field in his career and is now learning left field, where he said he is making progress.
Mostly, however, Austin wants to win some games.
"I just want to help this team win and maybe bring home an AFL championship," he said. "You never know. But there's nothing better than winning."
Teddy Cahill is a reporter for MLB.com. Follow him on Twitter at @tedcahill. This story was not subject to the approval of Major League Baseball or its clubs.