He's back: Lee visits from Korea to see KC in World Series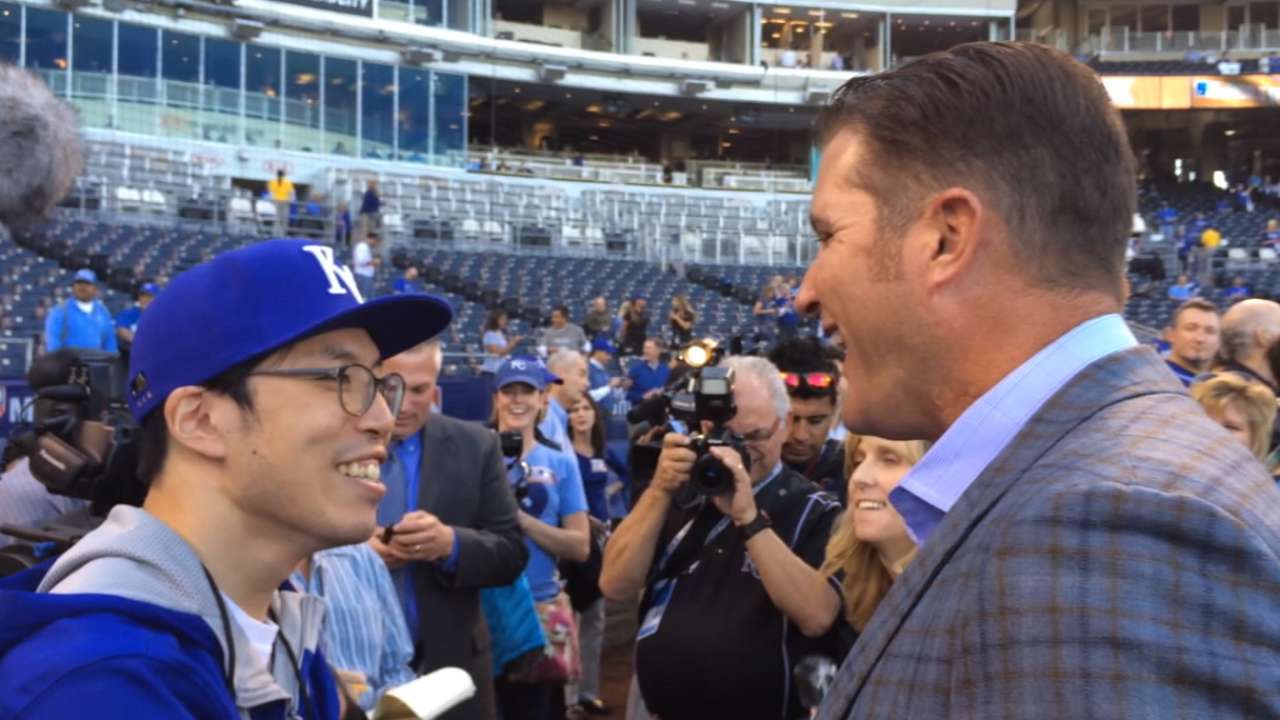 KANSAS CITY -- There was quite a commotion forming to the right of the Royals' dugout during batting practice before Game 1 of the World Series at Kauffman Stadium on Tuesday. One lone figure created a buzz, with cameras and reporters scurrying around him, eager to talk to one of the most interesting quasi-celebrities to emerge from this year's Royals season.
We are talking, of course, about SungWoo Lee. You may know him better by the nickname he's so identifiable with that it's sewn on the side of his Royals cap -- Korean Superfan.
"I finally made it!" Lee shouted, hands pointing straight up to the sky. "Go Royals!"
Lee's fame grew earlier this season, when he traveled from his hometown of Seoul to Kansas City to see his beloved Royals play in person for the first time. The visit to The K was part of a 10-day sojourn from Korea, where he has been rooting for his favorite baseball team for the past 20 years.
Apparently, those who travel the furthest reap the best benefits. When he was last here in August, Lee was invited to throw out the ceremonial first pitch. He met plenty of Royals, from manager Ned Yost to Hall of Famer George Brett to the current players on the roster.
Courtesy of Major League Baseball and ESPN, which is doing a "30 for 30" short on Lee's story, Lee was back on center stage Tuesday, heading straight to the ballpark upon getting off the plane, needing little time to recover from his approximately 6,500-mile flight.
A merchandise manager by trade, Lee convinced his employers to give him some time off work to travel to Kansas City after the Royals clinched the pennant. His bosses were amenable to letting him go, perhaps mostly out of general kindness, but maybe also because of possible public pressure. This story has gained some traction in Seoul.
"This raised a lot of Korean media attention," he said. "So there was a lot of hype for me to get [the] vacation."
Lee's Royals fandom goes back to the mid-1990s, when he was watching an American sports highlight show and saw the Royals playing. He was taken by the beauty of Kauffman Stadium, and from there, he became a die-hard fan -- through the good and the bad.
He is accustomed to tracking the Royals on MLB.com Gameday from his office in Seoul. Night games generally start at 9 a.m. Korea time.
Given the timeline, it's no surprise that of all the Royals figures who were on the field while the team took batting practice prior to Game 1 of the World Series on Tuesday, Lee was most excited to spot former first baseman/DH Mike Sweeney, a fan favorite who played for Kansas City from 1995-2007.
After Sweeney broke away from his conversation with country music superstar and Game 1 national anthem singer Trisha Yearwood, he came barreling over to Lee, embraced him and gave him a hearty "Welcome to Kansas City" hug.
"Did you get my email?" Sweeney asked an awestruck Lee, who was so overcome with excitement while attempting to have a conversation with his favorite player that he could barely muster a "yes!"
The plan is for Lee to attend Game 2 at The K and then possibly travel to San Francisco for the middle three games. He's not sure about that yet, though -- he's leaning toward wanting to stay in Kansas City and hang out with his fellow die-hard Royals fans.
"I may want to stay in Kansas City to [have a] watch party with [the] Kansas City people," Lee said.
Whatever he decides, it's clear he'll be the life of the party wherever he goes.
Alyson Footer is a national correspondent for MLB.com. Follow her on Twitter @alysonfooter. This story was not subject to the approval of Major League Baseball or its clubs.