No fear: Rookie Ventura to bring heat in Game 2
Pitching beyond his years, righty's secondary stuff lethal complement to fastball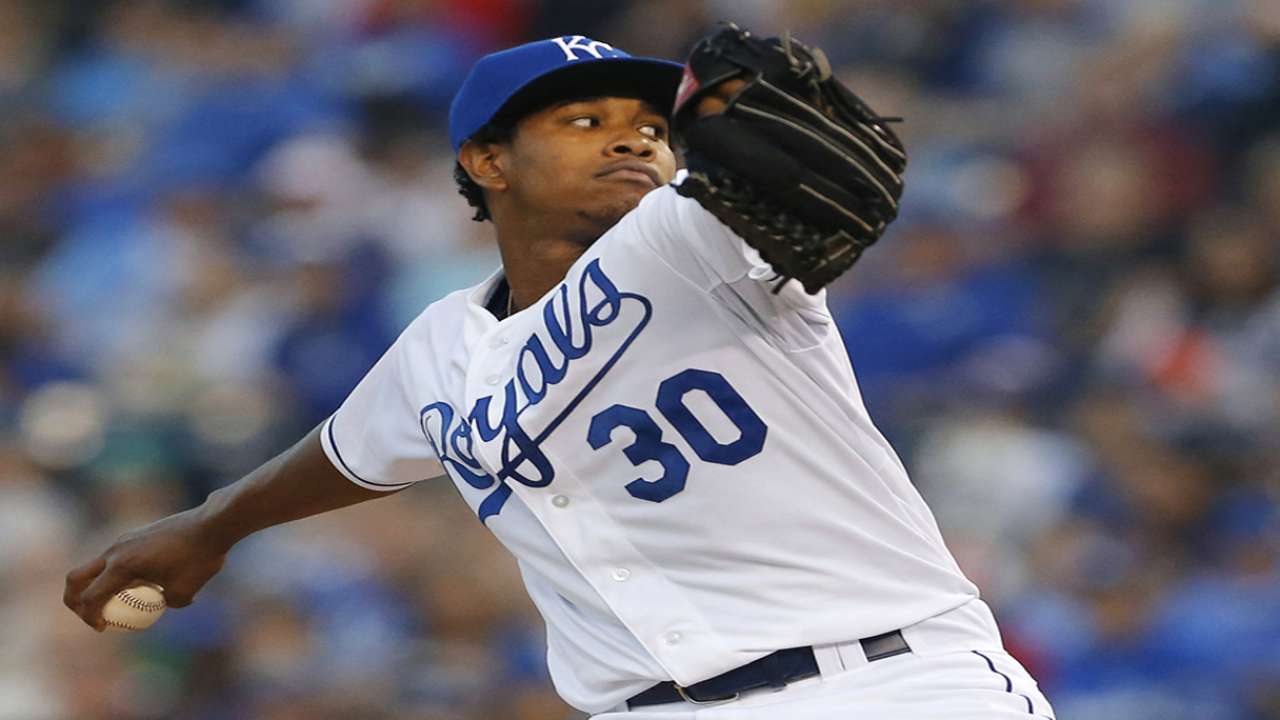 KANSAS CITY -- Long before the 100-mph fastball, the dynamic 2014 season and the opportunity to start Game 2 of the World Series was a tryout in Guerra, the Dominican city that houses the Royals' academy on that baseball-rich island. It was the summer of 2008. Yordano Ventura came in slightly taller than 5-foot-10, weighing 143 pounds and throwing no harder than 88 mph, sticking out for the wrong reasons.
"When I first saw him, he didn't look like one of the kids who was there for the tryout," said Victor Baez, who runs the Royals' academy in the Dominican Republic. "He was 17 years old, but he looked like he was 14."
Then Ventura started throwing and Baez noticed his arm action, how easily the ball jumped out of his hand, so he called him over.
"What are you doing here?" Baez asked. "You're too small to be here. You're not scared?"
Ventura hardly blinked.
"Of course not," he replied. "I have a great arm, and I want you to give me the opportunity to show you."
"He wasn't timid," Baez recalled Monday, two days before Ventura is scheduled to take the ball against the Giants from Kauffman Stadium (air time for tonight's Game 2 is 6:30 p.m. CT, with game time at 7:07 on FOX). "Almost every kid that comes through there is very timid; they lower their head. He didn't lower his head; he kept looking into my eyes. And then when he got the ball -- wow. That's when we realized what we have."
After one tryout, Royals assistant general manager of international relations Rene Francisco was ready to sign Ventura to what ended up being a $28,000 bonus. Nobody could've ever predicted Ventura winning 14 games with a 3.20 ERA in his rookie season, or that he would routinely throw his fastball in the triple digits. But they knew he wasn't scared, they knew he'd eventually throw harder, and they quickly learned one more thing about the now-23-year-old right-hander:
He was obsessed with velocity.
Nobody wanted to warm up with Ventura, because he threw as hard as he could while playing catch from 70 feet.
"One thing I was told at an early age," Ventura said, smiling, "was that if you want to throw harder, you have to practice it."
Baez would get angry, so he'd make Ventura run as punishment. He wouldn't stop. The front office got concerned, because he was too small to subject his arm to so much stress, so they banned Ventura from throwing more than 50 pitches in his starts. Baez would routinely take him out of games in the third or fourth inning, with no runs on the board, and Ventura would cry.
All throughout, Ventura also kept talking. He constantly told Baez he'd throw harder, upping the bar with each tick in velocity. Secretly, he'd tell teammates that one day he'd reach the coveted triple digits. And on his final day in the Dominican Republic, before jettisoning off to the United States and joining the Royals' Rookie affiliate in Arizona, Ventura left a lasting impression.
It happened in a November 2010 exhibition game against the Giants -- not these Giants -- when Ventura's fastball suddenly jumped from 90 to 94 mph.
"Just like that," Ventura said. "It's a blessing that God gave me, and I'm trying to take advantage of it."
Ventura's average fastball velocity was 97 mph this season, easily the fastest among Major League starters, and he threw a pitch at 102.9 mph in his first start on April 8. But what most impressed veteran right-hander Jeremy Guthrie, who doubles as Ventura's translator, were the secondary pitches that came with it.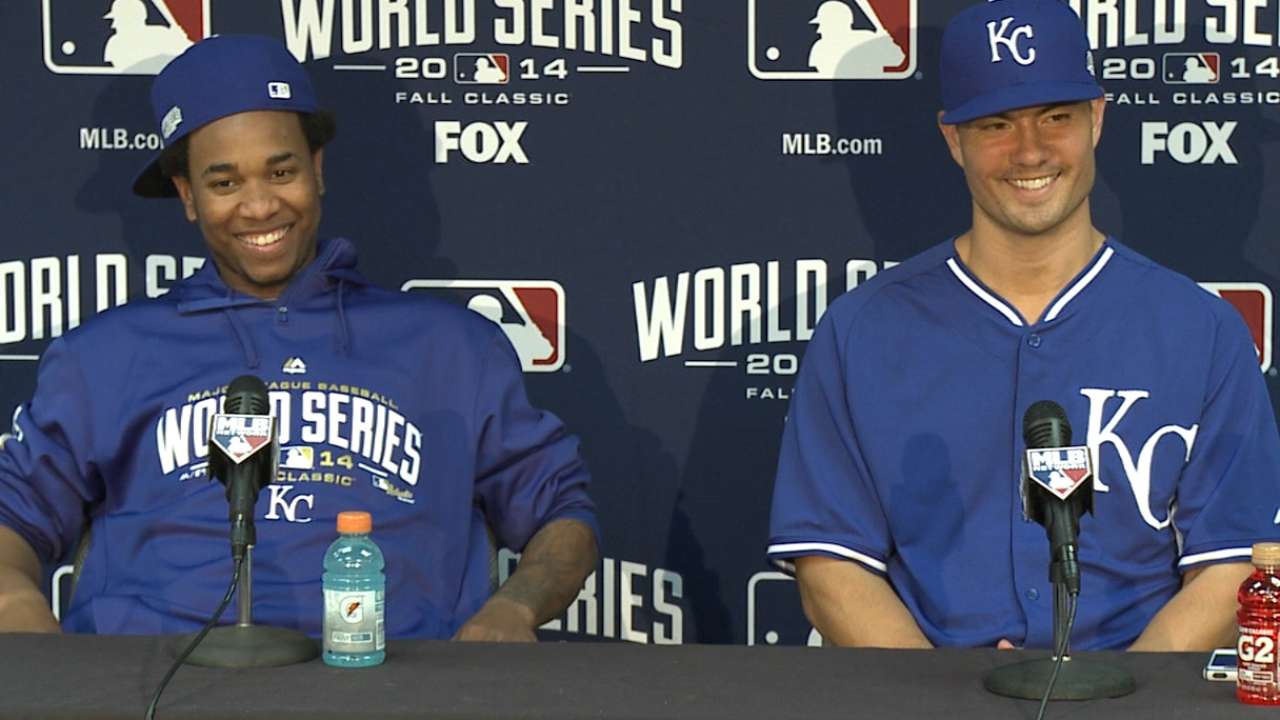 • Video: Ventura, Guthrie translation routine
• Rogers: Ace in waiting Ventura may be Royals' wild card
"I think we all expected the above-average, elite arm that we heard about," Guthrie said, "but I don't know, I did not expect to be able to see those secondary pitches thrown for strikes and with the sharpness and the conviction that he has when he throws them."
Ventura has a biting 12-to-6 curveball and a volatile changeup, which typically hold the key to his success. When he throws them for strikes, like he did while twirling seven innings of one-run ball in Game 2 of the American League Division Series, he's basically unhittable. When he doesn't, as was the case while giving up four runs in 5 2/3 innings in Game 2 of the AL Championship Series, he's in trouble.
But it's an innate competitiveness and unrelenting belief that sticks out most about Ventura, fostered while pitching against grown men at the age of 15 and evident in how quickly he put a shaky relief appearance in the AL Wild Card Game behind him.
"It was almost a blessing in disguise," Royals pitching coach Dave Eiland said of Ventura serving up what could've been a season-ending three-run homer to Brandon Moss on Sept. 30. "When he got the start three days later, he was ready for redemption. Knowing him, it doesn't surprise me."
Salvador Perez has been Ventura's catcher basically every step of the way. He's asked about his competitiveness and he looks up, opens his eyes wide and mutters two words that mean everything to Ventura:
"Pedro Martinez."
Perez knows what that means. He knows the pressure that comes with comparisons to possibly the best pitcher to ever come out of the Dominican, knows how frequently others make the same link. But it's almost unavoidable, even if Martinez never threw as hard and Ventura's arm slot is a little higher.
"They're very similar," Baez said. "Their poise."
Ventura and Martinez talk on the phone every other day. They talk about putting pitches together and they talk about handling pressure. Recently, they talked about the World Series, in which he will look to help the Royals pull even after a 7-1 loss in Game 1.
"He told me to treat it like any other [game], with the confidence that I have, and to have fun because opportunities like these don't come around very often," Ventura said. "That's what I'm going to do -- take advantage of my day and have fun."
Alden Gonzalez is a reporter for MLB.com. Read his blog, Gonzo and "The Show", and follow him on Twitter @Alden_Gonzalez. This story was not subject to the approval of Major League Baseball or its clubs.