Cubs' Russell rakes in Fall League victory
Shortstop knocks in three runs, including a two-run homer, helping Mesa earn win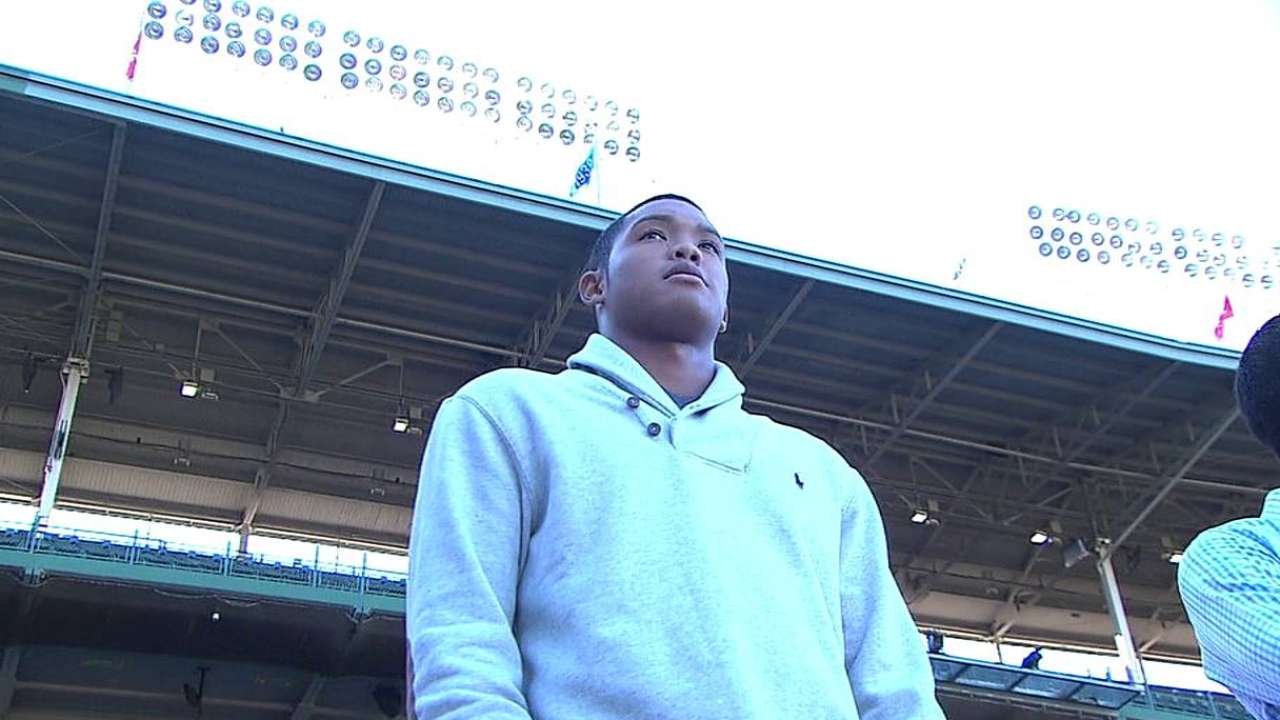 SURPRISE, ARIZ. -- The 2014 season provided its fair share of hurdles for Addison Russell to overcome.
Not only did the No. 5 overall prospect, according to MLBpipeline.com, miss several weeks with a hamstring injury, but he also had to adjust to playing on multiple teams in multiple leagues.
Russell began the season in Class A Advanced Stockton, was promoted to Double-A Midland and then was involved in a blockbuster midseason trade from the Oakland Athletics to the Chicago Cubs and finished his season at Double-A Tennessee.
After a season filled with adjusting to new teams, it should be no surprise that the 20-year-old Russell is contributing to his newest team, the Mesa Solar Sox, whom he led to an 11-6 victory in the Arizona Fall League on Tuesday.
"It was kind of a crazy year and also I was out for nine weeks as well, so I'm trying to get those at-bats," Russell said.
Russell, the Cubs' No. 2 prospect and the 11th overall pick in the 2012 Draft, went 2-for-5 with three RBIs and a home run.
Russell did strike out three times in the game, but after a string of nine hitless at-bats over the past two games, the multi-hit effort was certainly welcomed.
"It felt good," Russell said. "I thought I saw the ball pretty well today. A lot of swings and misses, I definitely want to cut down on those, but overall I thought I saw the ball good today."
Russell's offensive production went a long way toward Mesa's fifth victory in its past six games, but he was hardly the only player to have a good day at the plate.
Mesa and Surprise combined for 17 runs on 27 hits -- six of which went for extra bases.
In addition to Russell, Mesa's Daniel Robertson (A's), Cal Towey (Angels), Boog Powell (A's) and Jacob Hannemann (Cubs) all had multi-hit games.
For Surprise, Deven Marrero (Red Sox), Patrick Kivlehan (Mariners) and D.J. Peterson (Mariners) turned in multi-hit efforts.
"It was awesome," Russell said. "It was a good effort on both sides, good baseball. It was an exciting game, we were going back and forth scoring runs. It was exciting."
In Tuesday's game Russell served as the designated hitter, but the shortstop has also used his time in the Fall League to work at second base.
While he has had limited reps at second base thus far, Russell reported no challenges in the transition.
"Everything's going good," Russell said. "I missed nine weeks so not only the AB's, I need to get some reps at short and possibly at second, so that's what I'm working on right now."
After a slow start to the Fall League, Russell entered play Tuesday hitting .161 in the first eight games, Tuesday's outbreak may be a sign that Russell is starting to get into rhythm and it's likely no coincidence that his Mesa team is doing just the same as they've now won five of their last six contests.
"We're just relaxing and having fun," Russell said. "We're seeing a lot more pitchers and more pitching so our eyes are getting adjusted a little bit and I think that's what's going on right now."
William Boor is a reporter for MLB.com. Follow him on Twitter at @wboor. This story was not subject to the approval of Major League Baseball or its clubs.