Astros' prospect Velasquez untouchable in AFL action
Houston pitcher throws four scoreless innings, allows one hit while fanning two in victory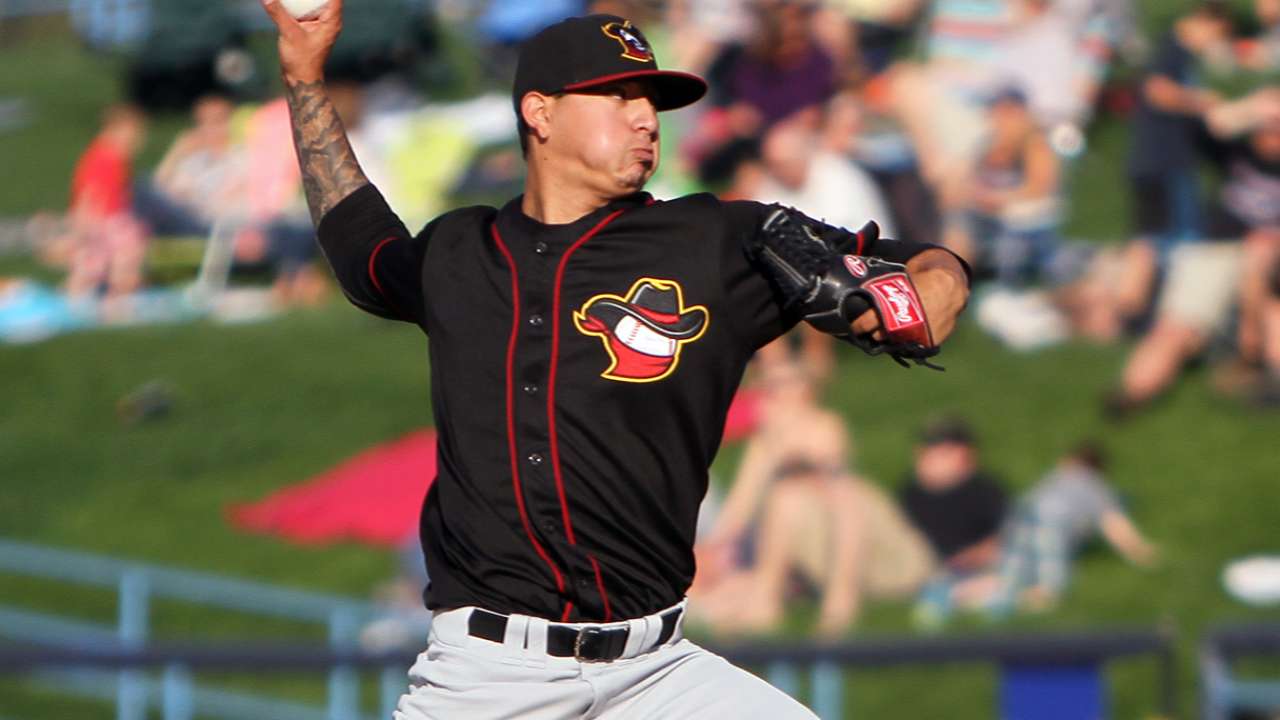 SCOTTSDALE, Ariz. -- The Salt River Rafters are following a really simple recipe for success: Start a Houston prospect and win a well-pitched game. Vincent Velasquez did the trick Tuesday, following up a gem by Mark Appel with four shutout innings in a 5-0 victory over the Peoria Javelinas.
Velasquez, ranked Houston's No. 8 prospect by MLB.com, allowed just one hit against a star-studded lineup for Peoria. The Javelinas had three of the top 100 prospects ranked by MLB.com in Tuesday's lineup, but Velasquez and three Salt River relievers held Peoria to just two hits for the day.
"It's fun for everybody when your pitcher's in control of the game like that," said Andy Haines, manager of the Salt River Rafters. "Appel and Velasquez both had very impressive outings. They were about as sharp as you can get. They kept the game moving and put up zeroes against really talented hitters. ... Very similar outings; ahead in the count and pretty much in command of the game."
Appel threw five shutout innings in a 4-2 victory Monday, and Velasquez earned his first win of the Arizona Fall League season Tuesday. Salt River completed its shutout in two hours and 20 minutes thanks to pitching and the AFL experiment with clocks enforcing pace of game. Salt River has hosted three games with the clock in effect, and none have been longer than two hours and 30 minutes.
Velasquez, 22 years old, was in complete control on Tuesday. The former second-round draftee allowed just one hit -- a second-inning single by Patrick Leonard -- and erased that runner on a double play. Velasquez struck out two batters and didn't walk anybody en route to the victory.
"I felt really good. It seemed like today was a little bit more comfortable," he said. "Everything was clicking and I was commanding everything as much as I wanted to. My curveball was a little iffy here and there, but doubling up really helped out a lot. My changeup was working better than I expected."
Peoria's only other hit came in the sixth inning, and that runner was thrown out at second base on an attempted steal. Catcher Chad Wallach had three RBIs for the Rafters -- two of them on a second-inning double and the other on a sacrifice fly -- and Salt River notched eight hits against Peoria pitching.
The game had two instant replay reviews, but neither one resulted in a changed call. The first one came on a bang-bang play at first base in the sixth inning, and Peoria outfielder C.J. McElroy was called out on a force play. The next one came moments later. Francisco Lindor, the No. 4 prospect on the MLB.com charts, was called out on a stolen-base attempt and replay confirmed the call.
The McElroy play took 1:40 to review, while the Lindor call was confimed in just 26 seconds.
Velasquez is in the Arizona Fall League to make up for lost time due to injury. The right-hander missed two months of the season with a groin injury, and he missed the entire 2011 campaign after having Tommy John surgery on his pitching elbow. Now that he's healthy, Velasquez said that he wants to grind through the AFL season and make sure he's healthy to start Spring Training with Houston.
Velasquez has a career 22-14 record with a 3.45 ERA in the Minor Leagues, and he worked to a 7-4 record and a 3.74 mark with Class A Lancaster last season. This is his first chance to face upper-level hitters, and he said he's trying to make the most of the experience in the Arizona Fall League.
"Every hitter is different," he said. "I'm facing these guys for the first time and my last outing wasn't really the best, but it's little minor things that you pick up. You shouldn't change just because of who the player is; you've got to go out there and compete and you've got to trust your stuff. Today, I just really located inside and outside and tried to attack the hitters. Today, it worked out perfectly."
Appel, the first overall pick in the 2013 First-Year Player Draft, struggled in the Class A California League last year but pitched better after a late promotion to the Double-A Texas League. Velasquez literally followed Appel on Tuesday and hopes to team with him on the Astros sometime soon.
"We're representing the Astros," he said. "We're the potential next guys to be called up, so we've got to represent. We have our ups and downs but we've always got to think positive. Mark was just fantastic yesterday, and I was trying to copy that today. You can't beat that last outing for him."
Spencer Fordin is a reporter for MLB.com. This story was not subject to the approval of Major League Baseball or its clubs.