Oct. 21 Bochy pregame interview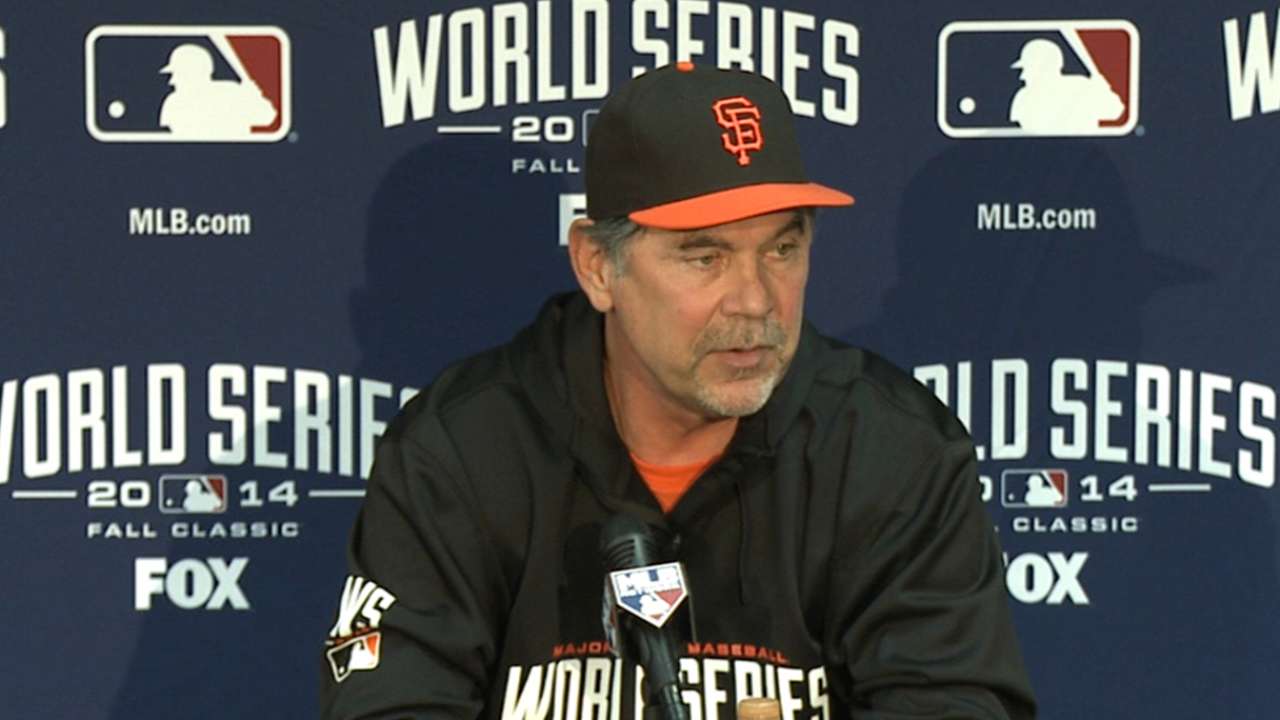 Q. Can you talk about Gregor Blanco. He's your leadoff hitter, not your typical numbers production‑wise, but gets the job done ultimately. Can you talk about him setting the table for the rest of your lineup?
BRUCE BOCHY: Right. It's great to have a guy like Gregor on your club who has that experience leading off. I mean, we lost our leadoff hitter with Pagan and we needed some help there. We needed a centerfielder. He really has softened the blow of losing Pagan with his play, and he's a guy that can do a lot of things for you. Great defensively, and he's a good leadoff hitter. He's the type of guy you can do different things with. You can bunt, hit‑and‑run, steal a base for you.
So I had the luxury of having two centerfielders who can lead off, really came through for us this year.
Q. In your scouting meetings, what are you hearing about Herrera and Davis and Holland? And what do you think you can do against those three guys?
BRUCE BOCHY: Well, we saw them firsthand. It's a great pen they have. Great arms, power arms. You have your work cut out if you are going to try to do something off them. But, hey, you have to face good pitching throughout the postseason and figure out a way to score runs.
But they certainly have a great corps of set‑up guys and closer as good as anybody in baseball, and that is a big reason for their success. I'm sure they're going to play a big role in this game, and we're going to have to find a way, obviously, to see if we can find a way to score some runs off the back end of their bullpen too. The bullpens are going to play, I think, a critical role in this series, ours and theirs.
Q. On your bullpen, Bruce, you mentioned maybe some of the guys were a little tired at the end of the last series and had some days off. Did you have to check with any of them or any of them full go? Is there anybody you might have to back off a little bit?
BRUCE BOCHY: No, they're all good to go. The break served really all of them well. I mean, Jeremy Affeldt was running on fumes. Casilla, that was his third day in a row. Romo was four out of five days. And Lopez was up quite a bit when he didn't go in. So the break should do them well.
But they're good to go. In fact, they've taken some bullpens, so I have no concerns about their availability.
Q. Jake was just in here giving his usual really short press conference, and was talking about how felt he needed to make an impact on chemistry on the team when he came in. Did you talk to him about that? Especially when he came in it was such a low point where the team was struggling so hard, did you see him have an impact there?
BRUCE BOCHY: He really has impacted our clubhouse, and Jake and I have talked. I've used him as a guide, too, to give me a pulse of the club. I've asked him to say a few things, too. With his experiences and his knowledge, really has, I think, just ramped up the intensity and the focus on these guys. Jake, as you know, when he plays, when he pitches, he's all in.
I think leadership can come by example, which he does in the way he plays, but also in that clubhouse. He's vocal, too. Not just in a meeting or whatever, but he'll do a lot of one‑on‑one stuff. After the game, he'll spend time with them, he'll call them on the phone. But really it has helped us in that area. He's a guy I appreciate because he'll step in the breach and he'll say something.
Q. Having just come from the American League, Jake Peavy and from a team that just won the World Series and obviously knowing the Royals, how do you think this experience is going to come in handy for you guys facing an American League team tomorrow in the first game?
BRUCE BOCHY: Are you talking about Jake again?
Q. Yeah.
BRUCE BOCHY: With his time in the American League and he's seen the Royals a lot. So it's obvious that we've asked him a lot of questions and ways where he could help us on how this club plays, their hitters and things like that.
We saw them earlier in the season, this team. They played very well against us. But anytime you have a player that's spent more time in the American League or maybe faced a team a little bit more, that's invaluable because they can give you some info that maybe your advanced scouts couldn't.
Q. You have a lot of strong points to get to this part of the season, but what do you think is the strength of your team, the best part?
BRUCE BOCHY: I think it's a balanced club, but I'd say more than anything is just the spirit they play with. I mean, they play for each other and they're a very unselfish group. They're not caught into their own agenda, and they'll do whatever is best for the club. We've asked guys to go in different roles and no one has ever complained. They just want to get to where we're at now, and they don't care how we get there. They don't care if it's their way, they just want a way to get there. That, I think, is their strength.
Q. Huddy had a tough month of September, and I know we talked about the hip injury he had. How did he get through that injury, pitching regularly? Did he do therapy? Did he take cortisone shots? What was the whole way he got through where he was fairly healthy again?
BRUCE BOCHY: Well, he leaned on the trainers, obviously, to help him get through his hip issue. We backed him off a little bit, and I think that helped. When you have an injury, you're in the training room, and you're getting treatment. We have trainers that really do a tremendous job with these guys, so it was a lot of work for him, I think, and a lot of time spent to get his hip cleared up to where it wouldn't affect his pitching. But I can't tell you all the procedures that he went through except that our trainers every day worked on the hip, stretched it, things like that, and of course backing him off a little bit.
Especially at his age, but all players, it's a long season, so you're going to have to deal with some injuries, and that's where your training staff play such a huge role in getting these guys healthy.
Q. The old baseball saying is that momentum is only as good as the next day's starting pitcher. Well, these teams right now seem to have plenty of momentum, no matter who is starting. The Royals are as hot as can be. Do you feel as successful as you've been in the postseason, that momentum can something in baseball?
BRUCE BOCHY: I do. You get on a roll and the confidence grows, and if you've been there and you've done it before, you should have the confidence that you can do it again. This game, there are a lot of swings in this game. Momentum, I think, is underrated because it does so much. Whether you're a pitcher or you're a hitter, if you're having success, you get that momentum going, and it just makes life a lot easier when you win some games and you think you're going to win some games.
Believe me, you get on the other end, and you've lost a few in a row, then you're wondering if you're going to win another one. So it works both ways. But I think momentum is a beautiful thing.
Q. I'm trying to get a practical gauge on the experience factor in terms of what you guys own. Is there stuff you don't have to say to this team in 2014 that you had to say to them in 2010 or stuff ‑‑ you know what I'm saying? Is there stuff you said in 2010 that you don't have to say to these guys now because of what they've been through?
BRUCE BOCHY: I still think it's like coaching. When you're teaching something, we use the old adage, repeat, repeat, and repeat again. So I don't think you ever stop talking to your players, coaches, myself, or player to player. You have to be reminded of things, just like I do. So that never stops.
Plus you have some young guys that have joined your club that weren't here in 2012. Those guys need to hear it. But with that said, they had been through it and they know what it takes, so that is invaluable, that experience.
Q. Morse is in the 7 slot, I believe?
BRUCE BOCHY: Right.
Q. Was that just a righty, lefty, to break up the lefties there a little bit?
BRUCE BOCHY: That's part of it. But he's a big bat. He's a threat at the plate. The guy we're facing, he's as tough on lefties as righties. So I just wanted Morse kind of in an area where we used him all year. He hit fifth or sixth, but I didn't want to move Belt, so I just said seventh is a good spot for him. He should feel pretty good where he's at right now, as far as his confidence, with the home run he hit.
Q. To follow that up, is he taking fly balls? With the lefty starter coming up in a couple games, is he someone that if he gets swinging pretty well, you can think about playing left field?
BRUCE BOCHY: Sure. Every day he takes fly balls out there. That's not going to stop. Occasionally he'll take ground balls at first. When he's not hitting, he's out there working on his defense. When that game comes, I'll decide which way I'm going to go. He's an option. He's healthy, and he's been working out there.