Oct. 21 Peavy pregame interview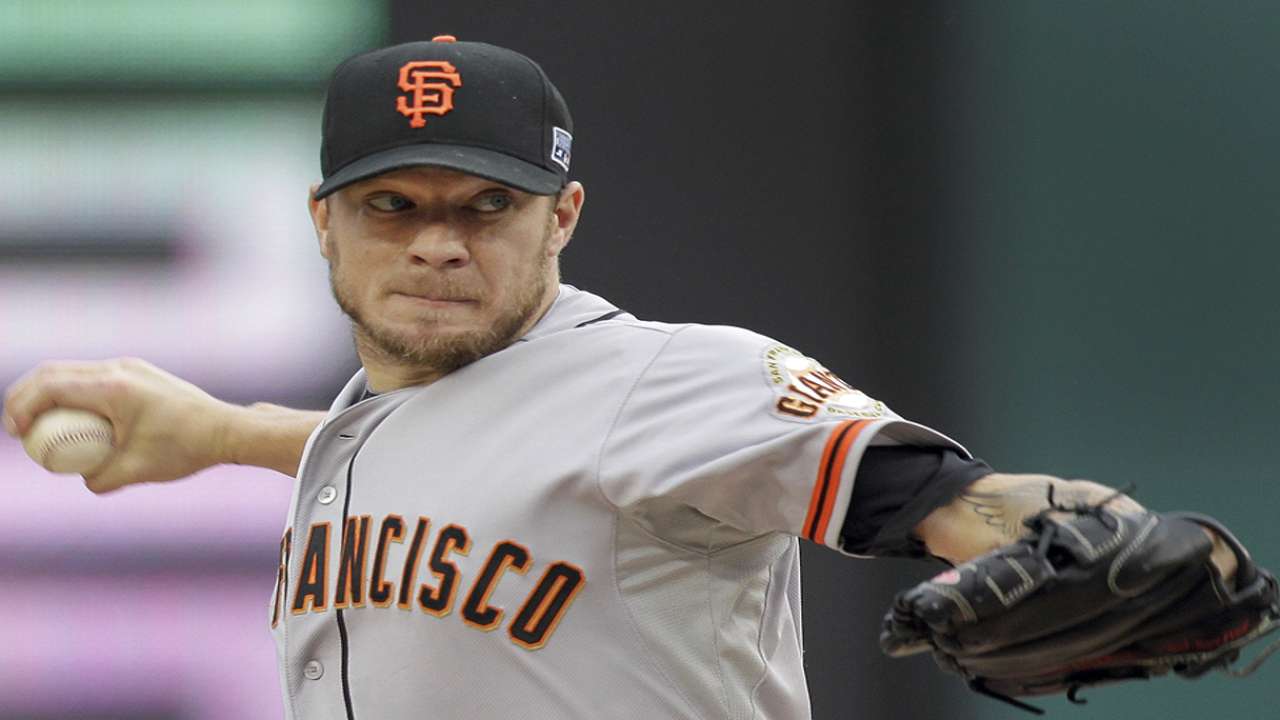 Q. Ventura's going to make his first ever World Series start. You're more of a veteran when you made yours. But can you kind of talk about what that first World Series start is like, and also, for you, the second one?
JAKE PEAVY: Yeah, he'll be excited, I'm sure. Everybody playing in this game, there is a lot of excitement. A lot of youth, a lot of energy, I think, on both sides. I think we all know how talented he is, and we'll try to hopefully take advantage of some of the excitement. You try to look for any edge you have, and I don't know if it's an edge by any means. He's going to throw balls close to 100 miles an hour with a really good slider. We'll have our work cut out for us, for sure.
But, yeah, he's young, and he's, I'm sure, going to come out guns ablazing and be really excited, as he should be; it's the World Series.
Q. And for you, getting back here?
JAKE PEAVY: Yeah, getting back is the world. When you win one, as I was so fortunate to be able to last year, you would think that would quench you. It actually made it worse. We talked about that a lot in Boston this year. You really can't settle for anything less, and nothing else acceptable. You want something so bad, you achieve it, and you can't put into words how bad you want more.
So it's a fun time for me. I'm going to exhaust every option tomorrow night to try to find a way to beat Kansas City, it's going to be really tough. As we know, they can score multiple different ways ‑ hitting the ball out of the ballpark, as we all saw this postseason, and generating runs.
You look at their lineup, Mike Moustakas, has been a huge part of what they've been able to do, is hitting 9th. Very formidable team, plays good defense, going to pitch extremely well. We know that. We've got our work cut out for us, and we're going to fight as well.
Q. You've got kind of a long layoff since your last start. What have you done to try to stay sharp? And how much of a factor do you think that will be?
JAKE PEAVY: I don't think it's going to be much of a factor. I needed some time to make sure we got things back in place. I fought myself a little bit in that start in St. Louis, and I felt really good in my Washington start and for a while. So we just made a small mechanical adjustment. I threw twice. Threw yesterday and had a really good side session, and really encouraged about what I should be able to do with the ball tomorrow night.
It just comes down to executing pitches. Like I said, when you go out there, like I did in St. Louis, and you realize you're not in sync early, you try to find that you've got to fight yourself a little bit as you're fighting the opposition. That makes for a tough night. And I think you guys all see that when the pitcher is working hard against himself, trying to find it and you're trying not to make mistakes while doing that, that's tough.
So the layoff has been good for me. It's been good to throw. I've still got some throwing left to do today in preparation for tomorrow. But I can't see it any other way in my mind. I'm going to do all I can do to execute pitches, and I feel really confident about my ability to do that.
Q. You've always pitched with an edge, even when you were young. You didn't have to guess how you felt about a game when you were on the mound. That said, the last few months it seems to have really ramped up. I'm curious, if you could describe what you're feeling when you are pumping your fists and screaming and all of that stuff? If you go back and watch it, do you recognize that guy?
JAKE PEAVY: I think any of you all that know me, you know I'm passionate about everything, even the way I speak about anything in life. I'm a passionate person. But I'm very laid back off the baseball field, I like to think. My friends and family certainly will tell you that I'm very laid back. Especially if you see me a few weeks from now in the winter, I'll certainly get my work in, but I love just being laid back and letting life come to me.
That being said, I don't feel like that's the way to play baseball. It's not the way I was taught to play baseball. So I really have, yeah, just the old Southern, dig your toes in the mud, and try to make your stand. For me, it does outwardly ‑‑ it comes out in ways that I look back and my children go, "God, daddy, you were really excited." They had me turning into the Hulk in Washington after the double play, when I was looking at my guys.
But at the end of the day, I don't feel bad. I don't apologize for showing that emotion, and I think it shows my teammates and the fans, so to speak, how emotionally invested you are in this and how much it means to you. I think sometimes it can elevate your team because they see how bad you want it, and it makes them want it no less than that. I don't do it for that specific reason, but I do know that's a direct effect of it.
In San Francisco, it's been a good fit. I think when I came over, there were some guys who didn't know how to take me, and a lot of young guys in the room. I expect a lot out of myself. I expect a lot out of my teammates tomorrow night; they know that. I'll be the first one to apologize when things go wrong on my watch, but I expect us to find a way as a team.
When you go into these starts, we're in here ‑‑ and I'm talking to my infielders tomorrow, but right now we're putting a game plan together as to where they're going to be aligned with every player and every pitch we're going to throw to this position player. When that stuff comes to fruition and you do it right and you're working as a team, I really try to show that emotion because I want that chemistry and bond for those guys to buy into the team concept, which we have.
Q. What have you learned about controlling the running game that you didn't know when you started with the Padres?
JAKE PEAVY: Yeah, that's going to be such a huge part of this series, y'all. We know how Kansas City has impacted the game with their speed. I think we all watched Madison mature in the way he does it.
As a right‑hander, it's a little bit different when you can't see the runner. We're going to have to do all we can do with varying our times, holding the balls. We've got numerous pickoff plays that we obviously reviewed coming into the series, making sure we have every option and all the ability to stop the running game.
At the end of the day, it's hard to stop it completely with how fast some of these guys are. That being said, we're going to give our team the best opportunity to cut those runners off. But the biggest thing is, like I said, varying your times. You can't be in any kind of rhythm, and we all know how important ‑‑ a starting pitcher will go, "All right, I had good rhythm. I was in rhythm tonight." When guys get on base, and especially those speedsters, you have no choice but to be out of rhythm because you're going to have to hold the ball, you'll have to slidestep and you'll have to pick off. It's going to be an interesting thing.
And I'm glad this happened late in my career, because early in my career, it's hard to process every bit of that, what you're doing to the hitter, making quality pitches and trying to keep guys at first base who are really fast. That's a lot to ask young guys to do. I'm very happy that our staff is a staff full of guys who have had experience at that, because it's going to play a factor in the series as we all know.
Q. You obviously faced the Royals and saw a lot of them five years in Chicago. Do you still see them in that same way or have they tied into a whole different thing now?
JAKE PEAVY: No, it's the same players. They're certainly on a great run. They're playing good baseball and playing with a lot of confidence. We all know when a team's playing with confidence, they're a dangerous team. We just spoke about Mike Moustakas and the critical hits and home runs and defense he's played, he's hitting ninth.
This is a very confident bunch, a balanced bunch; right‑handed, left‑handed, got some power, got some speed, they can do a lot of different things. At the same time, they're the same personnel‑wise, and you have to go through their last few months, their last month and really hone in on what they're trying to do at the plate in their approach. But they're still the same guys, just a little more refined and obviously a lot more confident than they were at any point in time that I faced them in Chicago.
And they were always formidable, even when we faced them. The Chicago White Sox didn't have much success here. I do remember that. But this is a different time and a different day. Nobody cares about what happens in the regular season, a month or so ago. That stuff's long gone. We're all focused on the here and now. But, yeah, same bunch.
Q. You grew up in the Majors playing under Bruce Bochy. What's it like being at this stage with him and trying to win a championship, you two together?
JAKE PEAVY: It's fun. It's surreal. It's something I'll look back on and really cherish getting to go through it with him, Tim Flannery, and some guys I really respected and who I owe a lot to.
That being said, we're in such a grind right now, and you can't really take that in to its fullest. But it's also comforting knowing how deep and experienced our staff is and the situation that they'll put us in in all these games.
Q. What's it like to have David Ortiz walk into the interview room?
JAKE PEAVY: My man right there is special. I've been telling everybody how special Pablo Sandoval is. That man who just walked in the building is a special talent, y'all. He's unlike anybody I've ever played with in the game and impacts the game. Only to be on one side of the ball, for the most part, is pretty incredible.
But I think we all know what David Ortiz, who he is, but people don't know what kind of teammate and what kind of man he is. I think you guys just saw how genuine. I haven't seen him since I got traded. Yeah, that was the thrill of the press conference so far (laughing).
Q. Bumgarner made it clear that he never looks at video. Your thoughts on that and how much video do you look at? What are your general things that you look at when you're taking a look at tape?
JAKE PEAVY: Yeah, we're taking baby steps with Bum. We've got to stick with what's been working. But me and Bum are going to be friends from here on out, no matter what my future holds and where I'll be. Me and Bum, Huddy, I think it's been noted how close we've become in these few months.
Madison Bumgarner is a really, really special talent. He has the makings of being a number one. And I think when you're looking at what he's accomplished in the short time he's been in the Big Leagues and what he's done in the postseason, he's as good as anybody.
I watched Jon Lester kind of be this guy last year and really have done all I can do to infiltrate any of that that I know into Madison. Madison's getting it. He's country, and he's a little bit unorthodox, so to speak, with almost everything he does. But at the end of the day, this guy believes. He's well prepared because Buster, and he's going to be prepared to do what he needs to do. And Buster and Madison will be out there tonight, and Buster will have a great game plan. Madison will be in the feel of the game, and if he wants to do something else or feel like he can make a pitch, that's kind of where Madison's at with his game and what he's comfortable with.
That being said, I'm going to push Madison to start digging a little bit deeper and he will, and he'll be scary if he gets any better than he already is.
Q. Two years in a row you've come in as a hired gun to a contender that wanted that final piece. What are the difficulties in that? What are the similarities between Boston and San Francisco, the biggest similarities and differences?
JAKE PEAVY: It's been a blessing, first off, to be thrust into these situations when you have wanted nothing but this, and I can truly say that. I've wanted nothing but to be on this stage and have a chance to do what we did last year my whole career. It's gratifying. It's as humbling an experience as I ever went through last year.
The experience that I had last year in Boston was quite a bit different than it is here. I walked into a room full of really established, strong‑personality guys who are on a mission. And I really was just able to find out where I fit in the room and just made immediate friends. I knew a lot of guys. I had spent some time with a lot of guys over there. So it was different. I just kind of jumped in, and went to helping and running with that spirit as well as those guys were.
Here it was a little bit different because, first off, it was tough leaving that chemistry and that brotherhood we had, going out West, but I was so excited to be back with Bochy. The team was in a whole lot different spot than the team I went to last year. And you just try to assess the situation and what's going on. We were banged up and had a lot of young guys just getting into the Big Leagues. Joe Panik wasn't playing every day. Guys everywhere, some guys, some big guys struggling.
So it was a different team. You just try to figure out what's going on, assess the situation, talk to the management staff and see how best you can help.
You can help in a number of ways. You can help by becoming guys' friends who need friends. When they feel alone and they're struggling, you can just try to bring people together is what I really believe in, and I believe it works. You can only do so much as an individual in this game with your performance on the field. That is certainly the biggest part of what I got brought over here to do, and it was very gratifying to go out of what I did in Boston and really show that I could be an integral part of a team down the stretch. I really feel like I can be, over the course of the season, really good at this level for years to come.
So that was fun to show that. By me showing that, I feel like I had a little bit bigger of a voice and maybe some more pull with some of the younger guys and guys I hadn't been around. We just slowly started to come together as a team. Now I would tell you that we're as tight as we've ever been. We're a lot like that Boston team spirit‑wise. The will and the want to win of those guys in that clubhouse is pretty special. It's the same desire that we had last year.
We have a little bit different way of going about it, but at the end of the day we found our identity. We know who we are. We know how we need to win. We know the things that are critical for us to do. When you identify who you are and you play together, you have a chance to make things happen.
Like I said, I think a lot of that was already in place in Boston. I'm not sitting here taking credit for the way it is now in San Francisco, but that was the transformation since I've been there and what I've seen, and I've been a part of that in a small way.
But it's been a fun ride. At the end of the day it's not going to mean anything if we don't find a way to win four games and finish this thing off. Nobody remembers who finishes second a few years from now.
Q. From that standpoint of coming in, you've pitched great baseball for the Giants and earlier this season wasn't going so great. What adjustments, return to the National League, what kind of things was it that made things go so well for you down the stretch?
JAKE PEAVY: I think anytime you change and you have a fresh start, that can re‑energize you. I certainly don't take anything away from the move and helping. That being said, I did find some things mechanically with just some new eyes on me that helped drastically change what I felt like I was able to do on the field. Once that got comfortable and I got comfortable with Buster, we made a pretty good run there, and we still feel very confident about our ability to go out and execute pitches tomorrow night.
So, yeah, I think a lot of the above. There were some mechanical adjustments and the new faces. And I've said it all along, when you have guys that believe in you ‑‑ Bruce Bochy doesn't know anything else but to believe in me. When this man looks at me, it's a different feel the belief he has in not just me, but all of his players. And I think that's why he gets out of us what he gets out of us. You can't take away from that.
So those three things combined made for a pretty good last two and a half months or so this season.
Q. What kind of ties have you maintained to your Red Sox teammates? Lately have you been hearing from them?
JAKE PEAVY: Yeah, I think I probably spoke to probably five of them via text in the last 24 hours. In all those texts it was about how to beat the Kansas City Royals, and different bits. A tidbit from Dustin Pedroia talking about positioning of base of your middle infielders, to prevent them from making the slides they want to take, to my pitching buddies talking about pitches and what to go to, when and where.
I told you guys in Boston, and I'll tell you again, it's as tight of a group as I've ever been around, and we all remain really, really good friends and will remain good friends. We're bonded together, even tighter when you win a World Series.
I tell you that and I had that contact with them, not because we're friends, but because of the type of friends and competitors we are, they're feeling a part of preparation, because they know what I'm going through now in trying to put together a game plan and they're all helping. It means a lot, because there is no better advice than you can get than from your peers who have lived it and played against the same Royals team as well.
Q. To the point that you were talking about before since you came here and act as kind of a mentor, what have you done with Lincecum and how have you helped him get through and weather the situation he's been in in the last six weeks?
JAKE PEAVY: Yeah, I've gotten to be close with Timmy since I've come over here. I've really enjoyed getting to know Tim Lincecum. Watching him from afar, I was still in the NL West when he came up and was doing special, special things. This man has won two Cy Young trophies. That's incredible when you think about what this man has accomplished, a two‑time world champion and All‑Star and all of the above. He's been a special part of Giants history. He's been a special part of two World Series championships. One in a starting role and I think we all remember him swallowing his pride and being part of that 2012. He's ready to do whatever is asked.
Now, that being said, it's really, really hard when he hasn't had an opportunity to pitch, for him to keep his spirits up. So just tried to love on him and let him know that at some point in time we may need him, and he's got to be ready, because we all expect him to get it done. We've been talking and talking about, hey, it's going to take 25 men to get this thing done. No more, no less. We have to have everybody on board.
Timmy has done everything he could ever do attitude‑wise and work‑wise. It's not easy to stay sharp and for us to ask him, "Hey, man, when you do get an opportunity to pitch, I know you haven't pitched in a while in a big game, it's going to be in the World Series, Kauffman Stadium going crazy, we need to you make these pitches to get us out of this jam." That's not easy. That's not easy to stay prepared for. But I think if anybody can do it, Tim can. What a teammate. I've got so much respect for what he's gone through over his career here, and then who he's been since I've been here. The man has no ego and really puts the team first. You can't be a better teammate than that.