Sabathia nearly '100 percent,' ready to anchor rotation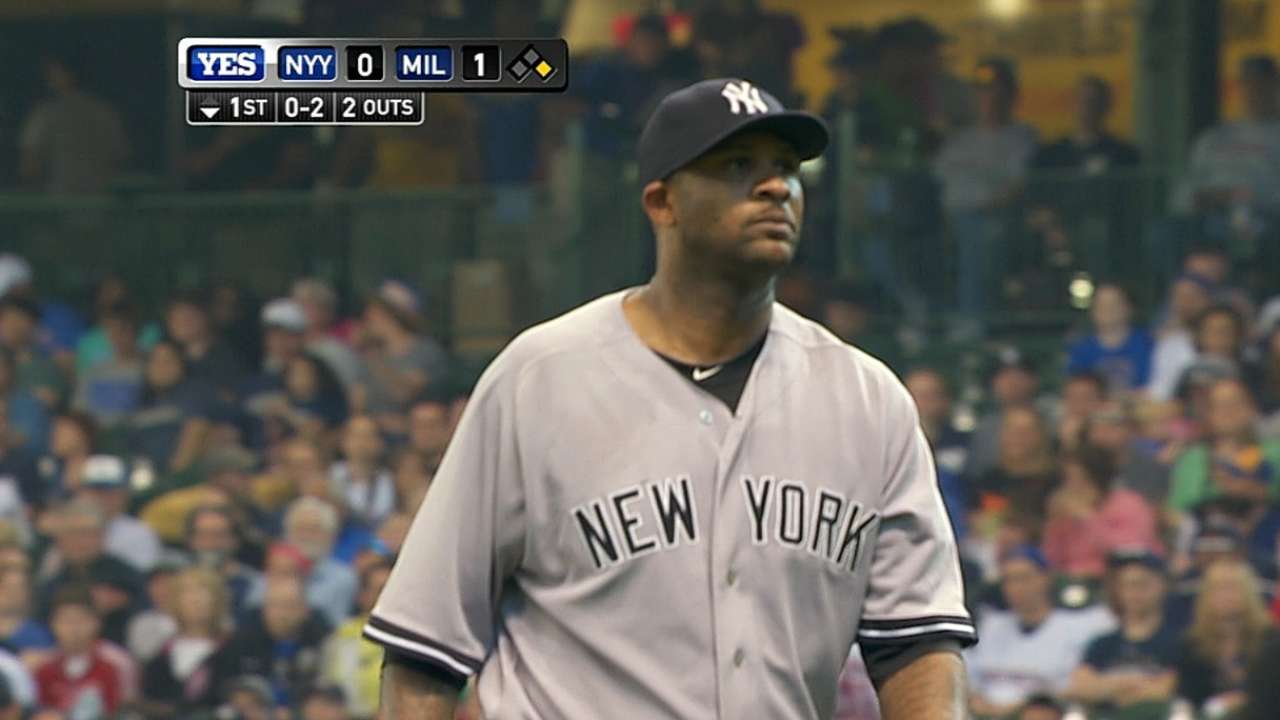 NEW YORK -- Three months removed from season-ending right knee surgery, Yankees left-hander CC Sabathia said on Tuesday that he feels "pretty much back to 100 percent" and expects to be ready for a full workload of 32 starts and 200 innings in 2015.
"My only goal is to stay healthy and get back to that -- eating up innings and being able to start every fifth day," Sabathia told reporters at a book signing in midtown Manhattan.
The 34-year-old Sabathia was at a Barnes & Noble on Tuesday afternoon promoting "CC Claus: A Baseball Christmas Story," which he co-authored with Yankees advisor Ray Negron.
Sabathia started throwing off flat ground in late September and has been working out at Yankee Stadium twice a week. He said that he plans to report to Spring Training early, ahead of the Feb. 20 official report date for pitchers and catchers.
After having an arthroscopic debridement of his knee performed in late July, Sabathia feels ready to again help lead the Yankees' rotation. He was limited to just eight starts this past season, going 3-4 with a 5.28 ERA. He did not pitch in the Majors after May 10.
"It's definitely a huge relief," Sabathia said. "I feel good enough to do all my workouts, to play catch and kind of have a normal offseason."
The Yankees have question marks in their rotation looking ahead to next season. Sabathia is coming back from injury, Masahiro Tanaka was able to make just two starts after sustaining a torn ulnar collateral ligament, Ivan Nova is not expected to be ready to return from Tommy John surgery until at least May and Hiroki Kuroda may retire.
Brandon McCarthy and Chris Capuano are among the players eligible for free agency.
"I think the rotation is going to be fine," Sabathia said. "I think they pitched great this year, [and] four of us went [on the disabled list]."
Sabathia said that he has not spoken recently with Alex Rodriguez, who will be reinstated from his season-long suspension after the World Series, but Sabathia said that he believes Rodriguez will be able to help the Yankees' lineup.
"He's a great player. He's had a year off, but he's been working and hopefully he's had some time to get healthy," Sabathia said. "Obviously, he's not going to be the A-Rod of winning MVPs, but he can come in and contribute."
Bryan Hoch is a reporter for MLB.com. Follow him on Twitter @bryanhoch and read his MLBlog, Bombers Beat. This story was not subject to the approval of Major League Baseball or its clubs.