MLB.com Columnist
Bill Ladson
Zimmerman resting hammy; may play first base in 2015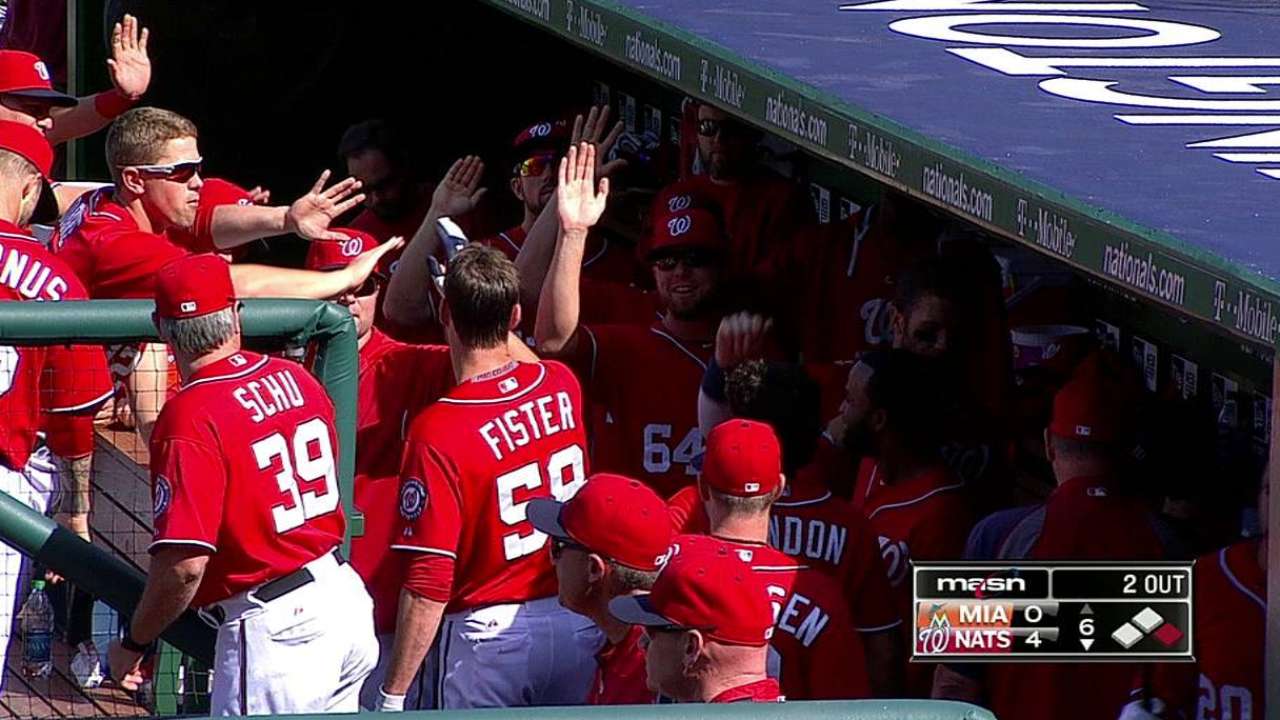 WASHINGTON -- Two weeks after watching his team get eliminated from the National League Division Series against the Giants, Nationals slugger Ryan Zimmerman is currently resting his right hamstring. He suffered a Grade 3 strain in the hamstring on July 22 against the Rockies and came back in time to participate in the postseason.
Zimmerman didn't start any of the four games against San Francisco. He had only four at-bats, all as a pinch-hitter. He said manager Matt Williams had the best players on the field and acknowledged that he wasn't fully recovered from the hamstring injury. Zimmerman may have come back too quickly.
"It was a bad injury, but on the other hand, you have to look at the team that we put on the field against the Giants," Zimmerman said. "It was one of the best teams during the month of September and in Major League Baseball. People tend to forget that very quickly. But when you lose a series and when things don't go your way, everyone, including ourselves, is going to look back and wonder what we could have done differently.
"Matt did what he thought was best. It worked out for a majority of the time that I missed. They played great baseball. You can't fault him for that. I think I would have done the same thing."
Zimmerman will rest the hamstring during the final 11 days of October and start rehabbing the hamstring again in November. With Adam LaRoche expected to be a free agent after the World Series, Zimmerman is expected to be the everyday first baseman in 2015.
The Nationals have yet to talk to Zimmerman about playing a new position on a regular basis. He is expected to hear from the team after the World Series comes to an end. Zimmerman also reiterated that Anthony Rendon is the best player to play third base. Zimmerman admitted injuries are the reason he is no longer an above average third baseman.
"I'm sure I'll talk to them soon or they will talk [to the media]," Zimmerman said. "I think Anthony is the future third baseman. Obviously, he played great there. He played some second and some third. If he goes into Spring Training knowing that he is playing third base, he has a chance to be a very good third baseman.
"Obviously, I love playing third base. But some of the injuries over the last two or three years made it tougher for me to be an above average third baseman. It's hard to accept that, but I think that's the truth. Sometimes, the truth hurts sometimes. But Anthony has a great chance to be very good over there. I could be an above average first baseman if I work at it during Spring Training and the rest of this offseason. But that's not just my decision. Obviously, I'll talk with [general manager] Mike [Rizzo] and Matt and see what their plans are. I'm sure we'll find out in the next week or two."
Bill Ladson is a reporter for MLB.com and writes an MLBlog, All Nats All the time. He also could be found on Twitter @WashinNats. This story was not subject to the approval of Major League Baseball or its clubs.