Phillies sign right-hander Williams to one-year deal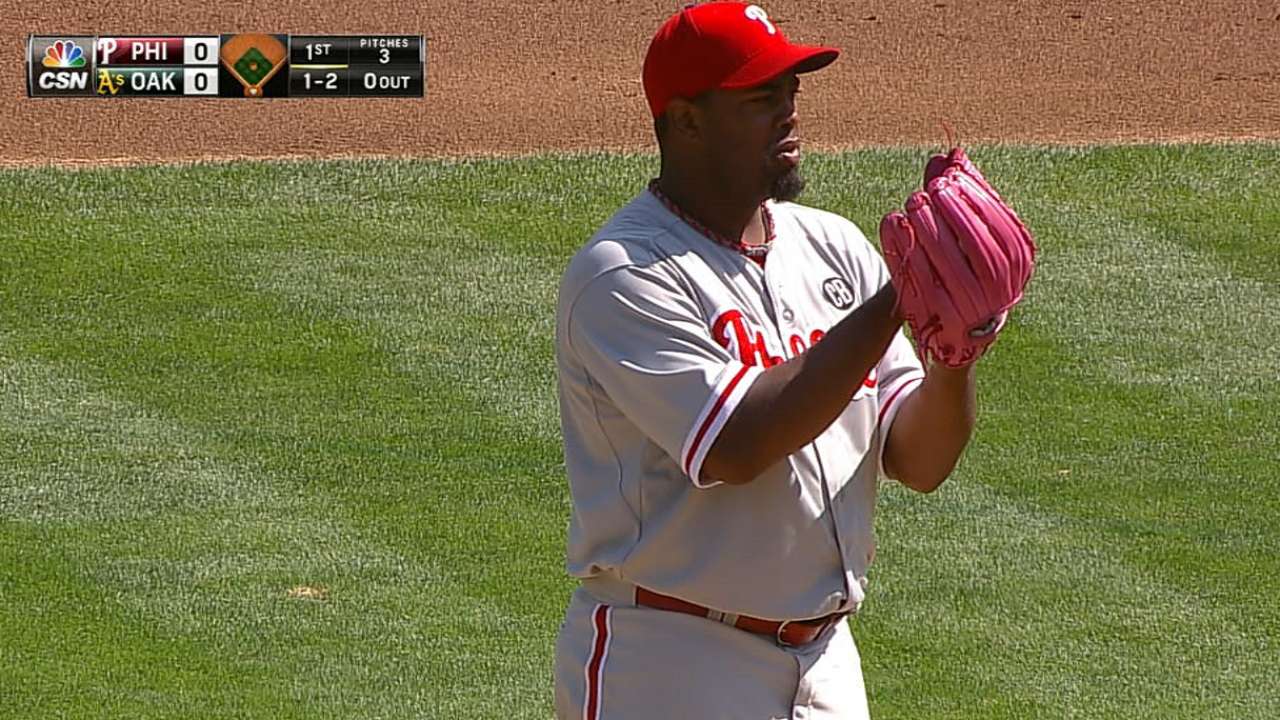 PHILADELPHIA -- Jerome Williams made enough of a positive impression on the Phillies that they are bringing him back next season.
The team announced Tuesday evening that they signed Williams to a one-year, $2.5 million contract, which includes performance bonuses. Williams, 32, went 4-2 with a 2.83 ERA in nine starts with Philadelphia this year.
"He did a nice job," Phillies general manager Ruben Amaro Jr. said. "We feel he has some upside. He's got some versatility. He'll be given every opportunity to be part of our rotation, but he has some versatility to pitch in the middle [of the bullpen] somewhere if not."
Williams went 2-5 with a 6.71 ERA in 28 appearances (two starts) last season with the Astros and Rangers before the Phillies claimed him off waivers in August. He is 48-54 with a 4.40 ERA in his nine-year career, so should the Phillies expect some sort of regression to his career averages?
"We looked at the metrics on that," Amaro said. "A lot of it will depend on him. The way that he performed, it was clear that he had changed his overall approach. If he maintains that approach we believe he can give us the depth we need. One of our priorities is trying to create some more starting pitching depth."
Cole Hamels and David Buchanan are the only starting pitchers under contract or team control who finished the 2014 season healthy.
Cliff Lee finished the year on the disabled list with a left elbow injury, although Amaro said Lee is scheduled to begin his throwing program next month. The Phillies expect him to be ready by Spring Training.
A.J. Burnett has a $15 million mutual option, which the Phillies are certain to decline. But even if they do, Burnett has a $12.75 million player option, which he has until five days following the World Series to accept or decline. Burnett has vacillated between pitching again and retiring.
"I'm really kind of neutral on it," said Amaro, asked if he would be surprised if Burnett turned down that much money. "I knew what it took to get him back and pitching this year. I would assume that he'd want to pitch again. I don't have that information, but my inclination is that he's going to want to pitch. He's a competitive guy."
Other pitchers on the 40-man roster include Kyle Kendrick, who will become a free agent; Jonathan Pettibone, who had right shoulder surgery in June; and Miguel Alfredo Gonzalez, who became a reliever because of concerns about his ability to stay healthy as a starter.
But Amaro said Gonzalez will enter Spring Training competing for a job in the rotation.
"We're going to give him every opportunity to be in our rotation," Amaro said. "We have to try to create as many opportunities for starting pitching as we possibly can. We're not going to be able to go through a season with five or six pitchers. It's probably going to take seven to 10 pitchers."
But can Gonzalez hold up?
"He personally feels more comfortable being in the rotation," Amaro said. "Whether or not he can provide that remains to be seen. But after speaking with him it was very important to him to be prepared mentally and physically for this offseason to get stretched out."
Todd Zolecki is a reporter for MLB.com. This story was not subject to the approval of Major League Baseball or its clubs.