Oct. 21 Ventura pregame interview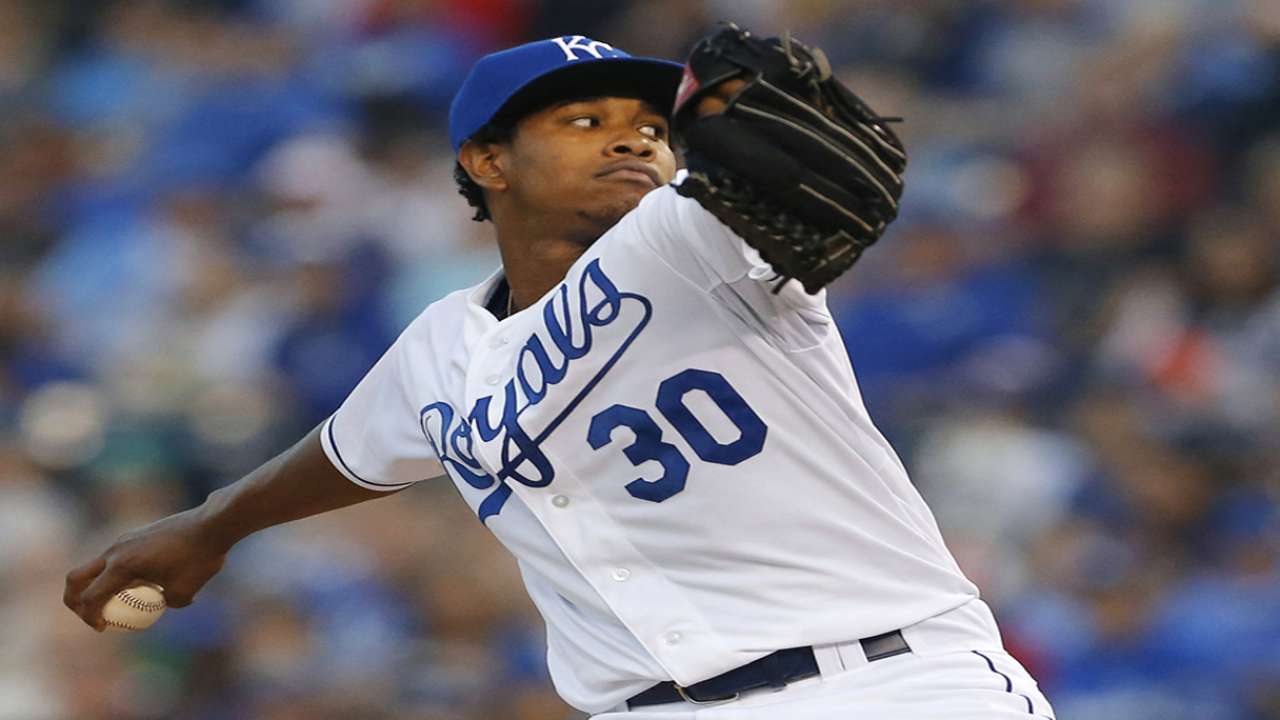 Q. With each round of these playoffs, the intensity and pressure, how are you feeling as far as your first World Series? And what memories of World Series as a kid do you have?
YORDANO VENTURA: For me, my big focus is always to make sure I treat is it as the same game. Go out and execute every pitch as I have throughout the season. Remain calm and treat it like any other game.
Where I came from and where I grew up, I didn't get many opportunities to watch it. But certainly the one I remember is 2004 the Red Sox with Pedro Martinez and Manny Ramirez helping them win the World Series.
Q. Jeremy, Ned said you're going Game 3. Your thoughts on getting that start?
JEREMY GUTHRIE: He'll say it in Spanish (laughter).
YORDANO VENTURA: He is excited that Ned has the confidence in him to pitch Game 3 and he's very excited for the opportunity.
Q. After your bullpen outing against Oakland, you were back one or two days later in the interview room talking about your start in the next series, and you didn't seem to have a care in the world. Did that bother you that game? And does anything bother you?
YORDANO VENTURA: For me, another thing I focus on is to live day by day. So for me that day passed when Ned told me I'd start Game 2. That's another vote of confidence that I knew Ned had in me, but to be able to go out there, and have me chosen to pitch Game 2 in the DS showed me that Ned believed in me.
So my new focus was to continue to prepare as hard as I could for that start, and really what happened in Oakland, I had moved past that.
Q. Jeremy, you've been doing the translation thing for a while here with him. Has there ever been a time where Yordano has said something that you may have wanted to translate in a different way to protect him?
YORDANO VENTURA: He always says what I say, and I try to say good things, so there is a good impression of me. So no changing what has been said. I assume many in the audience speak Spanish, so it would be hard to hide it (laughter).
Q. At what age did you realize you had a special arm? And was there something that happened at that age that you recall the first time you were different in how you could throw?
YORDANO VENTURA: When I was drafted at 17, I looked around and I weighed 120 pounds, more or less. I saw other kids that were bigger than me that were throwing, some were harder, some weren't. But I always believed if I could get bigger, that I could continue to build arm strength. So it was just a short year later that I went from maybe 87 to what I remember being 93 miles an hour. And then to begin the Summer League with the Royals team I was with, began to build again. A year later it felt like it was 95.
It was just kind of a year‑by‑year thing where I continued to increase. In 2010 I was in Arizona in the Fall League and I hit 100 for the first time in a start. So I think that's obviously a moment where I felt I had a special ability to be able to pitch and throw with that kind of velocity.
Q. Everybody who talks about you, either here on the Major League club or people who knew you in the Dominican when you were 17 and throwing 80 miles an hour, they talk about the confidence that you've always had and that you have no fear whatsoever. Where does that come from?
YORDANO VENTURA: When I was young, 14, 15 years old I played with people who were 30 years old in leagues in the Dominican. I would pitch against them, would throw inside and had that and I developed that confidence to get them out, and I had to fight to be able to do that and never back down. It's carried on for me.
Q. What does it mean to you to follow in the footsteps of great Dominican pitchers? And has there been anyone in particular who has given you a word of advice due to the top stage that you'll be taking tomorrow?
YORDANO VENTURA: For me, Pedro Martinez has always been that player for me from the Dominican that I learn from and grow from. I speak with him more or less every other day at this point, and Pedro always encourages me to be myself again, and to treat every game just like I always have. No game is more important, but to go out there relaxed and do my pitches and be myself.
So that's the most impactful player from my native country.
Q. What does it mean to you to represent the Dominican Republic?
YORDANO VENTURA: I'm very grateful to God to be in the position I am in representing my country. I'm excited for that and recognize where I'm from and that means a lot to me.
Q. Jeremy, as the most senior member of the starting staff, could you take a moment and give your perspective from what you've seen from Yordano this year?
JEREMY GUTHRIE: Yordano came in obviously last year guns ablazing. His talent was evident from the very first start that he made with us. I think maybe the most impressive thing to those who were watching, teammates or opposing teams, was the level of command he had with above‑average pitches. When you watch him, you realize it's not just 100 miles an hour that gets people out, but he has a very, very sharp curveball and one that anybody would hope to have in their repertoire. He has an excellent changeup that he still doesn't even use as much as many other guys, being a James Shields or Jason Vargas use that changeup. That's a weapon for him, that when he unleashes it will only make him even better.
I think we all expected the above‑average, the elite arm that we heard about, but I don't know, I did not expect to be able to see those secondary pitches thrown for strikes and with the sharpness and the conviction that he has when he throws them.
The other stuff he has in terms of being calm, he pitches like he belongs and he believes that he belongs. You've heard him say that, and he executes like he belongs.