Oct. 21, Ned Yost pregame interview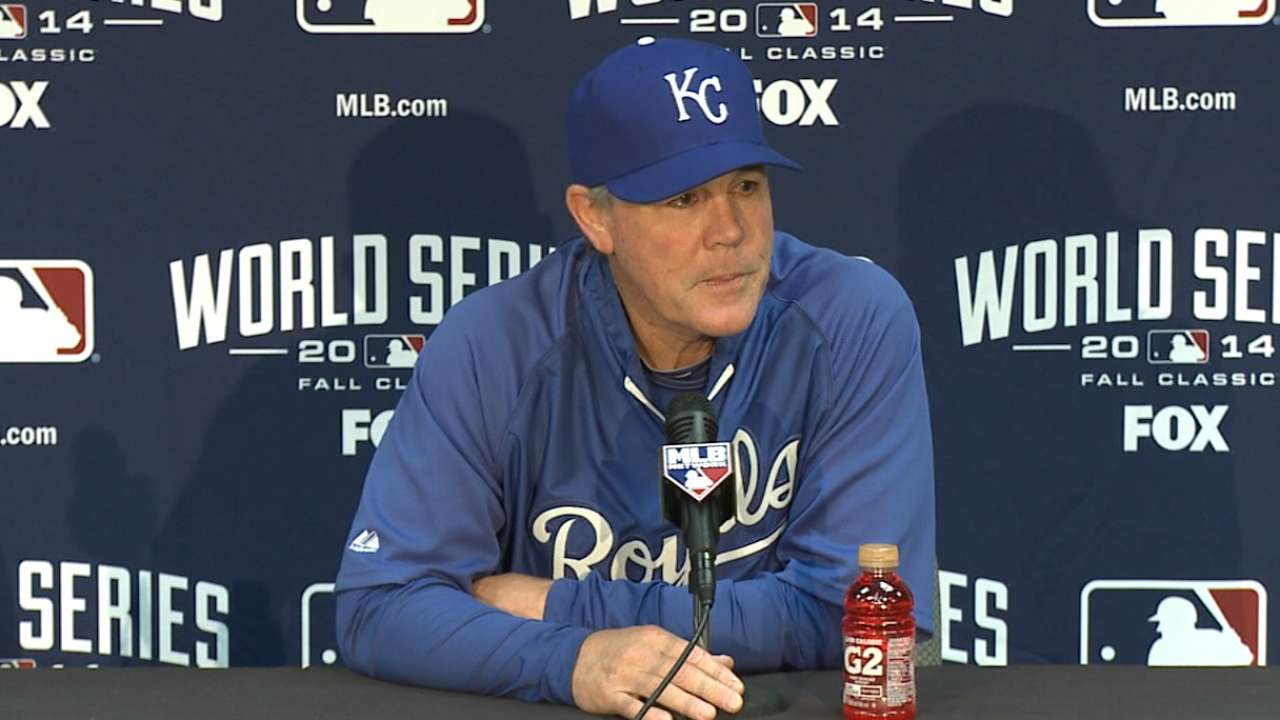 Q: [Why the swap of Christian Colon for Jayson Nix?]
NED YOST: Because we liked his defense, Andy. Did I get it? (Laughter) The reason we did, because of the National League game, we're more apt to probably double switch in some spots, and you quite frankly like Nix's defense a little better at third. Him, Nix and Colon are very solid second basemen. They both play a solid short, but we just felt a little more comfortable with Nix at third.
Q: Is Christian completely healthy right now?
NED YOST: Yeah, he's healthy. You look at it, Christian's more of an offensive option and Nix is more of a defensive option. Breaking it down and looking at all of our scenarios, especially in the National League, we decided to go with the defensive option.
Q: Ned, could you give us a run down on James Shields' kidney stone and whether or not that affected him starting?
NED YOST: No, no, that came after his last start. I think when we came home from Baltimore, when we had that off day is when he experienced it. Came back the next day, he had thrown up all night and had back pains. Nick, of course, took him straight to the doctor and they got a CAT scan and saw that it was a kidney stone that had been passed. The next day he came back as good as new. So he's had six, seven, eight, nine days from that point, and it hasn't bothered him in the last eight days, so he's good to go.
Q: If there had been a Game 5, would he have pitched?
NED YOST: If there had been Game 5? Absolutely. Yeah, absolutely. He was ready to go. He even said, "I can pitch Game 4, if you need it." I said, "Let's just give you the extra day. It wouldn't hurt anybody." Vargy was on full rest or more than full rest, and the opportunity to give him an extra day I thought was beneficial, but we didn't need it.
Q: At the expense of you having already addressed this, but Escobar is not your prototypical leadoff man anymore than Cain is your prototypical three hitter. What was it that went into the thinking of putting those guys in the lineup adjustment?
NED YOST: To be honest with you, we were just grasping at straws at that point. We were struggling offensively. The three hottest hitters we had was Escobar in the nine hole, Cain in the seven hole, and Nori was swinging the bat good leading off. So our thought was put all or most of our speed at the top of the order, and see if we can't create some havoc for our run producers. Esky got in there the first day and he came up and said, "Man, I love hitting leadoff. I hope this isn't a one day thing." We looked at him and said, "Quite frankly, it just depends on you. If you produce out of that spot, you take your walks, you do things that a leadoff hitter will do, you'll be there." And he's exactly done that. So he's been fantastic in that spot. Nori got really hot in the two, and Cain's been great in the three, and all of a sudden our run producers in the middle of the lineup got hot, and we started scoring some runs.
Q: Yesterday James was saying that he's not happy with the way he's pitched in the postseason, but he also said he's a firm believer in amnesia. Could you just talk about the confidence you have in him to be the "Big Game" James as advertised?
NED YOST: We all have confidence in him. He's a tremendous competitor. He's got tremendous work ethic. He's got great stuff, and everybody in that clubhouse has confidence in him. Guys are not going to be great every time out, but the thing that he does is, he keeps us in ballgames. Even on his worst days, he very seldom I can think of two times in two years where he's gotten blown out. The majority of the time is he'll battle through it, he'll grind through it, and give us an opportunity to win every time he steps on the mound. And that's what aces do. When they don't have their good stuff, they find ways to grind it out. And when they do have their good stuff, they dominate.
Q: Drawing on your World Series experience, what do you think about having two sets of rules? Does that favor either league?
NED YOST: We're a little more built for the American League with the DH, but we're still built for the National League, too, with our speed and our ability to manufacture runs and our versatility, I think off the bench. So I think it's different, but I kind of like it, and I think it's fun to play two styles. You play our game here, and then you go to the National League, and play that style which is pretty different, the National League style. So our guys still, when we play Interleague series, the double switch, and pinch hitting for the pitcher in the fifth inning, that stuff all kind of throws them for a loop, but they'll be ready for it.
Q: With Ventura, each step is a bigger stage that he's experienced through these playoffs. What are your thoughts on how he'll handle this World Series?
NED YOST: He'll be fine. He'll be ready.
Q: What makes him?
NED YOST: He's a special kid because as young as he is and as good as his stuff is, his composure is off the charts and his competitiveness is off the charts. So you combine all those things together and you've got a pretty special guy that's going to step on that mound.
Q: Do we know Game 3 yet? Have you crossed that bridge yet?
NED YOST: No, we haven't, but we'll go Shields Game 1, Ventura 2, Guthrie in 3, and Vargas in 4.
Q: I know the Giants' run got started after you left the Brewers, but any background experience on your National League experience that you can draw on with playing them?
NED YOST: No, not really. You just watch that team over the last couple of years, and they just find a way to play their best baseball in the postseason. You know how tough they are. You know they're a team that's extremely well balanced. They've got a dynamite bullpen. Their starting pitching is extremely solid and experienced. Their defense is solid, and a lot like us they find ways to score runs. So I think it's going to be a great series.
Q: Do you try to manage these postseason games the same as they were any other game during the season or do they require to be managed differently?
NED YOST: No, they're managed differently. When you manage during the season, you're managing for the long haul, for a 162 game season. We started about two and a half weeks out managing in playoff mode because we were battling for the Wild Card; we had to. It's different. Right up until the last two weeks we wouldn't use Herrera in a five out outing. We wouldn't use Davis in a two inning stint. But you get to this point where every game is a must win, and you do manage it differently because you don't really worry about tomorrow. During the season you have to worry about tomorrow, and the next day and the next day because it's a grind. Here, you're just focusing on today, and doing whatever it takes to win this ballgame today.
Q: Two part question about Sal Perez: One, what have you seen from him offensively this postseason? He got the big hit against Oakland, and since then, not so great. The other one, as a former catcher, what do you appreciate about the way he does his job that makes him a Gold Glove caliber big star for you guys?
NED YOST: The minute I saw him I knew he'd be special for a defensive player. For a big guy, he's tremendously athletic. His release to second base is as quick as I've ever seen a catcher have it. He blocks balls extremely well. He wants to be a guy that is out there for his pitchers, controlling the game, calling the game. I walked in here today and he was right where he's been every day, in front of the computer, watching the opposition; watching James Shields, doing everything he can do to help his pitcher out. Won his first Gold Glove last year. I imagine he's going to win many, many more because he's a special type player. I think he's the best catcher in the American League, and one of the best catchers in all of baseball. Offensively, a little bit, the thing about it is he's been struggling a little bit, but he's such a threat every time you walk up there. You just don't know if he's going to get ahold of one and hit a big home run or drive a ball in the gap for you, and that's important to be a threat when you walk up to that plate and that box.
Q: Do you think being drafted very high creates extra pressure for guys like Gordon, Moustakas, Hosmer with their development? Also, Moustakas and Hosmer specifically, do you think they've made specific permanent leaps this postseason that will help them going forward?
NED YOST: We'll find out. I don't think being drafted puts an extended amount of pressure on you being drafted number one. Because first of all, to be drafted number one, you have to be a special type player. I think these guys all know what they're capable of doing. Does it take some time? Yeah, it takes time. There are a lot of number one picks that never reach this level and have success like our number one picks have. You still look at Hoz, you still look at Moose, and those guys and their ceiling is still very, very high on what they're going to be able to accomplish. But this postseason they've played like we've always envisioned that they could play. They've been just outstanding, and we think there is still plenty of room for them to get even better.
Q: The postseason has so many levels now and now you're at the last one. Do you have any sense of having been in a World Series a couple of times that it's different than other playoff baseball?
NED YOST: No. I mean, it's the last level. You don't have to focus like you do during the Division Series on getting past that series, so you can go to the next series. Then the Championship Series, just to get to the World Series. We're here. We're at the last rung of the ladder. Now your entire focus is go out and find a way to win four games against the best team in the National League.
Q: As a manager, can you appreciate how hard and difficult it has been for what Bochy has achieved in his managerial career?
NED YOST: Oh, man, absolutely. I have the utmost respect for Bruce Bochy. I just think he's one of the top tier managers in all of baseball. You watch what he's done over the last four or five years and how his teams, a lot like ours, can have ups and downs, but in the end he always keeps the ship righted. I think he's a great manager in terms of handling his bullpen, handling his players. And for me, I just think he's one of the top managers in all of baseball.
Q: Did you have concerns about how the team would handle the national media once they got on this roll that they're in, because they're handling it pretty good?
NED YOST: Not really. We played really well in our Interleague series this year. So we handled the National League pretty good. Again, it's a different type of game, but our guys are right now as focused as they've been all year long on playing selfless, winning baseball. There are different aspects that come into the National League game, but like I said, they're focused and they're ready to play both ends of an American League baseball and National League baseball.