Al Avila navigating dad, VP roles amid concern for son's health
Tigers catcher, under team control next season, has sustained multiple concussions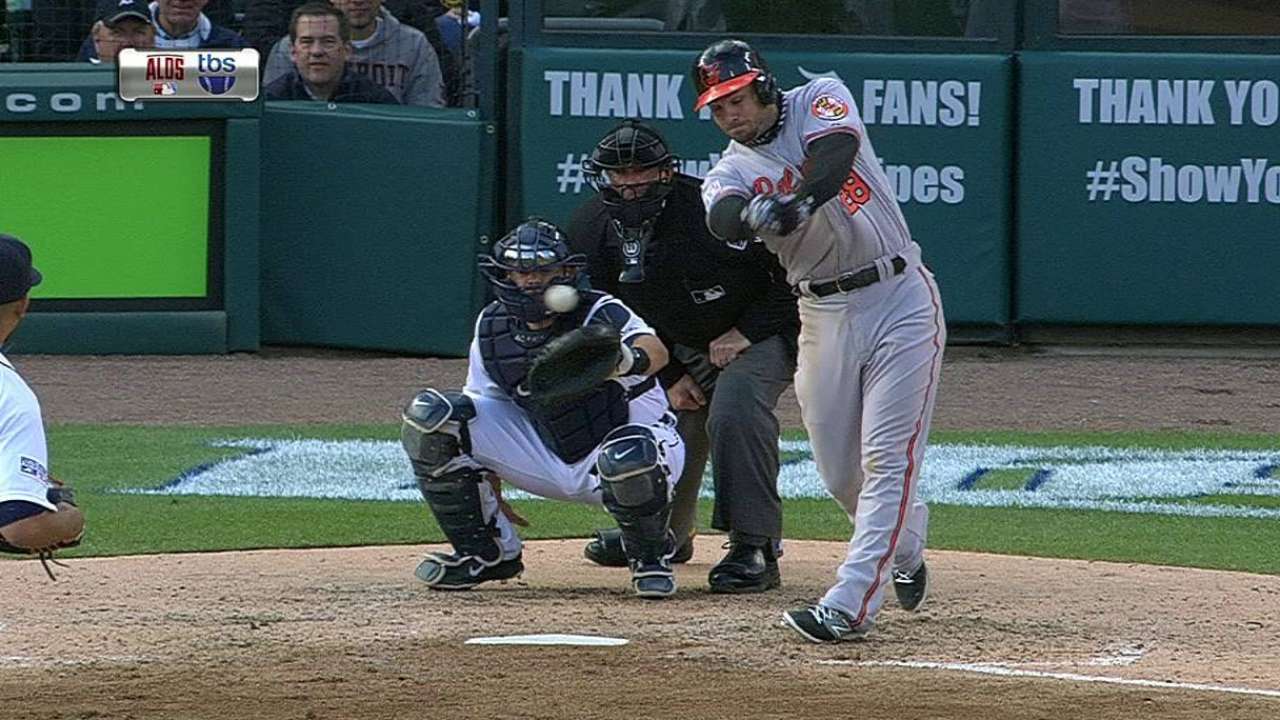 DETROIT -- Alex Avila should be able to have a normal offseason after concussion symptoms from a couple of weeks ago subsided and followup tests came back negative. Still, there's a lingering concern within the Tigers organization for his health after at least three concussions in recent years.
One of those concerned is his father, who is also technically one of his bosses.
"Nobody likes to see a guy get hit, whether it's your son or anybody else, even on another team," said Tigers vice president and assistant general manager Al Avila, who watched his son become a success story as an All-Star catcher in 2011, but has also watched him suffer a series of head injuries in the years since.
From the day the Tigers drafted Alex Avila in 2008, his father realized the personal and professional relationship would be a tricky one. Al Avila did not push for the Tigers to pick his son, because he knew what it would entail, and he has maintained he should stay out of front-office discussions involving his son.
Alex Avila's health, though, is one area where the organization and the family have much the same view. And while both sides believe he can and should continue playing, they're both looking at warning signs as the foul tips, backswings and plays at the plate pile up.
It's not one big incident with the younger Avila, but the accumulation of all those plays taken by themselves. Al Avila knows his son seemingly takes more foul tips than his peers, and he doesn't know how much they can do about it, except to not make it worse by playing through it whenever he feels damage.
"As far as I know, he's healthy and he's ready to go, from all the tests that they've taken on him," Al Avila said last week following Tigers president/GM Dave Dombrowski's end-of-season remarks. "He should have no issues moving forward. As far as life-threatening things or career-ending things, at this point, the doctors have given him no indication that's the case.
"It's like in football where there's a higher risk, or boxers. These have all been a lot of little hits and then, boom, one big one, and now learning that when that happens, you've got to come out and take your week off and then go back in there. You can't try to play through it. And I think if he takes that advice, which obviously he's not going to have any choice, then he should be good moving forward."
Alex Avila has been steady about his intent to keep playing while acknowledging the risk of repeated concussions. He's under team control for next season, either with a $5.4 million club option or with a third year of arbitration eligibility. Detroit has avoided arbitration with him the last couple of seasons, though last year's negotiations lasted a little while.
Dombrowski has given no indication yet whether the Tigers will pick up the option, which would give him a $1.05 million raise from this season.
"I don't know what the final decision [will be]," Dombrowski said a week ago. "We do have a young catcher, [James] McCann, that we like a lot. I think he's ready to be a big league catcher. Where that will all come into play, we'll find out over the next time period.
"With the concussion issue, I've known Alex Avila since he was about five years old, and so I worry about him as a human being when you see something like that happen. It's a tough situation because as his father sits next to me or two seats over in a game, and he tries to be professional as he can -- because he's a very professional person and he doesn't want to take it into personal situations -- I know it has to be grinding him on the inside even though he would not acknowledge that at times. It's difficult in that regard."
The foul tips, Al Avila said, aren't as difficult for him to watch as the backswings.
"I mean, when you get hit with a foul ball in the mask, how do you avoid that? People say maybe if you get low or if you move back, it's really, that's more luck than anything," he said. "And sometimes when you're catching hard-throwing pitchers, you're more apt to get hit in the mask. That's not a frustration for me because it happens in the game and it's happened to many, many catchers. We're seeing him every day, so we're kind of more geared to him getting hit.
"What really frustrates me is the backswing. I've seen too many backswings hit catchers in the head. That really frustrates me. And it's not only with Alex; it's with other catchers, too."
For that reason, Al Avila said, his son has adjusted the way he catches.
"I've actually observed him where he's catching a ball and there's a batter that he knows consistently hits him on the head, and he'll actually catch the ball and try to move the head a little bit," he said. "And really, it's something that's unbelievable, because you're trying to catch a 96-mph fastball and move out of the way."
Several veteran catchers have ended up changing positions because of it, including American League Central counterparts Joe Mauer and Carlos Santana. If the concussion pattern continues, Al Avila acknowledges his son might have to join them in getting out from behind the plate.
For now, however, that's not in the plan.
"Like the doctors told him, your biggest danger is if you get a concussion and you try to play through that concussion and then you get hit again, that's when permanent damage could occur," Al Avila said. "That's what I have emphasized to him: If you get hit and you get suspicious of a concussion, you've gotta come out of the game."
Jason Beck is a reporter for MLB.com. Read Beck's Blog and follow him on Twitter @beckjason. This story was not subject to the approval of Major League Baseball or its clubs.