Rivera thankful for chances to prove himself in Majors
Decade-long journey culminated in starting opportunity with Padres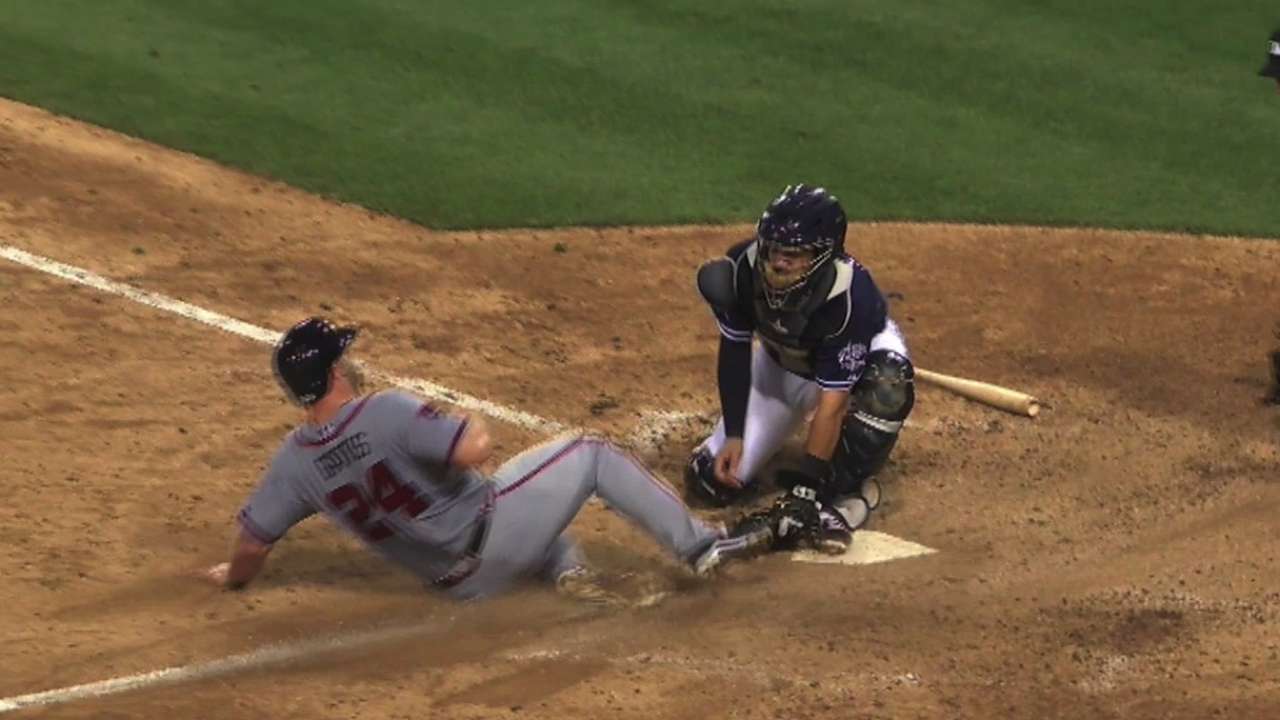 A baseball season is a marathon, not a sprint. So are many baseball careers.
As the Padres' 2014 season approached its conclusion last month, Rene Rivera joked about the time it took him to become an overnight success.
"When I was a kid, this is what I dreamed about," the 31-year-old catcher said. "Five, 10 years ago, I feared this would never happen. I was worried I would never get a chance to show what I might be able to do.
"I probably got more chances than most players. For that, I am very happy. For that, I say thanks to baseball and especially the Padres and Bud Black. The Padres saw in me what I thought was there. And Black gave me the chance to play regularly. This season is what I always dream about."
The entire season was important, because Major League catchers are not judged by offensive statistics alone.
How do they work with pitchers? How do they handle themselves behind the plate? Can they inhibit the opposition's running game by throwing out would-be basestealers? Can they execute a manager's game plan?
With Rivera, the resounding answer to all those questions in 2014 was, "Yes."
"I'm demanding on pitchers and catchers," Black, a former Major League pitcher and pitching coach, said near the end of the 2014 season. "They have to be inside the game. They have to execute how Bals [pitching coach Darren Balsley] wants the game to be approached.
"I thought Rene did a great job handling our pitchers and running games."
In addition, Rivera hit .252 this season with 11 homers and 44 RBIs in 103 games. He was credited with seven game-winning hits and many more key base knocks.
The 2014 season -- like the career that once detoured into the independent leagues -- represented quite a climb for Rivera.
He entered the season as the No. 3 catcher on the depth chart behind Yasmani Grandal and Nick Hundley. Rivera's early-season assignment was to catch Andrew Cashner, though that situation rapidly changed.
Soon, he was also the regular catcher for starter Tyson Ross. And when Hundley was traded to the Baltimore Orioles, Rivera shared the catching duties with Grandal -- who was still rehabbing from the ACL surgery to his right knee that ended his 2013 season.
Over the last third of the season, Rivera was the Padres' regular catcher as Grandal spent much of his time playing first for the injured Yonder Alonso.
Rivera finished with a team-leading 89 starts at catcher, as well as several impressive statistical marks.
• Rivera's catcher's earned run average of 3.10 equaled the lowest in the Major Leagues among players with 600 or more innings caught. It was also the lowest catcher's ERA in Padres history, ahead of the 3.14 mark set by Yorvit Torrealba in 2010.
• Rivera threw out 33 of 91 potential basestealers who challenged his arm this season. That is a 36 percent success rate. The 33 nailed runners was the highest total in the Major Leagues this season and the most by a Padres catcher since Ben Davis threw out 34 runners in 2001.
• And, for you new-age statistical followers, Rivera had a 1.6 dWAR (Defensive Wins Above Replacement) in 2014, according to Baseball Reference, which is the fourth-highest mark in Padres history.
"It's easy working with Rene," Ross said during his own breakout season. "He knows me and the [game] plan. He sets a good target. And we seldom disagree on pitch selection."
Rivera has been praised for the way he handles himself behind the plate and frames pitches. Rivera is "quiet," meaning there is not a lot of excess movement when he catches. His mitt doesn't move from side-to-side as the pitch approaches.
"If you hit the spot you are supposed to hit, Rene's glove will be sitting there waiting for the pitch," said starter Ian Kennedy. "He does a great job framing pitches on the corner."
Framing also makes it easier for umpires calling balls and strikes. Less glove movement usually results in more close strikes.
"Part of my job is working with umpires," says Rivera. "They have a tough job. I want to make it easy on them. I like working with umpires."
Offensively, Rivera established career highs in every possible category this season and led the Padres in several areas over the last half of the season. He hit .287 (43-for-150) with five homers 21 RBIs over his last 47 games.
"What I've done is given myself something to build on," said Rivera, whose career had been a wild ride before the Padres signed him as a Minor League free agent before the 2013 season.
Rivera originally signed with Seattle as a second-round Draft pick out of Puerto Rico in 2001, and he reached the Major Leagues with the Mariners at the age of 21.
But his career spiraled downward and bottomed out with a short stop in the independent leagues. By the time he signed with San Diego, Rivera had played with 19 teams in five organizations.
"I will be forever grateful to the Padres," said Rivera.
Bill Center is a contributor to MLB.com. This story was not subject to the approval of Major League Baseball or its clubs.