Lineup breakdown: Giants vs. Royals, Game 1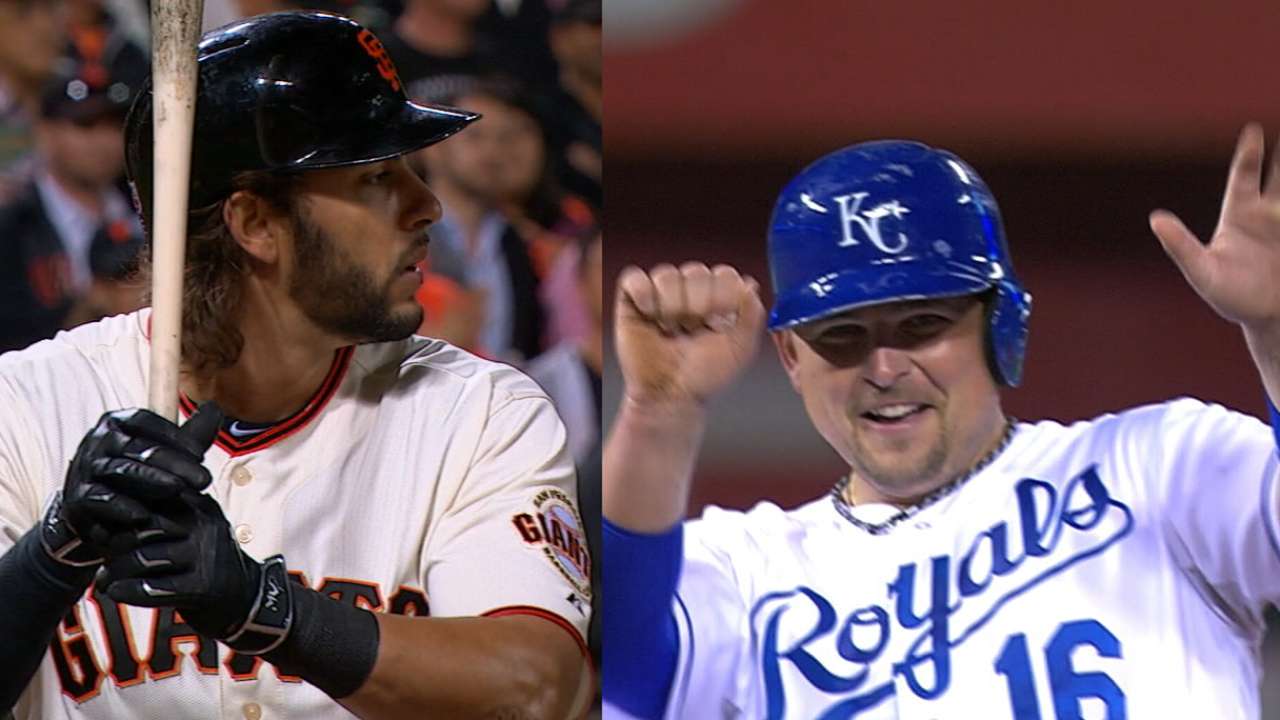 Following a considerable layoff for both teams since their respective Championship Series wrapped up, the Giants and Royals will get underway with Game 1 of the World Series tonight (7:30 p.m. ET air time on FOX, 8:07 first pitch) at Kauffman Stadium in Kansas City. Here is a breakdown of the starting lineups:
GIANTS
San Francisco will send out the same lineup that won Game 5 of the National League Championship Series, with one obvious tweak to account for Kansas City's American League rules: Michael Morse, who hit a dramatic pinch-hit homer against the Cardinals, will bat seventh as the Giants' designated hitter.
Royals Game 1 starter James Shields silenced the Giants on Aug. 9, holding them to four hits and a walk over nine shutout innings. The Giants haven't seen much of Shields otherwise, carrying a collective .184/.205/.263 line against him into tonight's opener. Right fielder Hunter Pence is the only Giants player with more than seven plate appearances against Shields.
Leadoff man Gregor Blanco (4-for-7) has fared well against Shields, but that's about it. Buster Posey and Pablo Sandoval -- the Giants' two hottest hitters this postseason -- are a combined 1-for-8 against Shields, and NLCS Game 5 hero Travis Ishikawa is 0-for-3. First baseman Brandon Belt and shortstop Brandon Crawford have never faced Shields, who has a 5.63 ERA in this postseason.
1. CF Gregor Blanco
2. 2B Joe Panik
3. C Buster Posey
4. 3B Pablo Sandoval
5. RF Hunter Pence
6. 1B Brandon Belt
7. DH Michael Morse
8. LF Travis Ishikawa
9. SS Brandon Crawford
ROYALS
Manager Ned Yost didn't see any reason to stray from his regular lineup for the World Series opener, and why should he? The Royals are the first team in Major League history to win their first eight games in a postseason, and the offense has been clicking throughout.
Of course, Kansas City will have its hands full against San Francisco ace Madison Bumgarner, who is 2-1 with a 1.42 ERA in four postseason starts this year. The lefty has faced the Royals just once in his career, allowing four runs (three earned) on seven hits in eight innings.
The only Kansas City starters with success against Bumgarner are Billy Butler (2-for-3), Alex Gordon (1-for-3), Omar Infante (6-for-16) and Mike Moustakas (1-for-3). Alcides Escobar (1-for-6), Nori Aoki (0-for-13), Lorenzo Cain (0-for-3) and Salvador Perez (0-for-4) have struggled against the left-hander.
1. SS Alcides Escobar
2. RF Nori Aoki
3. CF Lorenzo Cain
4. 1B Eric Hosmer
5. DH Billy Butler
6. LF Alex Gordon
7. C Salvador Perez
8. 2B Omar Infante
9. 3B Mike Moustakas
Adam Berry and Joey Nowak are reporters for MLB.com. This story was not subject to the approval of Major League Baseball or its clubs.