MLB.com Columnist
Bernie Pleskoff
Catch 'em if you can: Dyson, Gore proving dynamic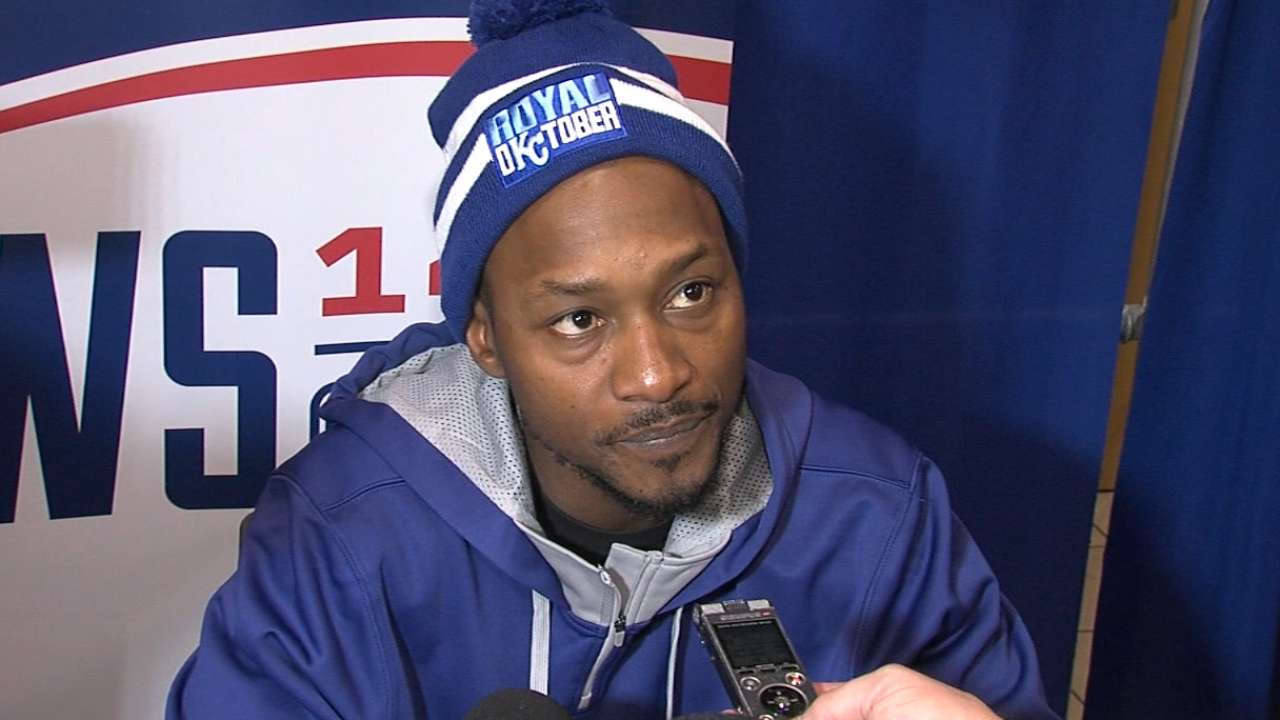 KANSAS CITY -- Kansas City Royals speedsters Jarrod Dyson and Terrance Gore may well be the final components that convince front-office executives that the game of baseball has changed. While clubs still scour the world for game-changing sluggers, there aren't enough bashers to go around.
Players like the Dodgers' Dee Gordon, the Astros' Jose Altuve and the Reds' Billy Hamilton have created an art form of chopping a ball to the infield and beating the throw to first base. They are able to turn a bunt into two bases by inducing a hasty, bad throw. They get on base and steal at will. Dyson and Gore do much of their damage as designated pinch-runners late in games.
Dyson and Gore have have joined players like Gordon, Altuve and Hamilton in causing the opposition acid reflux. They change games. They cause defensive errors. They score runs when a normal player would be sitting on the bench after grounding out to third.
After watching Dyson and Gore in the postseason, it wouldn't be a shock if every Major League organization didn't consider employing a pinch-running specialist. The benefits in the final innings may be worth the 25th roster spot.
The concept of a specialized speed demon available late in games is not new. In 1974, 40 years ago, former Oakland Athletics owner Charlie Finley employed world-class sprinter Herb Washington as a "designated runner." Washington had no professional baseball experience. He appeared as a pinch-runner in the 1974 World Series and was picked off first base in the ninth inning. However, before he retired after the next season, he had amassed 31 stolen bases in 48 attempts. He never hit, played defense or pitched.
Dyson and Gore are, of course, more complete players. Dyson played 108 games in the outfield this past season. Of those, 106 were in center field. He made four errors in 236 chances. Dyson also had four assists. Gore had limited experience in the Kansas City outfield. In the 11 games in which he appeared, he played a total of four innings in left field in two games. But Gore isn't with the Royals for his glove. His purpose is to help win games with his blazing speed.
A right-handed hitter, Gore has been clocked running from the right-handed batter's box to first base in between 3.5 and 3.7 seconds. Without question, that is flying down the line. I've clocked Ichiro Suzuki earlier in his career, as well as Gordon and Hamilton, with similar times. Dyson, a left-handed hitter, is in the same neighborhood, give or take a tenth of a second. And a blistering fast neighborhood it is.
The real heartburn occurs after Gore and Dyson touch first base as a hitter/runner or as a pinch-runner. Everyone in the park knows what's coming next. Few can stop them.
Both the 30-year-old Dyson and Gore, only 23, are primed to be in motion as soon in the count as possible. The quicker they go, the less disruptive they are to the hitter. They also give the hitter more time to knock them in.
Chances are, Dyson and Gore will steal successfully. As a matter of fact, Dyson was 36 for 43 in the regular season. Gore wasn't caught in five attempts.
How can the Giants put an end to the rampant running of the dynamic duo? Several components have to align. The best way is to keep runners off the bases in the late innings. If there isn't anyone on first, Dyson and Gore can't pinch-run.
That's unrealistic. The pitcher has to keep them as close to the base as possible. That means often tossing over to first base with accurate throws. The pitcher can also remain in his set position longer, delaying the first move of the runners. But to best contain Dyson and Gore, the pitcher has to release the ball quickly and get it to the catcher in less than 1.4 seconds. The catcher has to transfer the ball from glove to hand, pop up from his crouch and throw the ball to second base in 1.9 seconds or less. Do the math. Dyson and Gore will make it to second base in 3.4 seconds or less. Count on it. But they can be caught. The throw has to be perfect. The runner has to slide into the throw.
And as if Dyson and Gore aren't enough of a headache, the Royals also have 27-year-old Lorenzo Cain in the mix. All he did was steal 28 bases in 33 attempts during the regular season.
The Royals' running strategy represents a pragmatic way of winning in today's era of baseball. It's exciting, it's challenging and it's not going away.
Bernie Pleskoff has served as a professional scout for the Houston Astros and Seattle Mariners. Follow @BerniePleskoff on Twitter. This story was not subject to the approval of Major League Baseball or its clubs.