Despite NLCS loss, Cards happy to be in 'Final Four'
Wainwright led strong pitching staff with second career 20-win season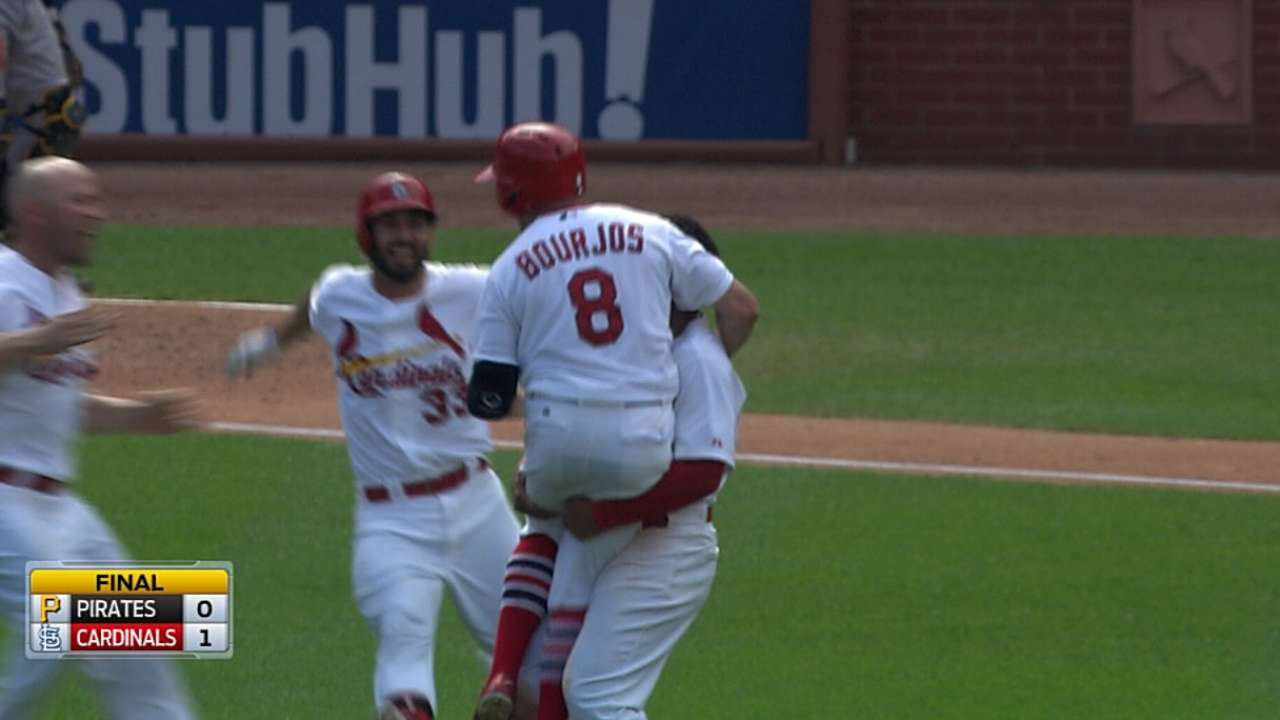 ST. LOUIS -- Based solely on the endpoint, the Cardinals essentially did as most expected them to in 2014, a year in which they entered as overwhelming favorites to repeat as National League Central champions. It was the route in which they got there, however, that went largely off course.
A season that Mike Matheny recently described as the most challenging of his three as manager was indeed adversity-laden, despite the fact that the Cardinals finished as one of just three NL teams with 90 wins. Injuries to key players took their toll, and the offense never clicked for extended periods. That's why it took until September for the Cardinals to sit atop the NL Central alone, bumping the Brewers after their 150-day stay.
In many ways, the Cardinals seemed less than a sum of their parts, a team capable of more. And yet, they still maximized a run differential of plus-16. Six clubs had higher run differentials than St. Louis but fewer wins. The team's knack for winning so many close games explains that disparity. That small margin of error was reflective of the team's troubles scoring in bunches, as this was a club that leaned heavily on pitching and defense to get it through.
"There are challenges that are different every night," Matheny said on Monday, recapping the season. "But overall, when you look at the consistency of this club, and that's one of the things we ask for -- we ask for them to compete and work and bring everything they have. That's really how we define success -- how they show up every day -- and I thought they did that regardless of whatever obstacles got in the way, right down to the end. [There were] plenty of challenges along the way. I thought everyone responded well."
In the end, the Cardinals did capture a second straight division title, an accomplishment that deserves sufficient recognition even if the club had aspirations of a deeper October run. The Cardinals advanced to the NL Championship Series for a fourth straight season (a first for the organization) and further solidified itself as one of the dominant franchises of the 2000s.
Since the turn of the century, the Cardinals have been postseason participants in 11 of 15 seasons. No club can claim more October exposure during that span. It is that difficulty in being perennial World Series contenders that left the organization mostly content with the outcome, even if the journey was bumpier than planned.
"All of us deem this a successful season," general manager John Mozeliak said. "There's no doubt that when you get to the level that we play at, a World Championship is always the goal of where you set your sights. But having said that, being part of the Final Four of baseball is still a wonderful accomplishment, and it's really a credit not only to our players and our Major League staff, but to our organization as a whole."
Record: 90-72, NL Central champs
Defining moment: The final moment is also often the most lasting, and for the Cardinals, that will be watching Travis Ishikawa belt a Michael Wacha fastball over AT&T Park's Levi's Landing to send the Giants to the World Series. The home run ended the Cardinals' pursuit of a third World Series trip in four years and left Matheny to take the heat on his decision to put Wacha on the mound after a near three-week layoff. With the Game 5 loss in the NLCS, the Cardinals' season, for a third straight year, came to an abrupt end with a three-game losing streak.
What went right: Led by Adam Wainwright, the Cardinals' rotation ranked fifth in the NL with a 3.44 ERA. Wainwright became a 20-game winner for the second time, while Lance Lynn emerged as a future ace. He secured his third straight 15-win season. ... Attempts to improve the club defensively were fruitful, as the Cardinals finished second in the Majors in Defensive Runs Saved. Using the DRS metric, no club showed a greater improvement defensively from 2013-14 than St. Louis. ... Jhonny Peralta outperformed his contract in the first season of his four-year deal. He set a franchise record for single-season homers by a shortstop and was one of the league's best defensively at the position. ... Once unsure of his fit in the Cardinals' plans, Jon Jay reemerged as an above-average center fielder. He was the team's best second-half performer offensively and looked a step faster in the outfield after a poor 2013 season. ... Pat Neshek, who joined the club on a Minor League deal, and Trevor Rosenthal, navigating through his first full season as a closer, offered a formidable one-two punch in the back end of the bullpen. Though Rosenthal added drama and Neshek slipped late, the Cardinals still finished 77-5 when leading after seven innings. ... Kolten Wong and Marco Gonzales were among the young players to shine in October, perhaps a harbinger of things to come.
What went wrong: Injuries stalled the Cardinals' ability to reach the stay atop the NL Central until the final month. Yadier Molina missed seven weeks with a thumb injury, while starters Wacha and Jaime Garcia went down the same week in June with arm issues. Garcia didn't return. Wacha came back in September, but was compromised from time away. ... A year after leading all players with his .454 average hitting with runners in scoring position, Allen Craig provided little production in right field. That eventually led the Cardinals to deal him away at the Trade Deadline. ... The other Deadline deal proved fruitless, as Justin Masterson struggled in the rotation and then didn't factor into much after August. ... Kevin Siegrist did not become the lefty setup man St. Louis envisioned. Carlos Martinez also had an up-and-down season and was not as reliable in the late innings as initially expected. ... Acquired to help the Cardinals flash more speed, Peter Bourjos never showed enough offensively to warrant everyday playing time. As a result, the team stole only 12 more bases (57) than it did in 2013.
Biggest surprise: Coming off a 2013 season in which they led the NL in runs scored by a wide margin, the Cardinals never jelled offensively in '14. They scored about a run less per game and ranked 29th in the Majors with 105 home runs, the fewest in a season by the club in more than 20 years. Right field proved to be a particularly troublesome spot, as was second base for a large portion of the season. While St. Louis knew it would not repeat its RISP success (.330 batting average) from 2013, it also did not anticipate featuring such a labor-intensive offense.
Hitter of the Year: Peralta. The Cardinals have no regrets over signing Peralta to the largest free-agent deal the franchise has ever given to a player not already in the organization. He led the team with 21 home runs and 38 doubles a year after sitting out 50 games due to his connection to Biogenesis. Peralta finished the season as the team's cleanup hitter against left-handed pitchers.
Pitcher of the Year: Wainwright. Despite battling a knee issue early and elbow troubles throughout the year, Wainwright finished as just one of three 20-game winners in baseball. He missed only one start and still led all St. Louis starters in innings pitched (227), complete games (five), shutouts (three) and quality starts (25).
Rookie of the Year: Wong. Though he was sent down to the Minors in late April and then missed time with a sore shoulder in June/July, Wong finished the year by showing why the Cardinals were intent on opening second base up for him. He contributed seven extra-base hits and six RBIs in his coming-out postseason party. Wong has long been a solid defender, and he showed that he can also be an offensive asset, particularly when he keeps his swing short.
Jenifer Langosch is a reporter for MLB.com. Read her blog, By Gosh, It's Langosch, and follow her on Twitter @LangoschMLB. This story was not subject to the approval of Major League Baseball or its clubs.