Royals swap Colon for Nix on World Series roster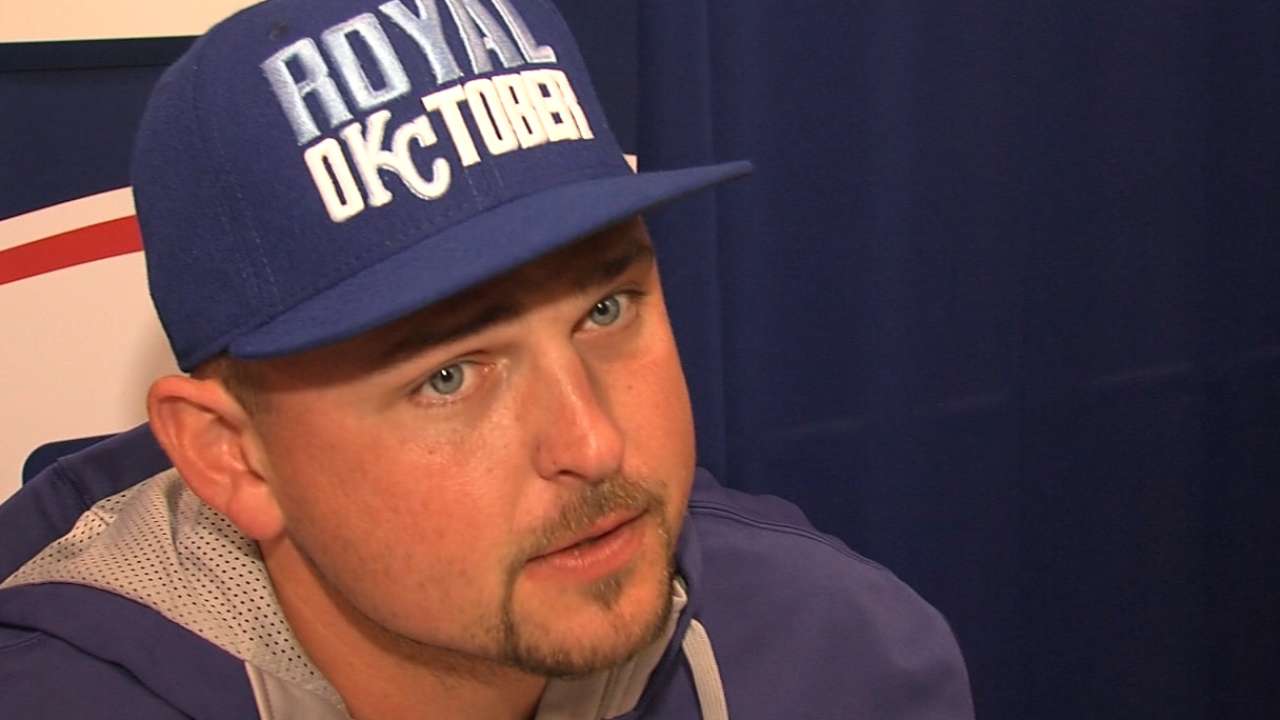 KANSAS CITY -- The World Series roster for the Royals looks very familiar. It's virtually the same as the one for the American League Championship Series and the AL Division Series.
The only change in the 25-man roster announced on Tuesday morning is that Jayson Nix will occupy the backup infielder role, as opposed to Christian Colon. Colon appeared in two postseason games, getting an RBI infield single and scoring the winning run in the 9-8 AL Wild Card Game victory in 12 innings over the Athletics.
Nix, who appeared in the 2012 postseason with the Yankees, appeared in seven games for the Royals after being claimed off waivers on Aug. 28. He was hitless in eight at-bats.
The first game against the Giants is scheduled to be played tonight (6:30 p.m. CT airtime on FOX, 7:07 CT first pitch).
The 11 pitchers include Game 1 starter James Shields and Game 2 starter Yordano Ventura, along with rotation regulars Jeremy Guthrie, Danny Duffy and Jason Vargas and relievers Greg Holland, Wade Davis, Kelvin Herrera, Tim Collins, Jason Frasor and Brandon Finnegan.
The catchers are Salvador Perez and backup Erik Kratz.
The six infielders are first baseman Eric Hosmer, second baseman Omar Infante, shortstop Alcides Escobar, third baseman Mike Moustakas, designated hitter Billy Butler and Nix.
There are also six outfielders: left fielder Alex Gordon, center fielder Lorenzo Cain, right fielder Nori Aoki, backup Jarrod Dyson, pinch-hitter Josh Willingham and pinch-runner Terrance Gore.
Among those left off the roster were pitcher Aaron Crow and outfielder Raul Ibanez.
Crow, an All-Star as a rookie in 2011, is in his fourth season with the Royals, but he has missed the entire postseason.
"I didn't really pitch well the last six weeks of the season," Crow said. "I would like to be on the roster, but it's understandable why they went with other guys who were pitching better than I was at the time. It's just been a lot of fun to watch them go out there and play anyway. I still feel like I'm part of the team and still rooting everybody on."
Crow had a 6-1 record with three saves in 67 relief outings this year, but his ERA was a career-high 4.12. Since Aug. 16, his ERA was 9.00 with three homers and five walks in 11 appearances.
"Of course, it's a downer, but I have no one to blame but myself for not getting the job done at the end of the season, so I'll just use this as motivation going into next year," he said.
Ibanez, a 42-year-old free agent signed after being released by the Angels, returned to the Royals with 44 games of postseason experience, but he's been left out this year.
"It's not difficult, because all you care about is your team winning, and that's really the only thing that matters this time of year," Ibanez said.
"The only time it gets difficult is when you want to help, you want to contribute. It's difficult because you have no control over what you're watching, but it's not difficult because you're just pulling for the guys to win and I'm really enjoying watching it be a different guy every night to do something special and have huge contributions."
Ibanez, was 4-for-31 since Aug. 5, but eight walks raised his on-base percentage to .308. In his 33 games for the Royals, he batted .188 with two homers and five RBIs.
"I totally feel part of it and we're all a part of it," Ibanez said. "I have a better seat than most to cheer from. That's the difference. I'm in the dugout and get to hear everything and be a part of it."
Pitchers Francisley Bueno, Louis Coleman and Scott Downs, catcher Francisco Pena and infielder Johnny Giavotella also were left off the active roster, but they have been practicing with the club.
PITCHERS (11)
Tim Collins
Wade Davis
Danny Duffy
Brandon Finnegan
Jason Frasor
Jeremy Guthrie
Kelvin Herrera
Greg Holland
James Shields
Jason Vargas
Yordano Ventura
CATCHERS (2)
Erik Kratz
Salvador Perez
INFIELDERS (6)
Billy Butler
Alcides Escobar
Eric Hosmer
Omar Infante
Mike Moustakas
Jayson Nix
OUTFIELDERS (6)
Nori Aoki
Lorenzo Cain
Jarrod Dyson
Alex Gordon
Terrance Gore
Josh Willingham
Dick Kaegel is a reporter for MLB.com. This story was not subject to the approval of Major League Baseball or its clubs.