AFL honor soured by Zimmer's shoulder woes
Royals righty named Pitcher of the Week after discomfort sidelines him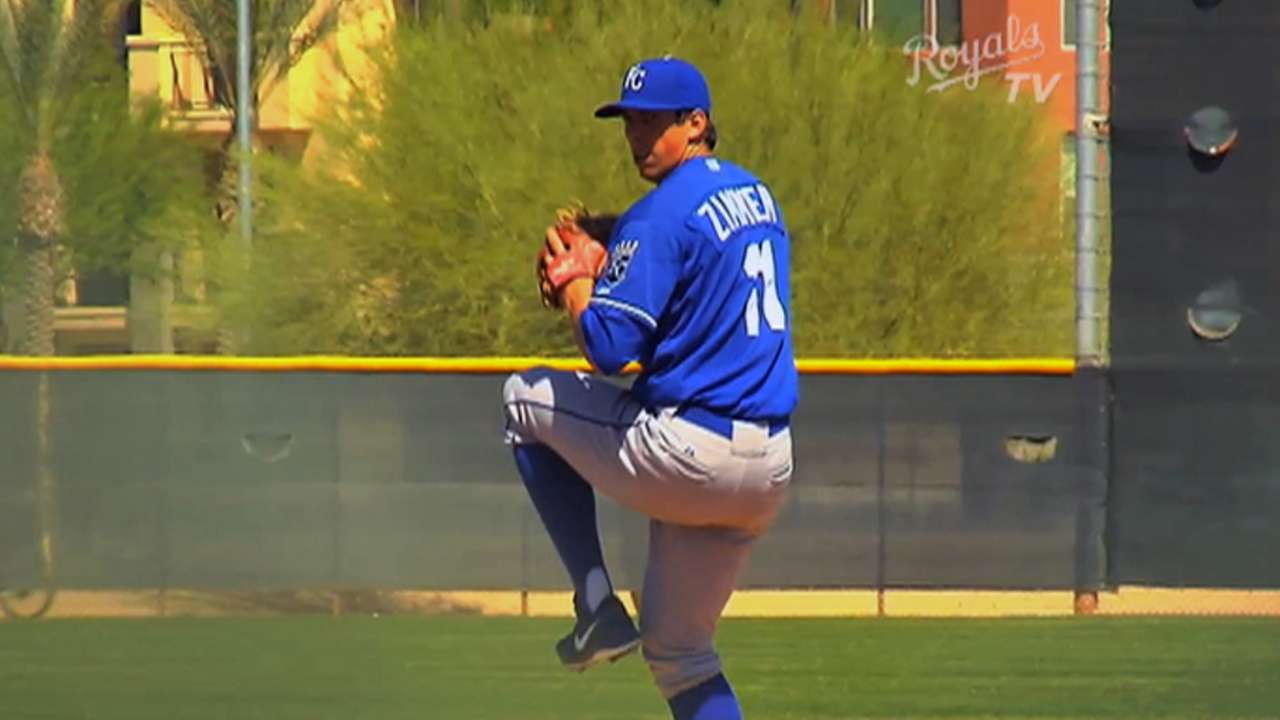 SURPRISE, Ariz. -- Kyle Zimmer had hoped that a bit of the Kansas City Royals' World Series Midas touch would rub off on him.
The right-handed pitcher dealt with injuries in 2014, most notably shoulder and a lat, and that served as a roadblock for the young man who was the fifth overall pick in the first round of the 2012 First-Year Player Draft.
Now it appears the 23-year-old could be out for an undetermined amount of time after earning the Arizona Fall League's Pitcher of the Week honors, as there is a possibility that he has re-injured his shoulder.
In 2014, Zimmer started just six games for Idaho Falls of the Pioneer League, working just 4 2/3 innings, and spent most of the summer going through rehabilitation at the Royals' Spring Training facility in Surprise. He recovered to the point where he was used in relief in the Omaha Storm Chasers' 4-2 victory over the Pawtucket Paw Sox in the Triple-A championship game.
Then it was on to the Fall League, where he hoped the rejuvenation process would continue.
It did, at least for the first two weeks.
Zimmer made two starts in Week 2 for the Peoria Javelinas, giving up no runs on two hits in six innings, while walking two and striking out 12. In three starts overall in the Fall League, he was 0-0 with a 2.79 earned-run average in 9 1/3 innings, giving up three earned runs on five hits with four walks, 15 strikeouts and a .156 batting average for opponents.
The 6-foot-3, 215-pound Zimmer is listed by MLB.com as the Royals' No. 2 prospect and 47th overall.
Other Pitcher of the Week nominees were Glendale Desert Dogs right-hander Zach Davies (Orioles), Salt River Rafters right-hander Kaleb Fleck (D-backs) and Scottsdale Scorpions right-hander Tyler Glasnow (Pirates).
Royals left-hander Daniel Stumpf will replace Zimmer on the Peoria roster.
In Zimmer's second start of the week, he pitched just one scoreless inning Saturday before leaving the game with shoulder discomfort.
"He had soreness in his shoulder and rather than let him pitch through it, we just took him out of that game," said Royals assistant general manager J.J. Picollo.
There also had been some speculation that Zimmer might pitch in the Dominican Winter League, but that likely will not happen.
Zimmer was unavailable for comment.
Zimmer's fastball usually runs in the mid-90s (mph), and the velocity had fluctuated since the injury, according to some media reports. Late in the season, it had shown signs of regaining some consistency. He also has a curveball, slider and changeup in his repertoire.
Don Ketchum is a contributor to MLB.com. This story was not subject to the approval of Major League Baseball or its clubs.