MLB.com Columnist
Jonathan Mayo
Thrilled to be back, Buxton leads Twins' AFL class
Top prospect looking to move forward after injury-riddled year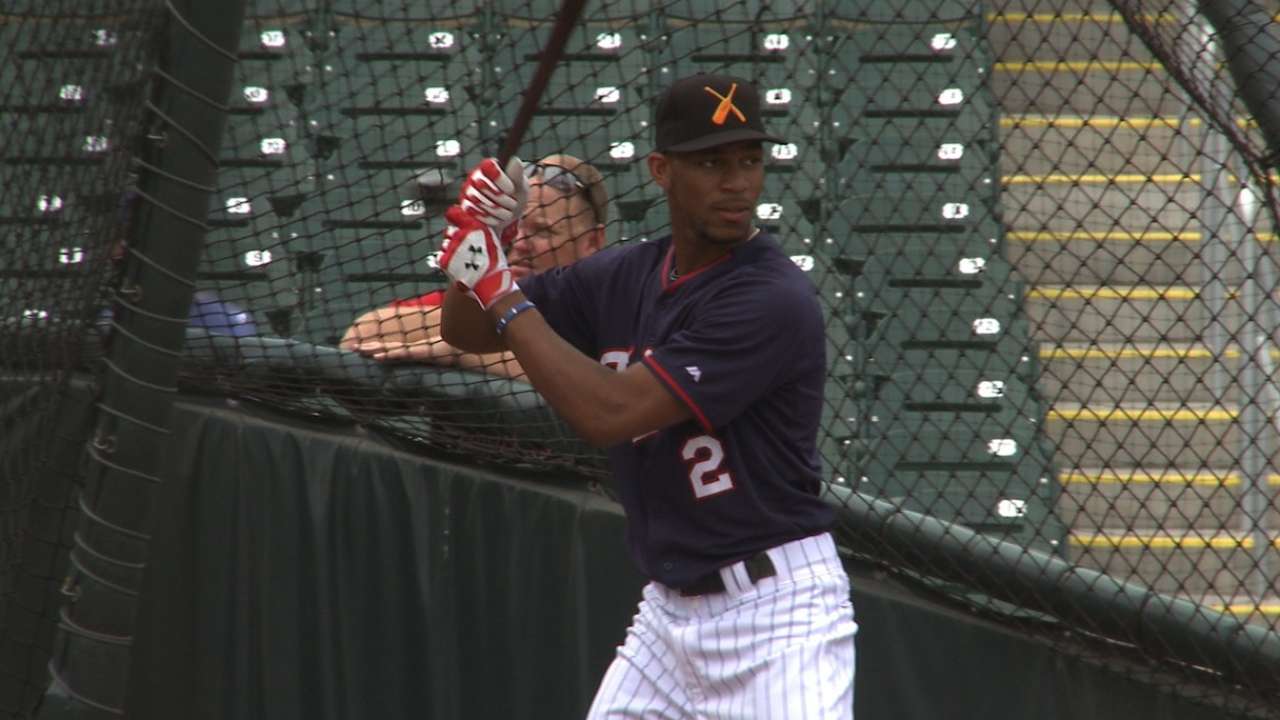 After a 2014 season that saw him play in just 31 games because of injuries, Byron Buxton is simply happy to be playing baseball anywhere.
Who can blame the No. 1 prospect in baseball, really? First, it was a wrist injury that kept him from making his 2014 debut in the Florida State League until early May, then forced him out again for two months. Then, he was involved in a scary outfield collision in his Double-A debut in early August that ended his season due to a concussion. In total, Buxton picked up only 124 at-bats in a year some thought might propel him to the big leagues at age 20.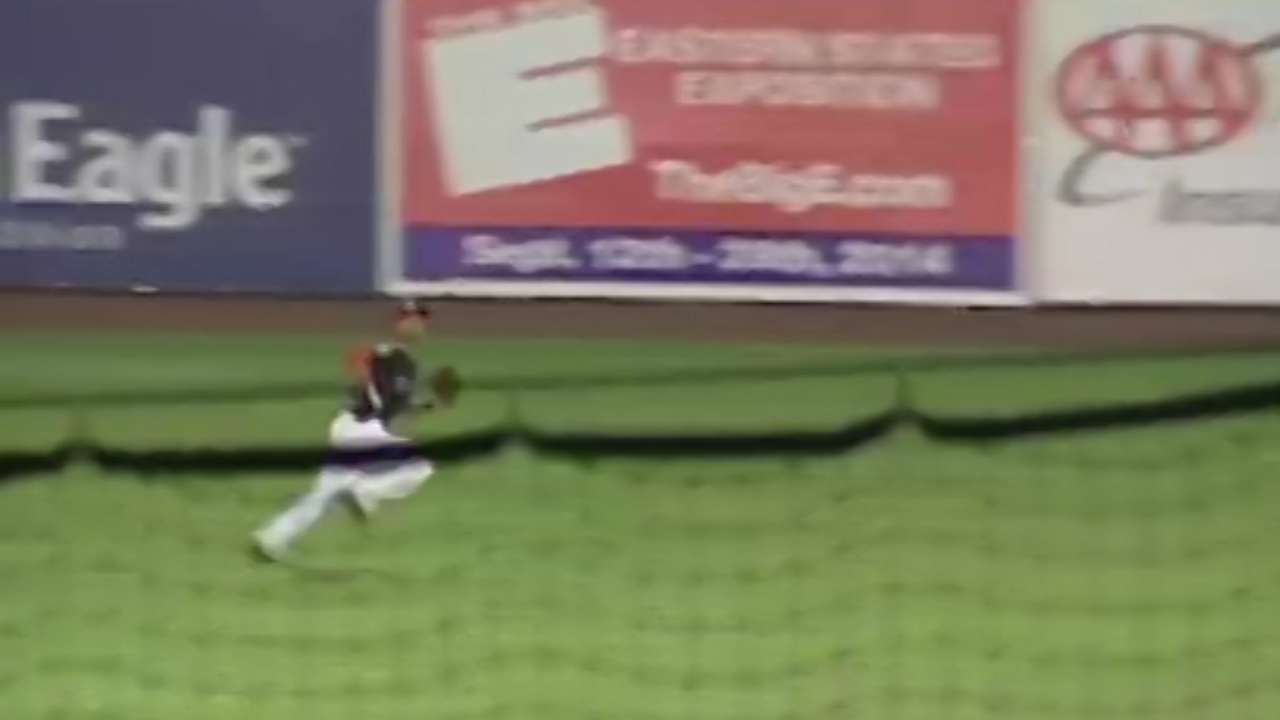 "It couldn't be a better feeling to be back out here, playing games and being healthy," Buxton said about returning to the Arizona Fall League for a second straight season. "Just [want to] show my game a little bit. I know this season I didn't do too well because of injuries. I'm just trying to stay in there and stay focused."
He mostly wants to stay locked in on the future. The toolsy outfielder is not a fan of looking in the past about what might have been. As a result, he's not looking at the AFL as a way to make up for at-bats; it's a way for him to move forward.
"I can't really focus too much on what I lost," Buxton said. "I just have to keep looking ahead and try to keep preparing myself for the future."
Doing so in the Arizona Fall League is a good challenge for Buxton. He played in just 12 AFL games in 2013 due to a strained left shoulder. In many ways, he's back in the same place as he was a year ago, hoping to use the experience in the desert to springboard him to the upper levels of the Twins system and allow him to fulfill as high a ceiling as any prospect in the Minor Leagues.
"It's the best of the best," Buxton said. "You have to come out here and bring your 'A' game every day. You have to try to not overdo it, just try to [be] yourself. I'm very happy. I'm just trying to come out here, play my game, try to help our team win some games and try to win a ring here.
"I'm just trying to close this out, look ahead. By Spring Training, I'll be prepared and ready to go."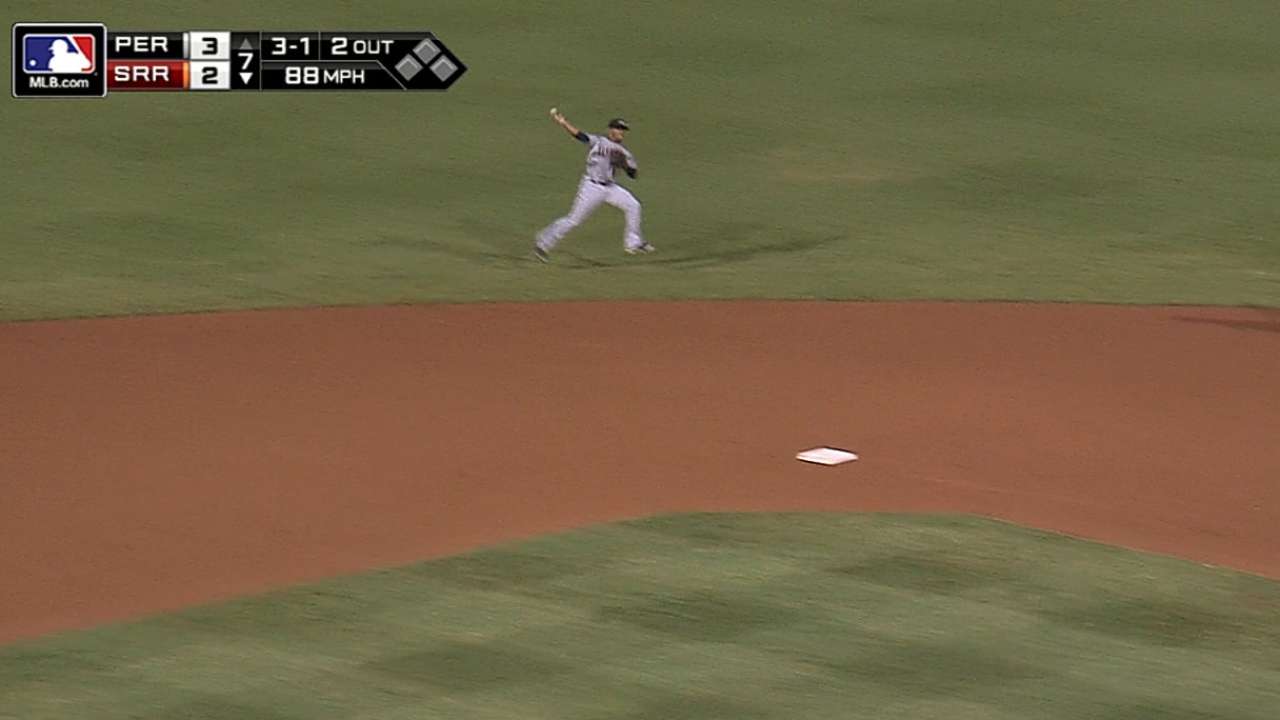 Twins hitters in the AFL
Max Kepler missed some time in 2014 due to injury, though his 102 games played in the Florida State League were a career high. After a sluggish start, the German-born outfielder/first baseman turned it up a notch in the second half, hitting .298/.347/.433. A year ago, the Twins' No. 19 prospect was in the AFL playing first base because of a bad elbow. He's back this year, working on his corner-outfield play.
After serving a 50-game suspension to start the year, Eddie Rosario made his way back to Double-A, with mixed results. The organization's No. 10 prospect hit .237/.277/.396 with eight homers and eight steals in 79 Eastern League games. He continued to play both second base and the outfield, but he's only played the outfield in Arizona.
Twins pitchers in the AFL
Jason Adam played in Arizona a year ago but as a Royals farmhand. He's back again this year, joining the Twins organization in August via the Josh Willingham deal. Adam pitched seven innings post-trade before the season's end. The size (6-foot-4) and the stuff -- particularly a mid-90s fastball and solid breaking ball -- are still there, even though the results haven't been. Adam is pitching out of the Salt River Rafters' bullpen this fall.
Reliever Zack Jones was at the AFL last year and had a mysterious finger malady that forced him to cut his Arizona visit short. It turned out to be a shoulder aneurysm and surgery delayed his 2014 season, as did a blood clot in his leg. He barely got to use his upper-90s fastball during the regular season -- though he was the closer on the Fort Myers championship club in the postseason -- and is back in Arizona to make up for some of those lost innings.
A late addition to the Twins contingent in Arizona, Jake Reed is making the most of his opportunity, throwing five shutout innings over his first three outings and earning AFL Pitcher of the Week honors. The 2014 fifth-round Draft pick out of the University of Oregon has nasty stuff, with a fastball that's been touching the upper 90s and a hard slurvy breaking ball that misses tons of bats. He shouldn't take long to get to the big leagues.
Taylor Rogers, a lefty out of the University of Kentucky (11th round, 2012 Draft), had a solid 2014, making a successful jump to Double-A. Rogers finished fifth in the Eastern League in strikeouts and sixth in ERA. He doesn't hurt himself with walks, as his 2.3 BB/9 career ratio attests, going right after hitters with his fastball, breaking ball and changeup. He's looking more and more like a No. 4 or 5 starter who can eat up a lot of innings at the highest level.
Jonathan Mayo is a reporter for MLBPipeline.com and writes a blog, B3. Follow @JonathanMayoB3 on Twitter. This story was not subject to the approval of Major League Baseball or its clubs.