MLB.com Columnist
Jim Callis
Yankees Arizona Fall League overview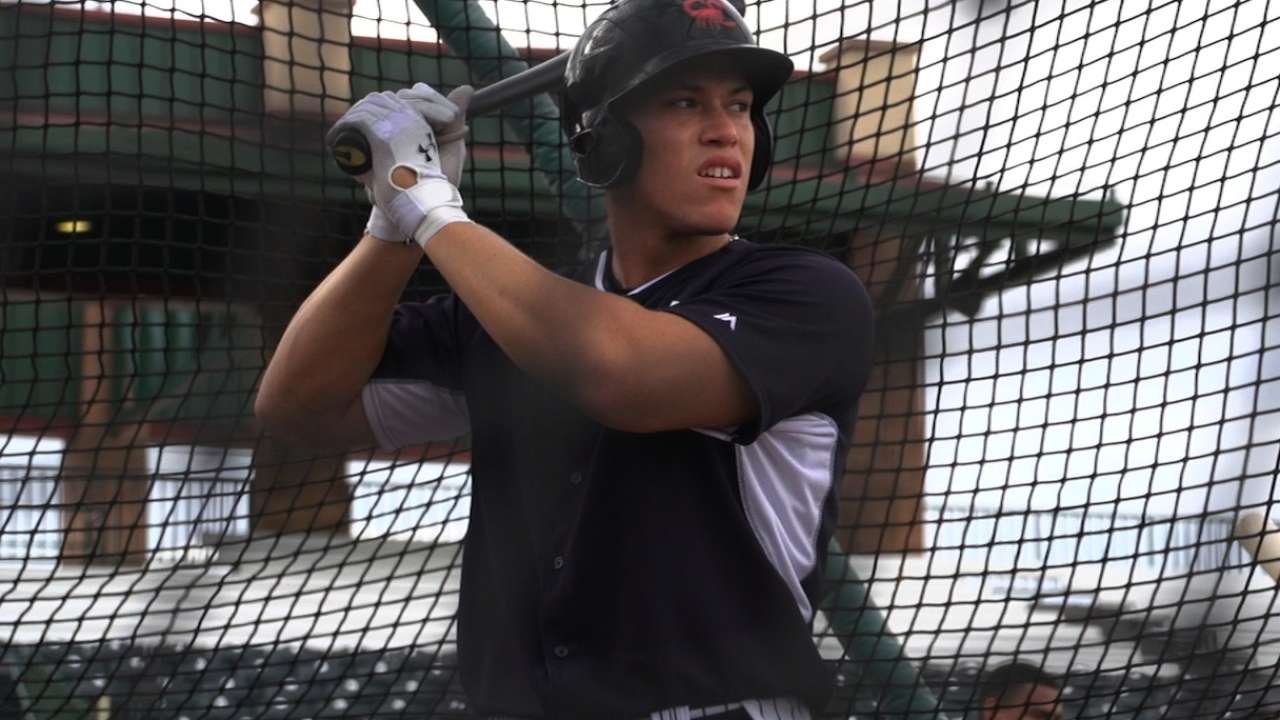 The longest stretch of baseball in Aaron Judge's life began when he reported to Yankees Minor League Spring Training in March. He played 131 regular-season games from April through August, then reported to instructional league in September.
There's no rest in Judge's immediate future, because he's now in the Arizona Fall League, slated to play with the Scottsdale Scorpions through mid-November. He's thrilled that he's not getting any time off from baseball after an injury pushed his pro debut from 2013 to '14, and he's looking forward to testing himself against more advanced pitching than he has ever seen before.
"Just being invited to the Arizona Fall League is always a great honor," Judge said. "Being able to come out here and compete against the best in the game is fun. You get to see how you stack up against the competition, so I'm excited."
Through two weeks of AFL play, Judge has stacked up very well. He went 7-for-20 (.350) with a homer and seven RBIs in his first five games, and he had struck out just three times.
That success has carried over from Judge's first season in pro ball. Splitting '14 between Class A Charleston and Class A Advanced Tampa, he batted .308/.419/.486 and led all Yankees farmhands in RBIs (78), walks (89) and on-base percentage. That kind of production is what New York hoped for when it made him the second of its three first-round choices in the 2013 First-Year Player Draft, selecting him 32nd overall and signing him for $1.8 million.
Before he could take the field for the Yankees, Judge tore his right quadriceps muscle. Though his first pro summer ended before it began, he drew some positives from the experience.
"After you get drafted, you just want to show people who you are," Judge said. "It was kind of a blessing in disguise, though. I met a lot of great big leaguers while I was down in Tampa rehabbing. It kind of helped me with the mental side of baseball. Everyone's going to have ups and downs, and just trying to stay even keel through that whole process is a huge part of it."
If his '14 performance is any indication, Judge could move rapidly through the Minor Leagues. Though he's the most physically imposing player in the AFL at 6-foot-7 and 230 pounds, he doesn't have an excessively long swing like most players his size. His frame gives him tremendous strength and leverage and thus, huge right-handed power potential.
For now, Judge has been mostly content to drive balls from gap to gap. He'll become more of a home run threat once he pulls pitches on a more consistent basis. He has the tools to contribute in all phases of the game, as he runs well for his size, has well above-average arm strength and plays a solid right field.
Yankees hitters in the AFL
• Outfielder/first baseman Tyler Austin has had trouble staying healthy since his breakout '12 season, missing time this year with wrist and groin injuries while batting .275/.336/.419 in Double-A. A 13th-round pick as a Georgia high schooler in '10, he has the short stroke and bat speed to hit for both average and power.
• The son of the former All-Star, third baseman Dante Bichette Jr. was New York's top pick (51st overall) in '11 and struggled mightily the next two seasons in Class A. He rebounded somewhat in '14, hitting .264/.345/.397 while spending most of his time with Tampa. Power is his best tool, and he might be a DH when all is said and done.
• Kevin Gausman's high school catcher in Colorado, first baseman Greg Bird led the Minors with 107 walks in '13 but was hampered by back problems this year while hitting .271/.376/.472 with 14 homers between Tampa and Double-A Trenton. A fifth-rounder in '11 who signed for $1.1 million, he impresses with his left-handed power and his patience at the plate. He was tied for the AFL home run lead with three in nine games through the first two weeks of play.
• An '08 seventh-rounder from a California high school who signed for $500,000, catcher Kyle Higashioka has played in just 24 games the last two years because of an elbow injury that led to Tommy John surgery. He has the catch-and-throw skills to make it as a big league backup, though his bat is a huge question mark.
Yankees pitchers in the AFL
• Right-hander Caleb Cotham has had injury issues since signing for $675,000 as a fifth-round sophomore-eligible from Vanderbilt in '09, pitching just 310 2/3 innings since he debuted in '09. While he doesn't have a standout pitch, he does have good feel for pitching, mixes four average-ish offerings and throws them for strikes.
• A 20th-round pick from Virginia Commonwealth by the Pirates in '12, right-hander Kyle Haynes was the player to be named later in a trade for Chris Stewart last December. He has a low-90s fastball and posted a 3.49 ERA with 55 strikeouts in 69 2/3 innings as a reliever with Tampa this year.
• Signed as a non-drafted free agent in '12 after a college career at New Haven, right-hander Alex Smith compiled a 2.74 ERA and a 60/21 K/BB ratio in 65 2/3 innings as a reliever with Tampa this summer. With a 91-94 mph fastball and a hard curveball, he can show two plus-pitches at times.
Jim Callis is a reporter for MLB.com and writes a blog, Callis' Corner. Follow @jimcallisMLB on Twitter. This story was not subject to the approval of Major League Baseball or its clubs.