Ahead of World Series, MLB thanks the fans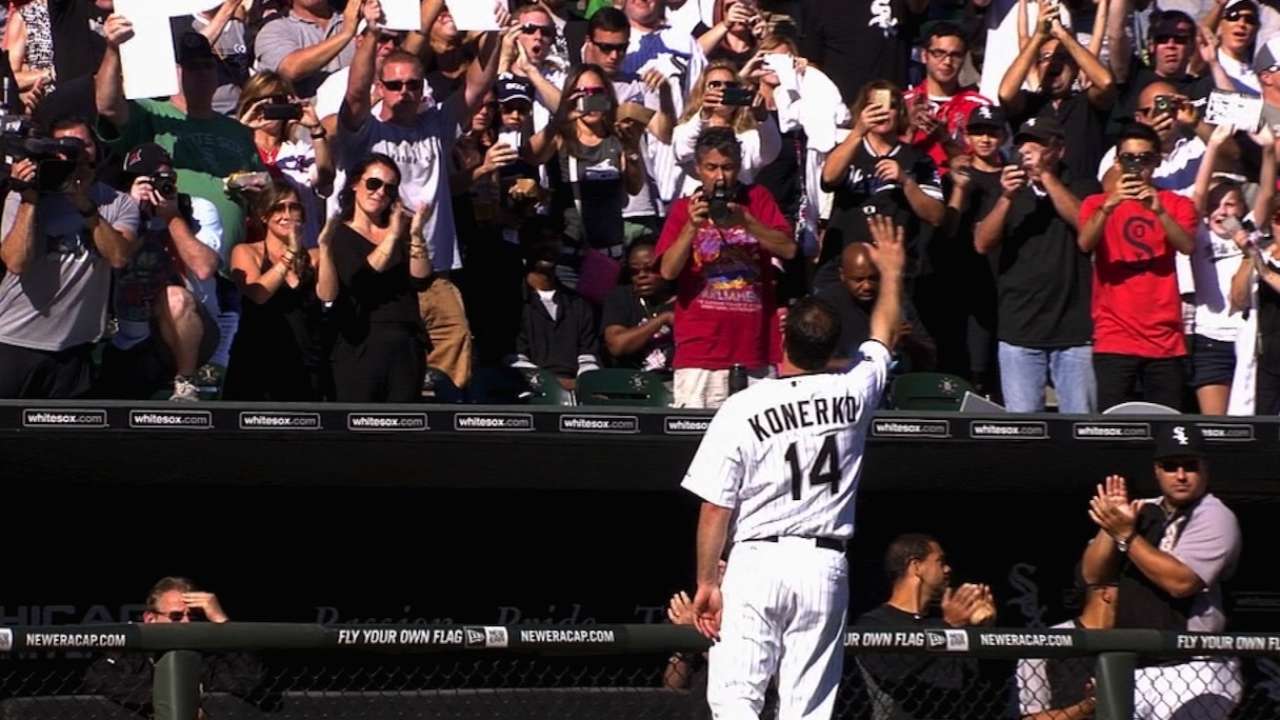 KANSAS CITY -- It all started almost exactly seven months ago, in the middle of the night in America and in front of 38,266 fired-up fans at the Sydney Cricket Ground in Australia. "Hi, everybody, and a very pleasant good morning to you," legendary broadcaster Vin Scully greeted fans from Down Under at the 2014 Opening Series.
We were off.
Clayton Kershaw won that Opening Day start for the Dodgers, his fourth straight victorious opener, on his way to another probable Cy Young Award. Derek Jeter had an unbelievable farewell tour. Yoenis Cespedes and Mike Trout dominated All-Star Week in Minnesota. Pennant races sizzled. Nelson Cruz and Giancarlo Stanton topped the long-ball charts and Jose Altuve hit everything in sight. Jordan Zimmermann threw a no-hitter on the final day of the regular season, the fifth no-no of '14.
Now we turn our attention back to the field for one decisive and last hurrah, a best-of-seven World Series between the National League's Giants and the American League's Royals, and there are some people to thank before James Shields fires the first pitch at 8:07 p.m. ET tonight on FOX (7:30 p.m. ET airtime). In fact, Major League Baseball is sending out 73,739,622 thanks.
Watch MLB's new video, to the tune of Timeflies' "All the Way," and rest assured that you are not just viewing it, but you also are the reason for it. This is for everyone who went to the games, who watched them streamed live on MLB.TV, who listened to them on their radios, who tweeted all summer and dominated friends' Instagram feeds with ballpark shots.
The spot will make its broadcast debut during Game 3, which is scheduled to be played at 8 p.m. ET Friday on FOX.
"Once again, I'd like to thank our great fans for their continued enthusiasm and support over the last decade and beyond," Commissioner Bud Selig said.
This video is for everyone who didn't catch a foul ball in '14 ... but also for those who did. This is about all those people who made clever Hunter Pence signs ... even if he is still playing. This is for everyone who ate mustard on their hot dogs ... and for those who went with ketchup.
The last decade has produced all 10 of the best-attended seasons in MLB history, and the '14 season wound up No. 7 on that list. This video is a quick way to relive some of that feeling before you get caught up in an unfolding Fall Classic storyline. How did it feel for you? Even if your team is one of 28 now observing, you added a notch to your belt, getting into the national pastime for another year.
And if your team was like most, you were watching meaningful games until late in the season, as competitive balance reigned supreme again.
Remember that final weekend? There were 1,648,624 fans, making it the biggest-drawing final weekend since '08. Jeter had a little something to do with that, and so did Paul Konerko, who retired from the White Sox. What a thrill it was around the nation's capital, where the Nationals and Orioles both clinched East Division titles. Same thing in Los Angeles, with the Dodgers and Angels. Redbird Nation celebrated another division title, and Detroit nosed out Kansas City for that AL Central clincher.
The Pirates made it two straight postseasons, and Oakland went from runaway division leader to Wild Card survivor, giving us Jon Lester on the hill for another postseason shot. Robinson Cano went off to Seattle and nearly led them to the playoffs.
"During the last week [of the season]," Selig said, "all of us who love the game witnessed a wonderful culmination to the 2014 regular season with thrilling postseason races down to the final day, an emotional farewell to an icon of this generation and a milestone in our nation's capital."
The '14 season posted 17 weekends with at least 1.5 million in attendance, also marking the largest since '08, when there were 19 such weekends. There were 12 clubs that surpassed the 2.5 million mark, including five that topped the 3 million mark.
Now everyone is talking about the Giants and the Royals, an unlikely matchup of two Wild Cards. Can the former make it three titles in a five-year span and be considered a "dynasty?" Can the Royals win their first World Series championship since 1985?
We started in March, and now here we are almost seven months to the day. It has been a lot of baseball. It has been a lot of fans. It has been a lot of wins, a lot of losses, a lot of player transactions, a lot of hot prospects, a lot of experiences to learn from along the way.
We've seen plenty of pie in the face from Adam Jones, nasty sliders from Kershaw, continuous magic in Kansas City. We've endured rain delays and some sweaty and freezing nights at the yard, but we've been there in big numbers and passed the game on to the kids.
It's time for the World Series. And a thank you to baseball fans.
Mark Newman is enterprise editor of MLB.com. Read and join other baseball fans on his MLB.com community blog. This story was not subject to the approval of Major League Baseball or its clubs.