MLB.com Columnist
Hal Bodley
Giants can punch Bochy's Hall of Fame ticket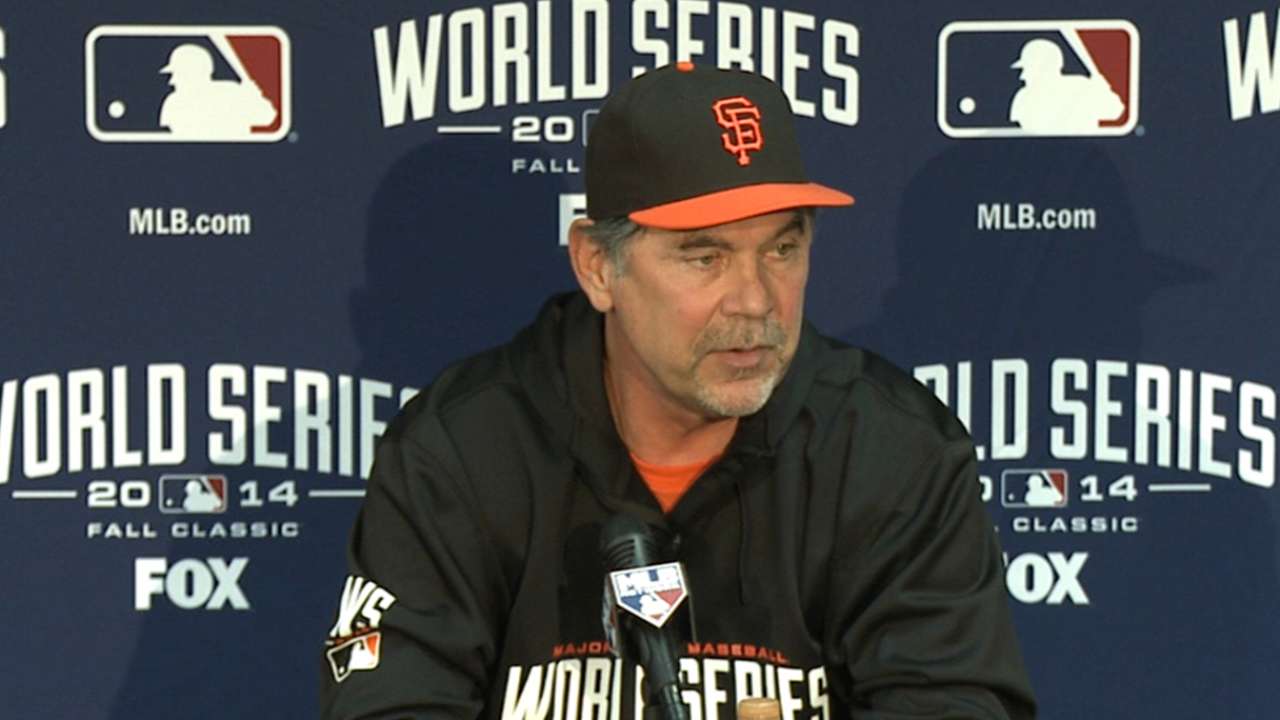 KANSAS CITY -- The Giants are poised to win their third World Series in five years, and if successful, they'll punch Bruce Bochy's ticket to Cooperstown.
Nine managers have won at least three World Series championships, and all of them are in the Hall of Fame.
So if the Giants can get past these Cinderellas wearing Kansas City Royals baseball suits, their beloved skipper can count on baseball's highest honor.
When Joe Torre, Bobby Cox and Tony La Russa were elected last December, I predicted that Jim Leyland and Lou Piniella would top the next managers' ballot in 2017.
I still believe that. Even though Bochy is years from retirement and consideration for the Hall of Fame, he'll be No. 3 on my list if he gets his third ring.
As Bochy said on Monday afternoon, this World Series should be all about the players, but adding another chapter to his impressive resume is a dandy subplot.
Bochy, who has 1,618 wins, was managing the Padres in 1998 when they made it to the World Series and were swept by Torre's Yankees. That was the second World Series win for Torre, who produced four championships in five years.
On the eve of this year's Game 1, I asked Bochy what it was like as a manager to watch Torre's teams win so often.
"You understand how difficult this is," he said. "I was amazed at the Yankees on what they accomplished. It's not that easy. I mean, first of all, you've got to get there. Then the road to get there now is a lot more difficult than it used to be. It used to be two pennant winners going at it, and now you have to go through some playoffs, and this year we had the extra one with the [Wild Card Game]."
I suggested there are times when you have to pinch yourself. Bochy's teams have won eight consecutive postseason series, plus a Wild Card Game.
"Yes, it's very satisfying when you get in a situation where you have a chance," he said. "That's all we wanted at each stage, is just a chance to get to this stage. "
But like a proud papa, Bochy came back to his players.
"I'm amazed at these guys," he said. "I've told them that, at how hard they fought to get here. Again, it's a tough road when you have to go through some really good clubs. I mean, we had to go through Washington. We had to go through St. Louis. They've amazed me. You do sometimes look and go, 'Hey, we're pretty blessed to have a group of guys that just seemed determined to get here.'"
Brian Sabean keeps a low profile by choice, and because of that, he might be the most underrated general manager in Major League Baseball.
Sabean is the architect of these Giants teams. He has an uncanny knack at tweaking the roster just enough to greatly improve his teams. But no move he has made since becoming GM in late 1996 has been more important than bringing Bochy aboard.
Bochy had a year remaining on his contract in San Diego when Sabean was granted permission by the Padres to speak with him. He was hired on Oct. 27, 2006.
When you sit down with the 59-year-old Bochy, it's like spending time with a favorite uncle. With his gravelly voice and homespun approach, "Boch," as he's called, gets and keeps your attention. And the thing is, he doesn't demand it. It just comes naturally. He looks you straight in the eyes and the first thing you see is excitement, quickly followed by sincerity.
His players believe in him, and for any manager this has to be his most important trait.
Madison Bumgarner, who will start for the Giants in Game 1 on Tuesday (4:30 p.m. PT on FOX; 5:07 first pitch) against the Royals' James Shields, said pitching for Bochy has been "a lot of fun."
Bumgarner added: "Obviously, he's the only manager I've played for, so it's tough to compare him to someone. But it would be hard to imagine playing for a better manager. … He's got as good a feel for the game as anybody, and that makes for some fun games."
When the Giants ousted the Cardinals to win the National League pennant, veteran pitcher Jake Peavy told MLB.com's Barry Bloom, "I know it sounds like a broken record, but the man's special. I said it in the middle of the season: You can write up his Hall of Fame plaque right now, believe me. This man is such a great leader. It spills over to everyone. His coaching staff is unbelievable. Their belief system, it spills over into here."
Outfielder Hunter Pence says Bochy is enormously invested in the players.
"We know that and have a tremendous amount of confidence in him," Pence said. "It takes a lot of courage to make a lot of the decisions because you're going to answer to everything you do through hindsight, which isn't always necessarily fair. As a team, playing behind him, his guts and his heart and his determination leaks into us."
When you try to compliment Bochy, it's as if he says, "Aw, shucks. It's not me." But on the record, keeps trying to play down his role.
"I'm not just trying to be a humble guy," he said, almost embarrassed. "I'm fortunate that I have a great ballclub, a gritty ballclub with a lot of character that plays to win. They seem to thrive on important games. … Ownership has given me the tools, and that's how it works. It's all about the players and how they perform."
Obviously, the challenges of managing in the World Series with so much at stake are different.
Bochy agrees, yes, it's different: "You have a team that really fought so hard to get here, you really don't want to do anything too much different. Sure, you might manage a little different because of the sense of urgency."
What Bochy is trying to say is, it's all about the players, not the manager -- and don't mess it up. Yet if the Giants win this World Series, they'll repay Bruce Bochy with what should be the most important honor of his career.
Hal Bodley is the senior correspondent for MLB.com. This story was not subject to the approval of Major League Baseball or its clubs.