Appel dominates, continues scoreless streak in AFL
Astros prospect throws five shutout innings, now at 12 consecutive in Fall League play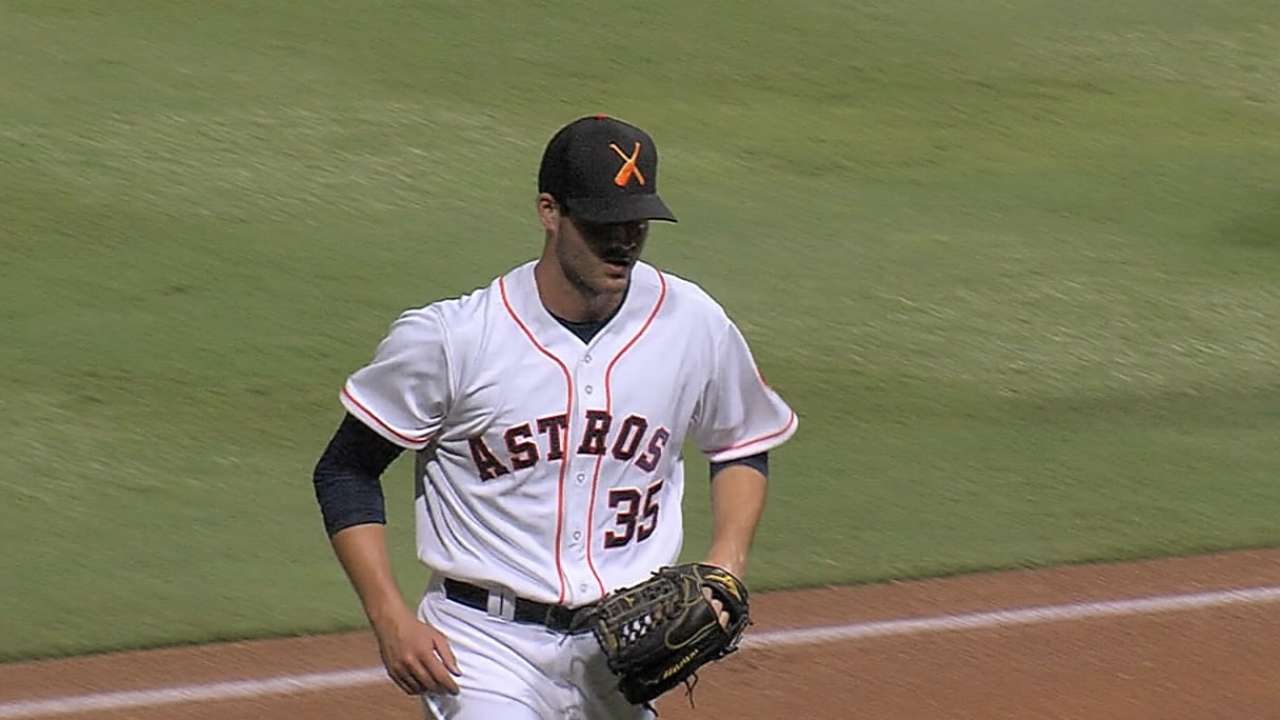 After a disappointing start to the season at Class A Advanced Lancaster, right-hander Mark Appel righted himself in the last month of the season at Double-A Corpus Christi. Now, in the Arizona Fall League, he is pitching like the dominant starter the Astros expected when they made him the first overall pick of the 2013 First-Year Player Draft.
Monday, Appel, ranked No. 41 on MLBPipeline.com's Top 100 Prospects list, threw five scoreless innings to earn his first victory in the AFL, as Salt River defeated Peoria, 4-2.
Appel, the Astros' No. 2 prospect, hasn't allowed a run in his first three starts this fall, a streak of 12 innings. He has struck out 12 batters and held opponents to four hits and three walks.
Appel said he can't pinpoint any one thing that has led to his strong start to the AFL.
"I think it's a combination of continuing to work hard, not giving up and trusting my stuff," Appel said. "I've gotten here because I'd been doing some things the right way and I'm continuing on same track tried to finish the season on in Corpus Christi."
Appel posted a 3.69 ERA and held opponents to a .236 batting average in Corpus Christi. It was a big turnaround from his start to the year at Lancaster, where he went 2-5 with a 9.74 ERA.
This fall, Appel has continued to build on his late-season success. Against the Javelinas, Appel struck out four batters, walked none and allowed just two hits. It was his longest start of the fall as he gradually builds back up after a month off between the end of the Minor League season and the start of the AFL.
Appel said he asked pitching coach Joshua Miller if he could keep going, but the Rafters stuck to their preseason plan of going to the bullpen after five innings.
"I felt great," Appel said. "I felt like I was definitely ready for it."
The Rafters gave Appel an early lead, scoring two runs in the first without getting a hit, as right-hander Jamie Schultz issued three walks and catcher Justin O'Conner committed a costly throwing error. Salt River added a run in the fourth and another in the eighth, which proved to be enough for Appel and the bullpen.
Center fielder Byron Buxton, baseball's top prospect, went 1-for-4 with a walk, a stolen base and an RBI. Third baseman Rio Ruiz, the Astros' No. 9 prospect, added a walk and a run.
While Schultz's wildness allowed the Rafters to take the lead, Appel had no such problems with his control. Of his 54 pitches, 36 were strikes.
Appel said he isn't focusing on a specific area of his game this fall, instead he simply wants to be more consistent and improve every start. His improved control helped him meet that standard Monday.
"My last game was probably my best up to that point and today was even better," he said. "The difference today was my fastball command out of the windup."
The only player to reach base against Appel was shortstop Francisco Lindor, the Indians' top prospect. Lindor singled in the first and doubled in the third and impressed Appel with his ability to work the count and hit pitchers' pitches.
"He's a good player," Appel said. "You know he's going to be a star in the big leagues, obviously."
Once Appel was relieved to start the sixth inning, the Javelinas wasted little time getting on the scoreboard. They scored two runs in the inning off right-hander Nelson Gonzalez, but weren't able to get any more against the Rafters bullpen.
Lindor, ranked No. 4 on the Top 100, finished the day 3-for-4 with a run and a stolen base. Right fielder Edward Salcedo and first baseman Cody Stanley each added RBI doubles.
With Monday's victory, Salt River improved to 8-3-1 -- the best record in the AFL. Appel said he and the rest of the Rafters are having fun playing together in the desert.
"We have a bunch of great guys who all enjoy playing hard and enjoy winning," Appel said. "Being in that kind of environment makes it easy to go out and have fun and whatever the results are, they'll take care of themselves. It's great to go out there with guys that have same focus, same mentality and just have fun."
Teddy Cahill is a reporter for MLB.com. Follow him on Twitter at @tedcahill. This story was not subject to the approval of Major League Baseball or its clubs.