Lincecum more than ready if needed in Fall Classic
Right-hander again on playoff roster, but hasn't pitched since Sept. 28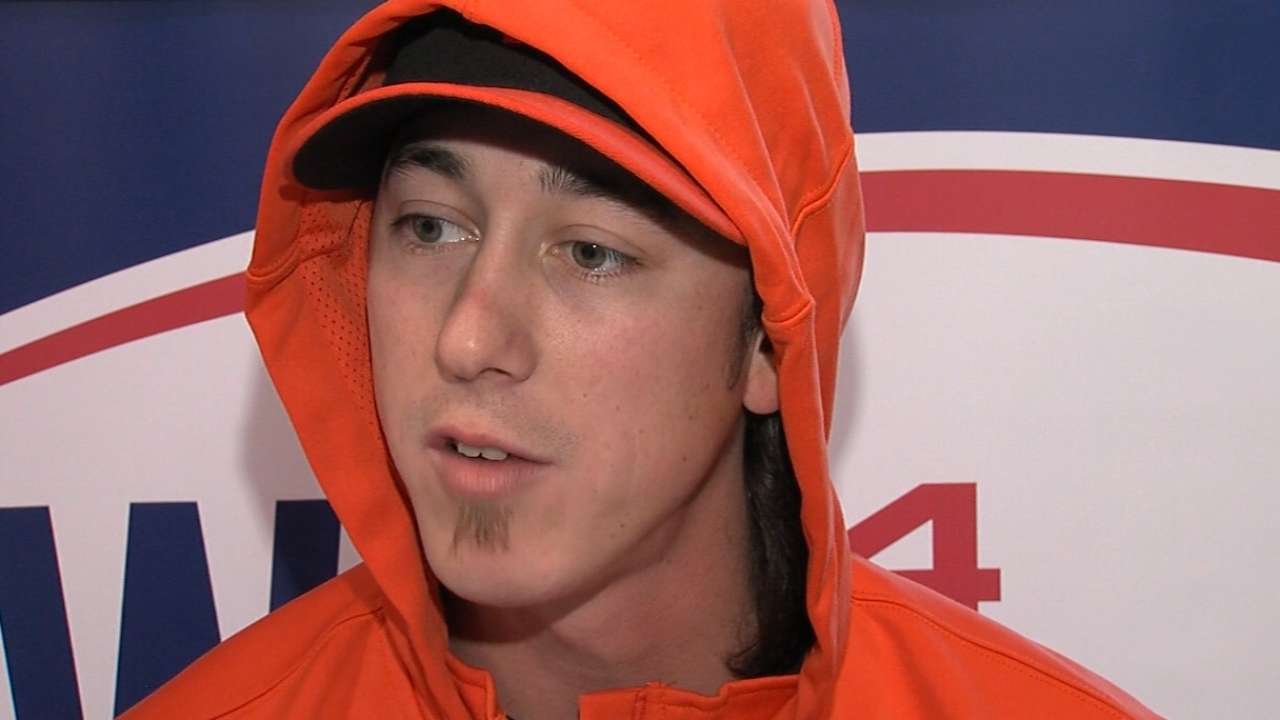 KANSAS CITY -- Giants right-hander Tim Lincecum has gone from the sublime to the anonymous in his baseball career. Thus far, Lincecum has not pitched during the 2014 playoffs, but he insists he is not obsessing about pitching in the World Series against the Royals. If Lincecum's not used, he figures he'll deal with all that when the postseason is over.
"I think there will be a time when I think about it and what it means to me," Lincecum said on Monday at Kauffman Stadium. "Right now, I'm really locked into the idea of being a good teammate and just being ready for the opportunity."
For the Giants, the World Series begins against the Royals on Tuesday with Game 1 (4:30 p.m. PT on FOX and the first pitch at 5:07 p.m. PT).
Lincecum has not pitched since Sept. 28, when he notched two scoreless innings of relief at home against the Padres on the final day of the regular season.
This is a guy who has won two National League Cy Young Awards and pitched two no-hitters. He's a guy who is 5-2 with a 2.47 ERA in 12 postseason appearances -- six starts -- since the Giants began going to the playoffs in 2010, winning the World Series that year and again in '12. They are on a roll of winning eight postseason series in a row, plus this year's NL Wild Card Game in Pittsburgh.
Lincecum won 12 games this year, one of them a no-hitter, and earned $17 million. The Giants are on the hook for $18 million more in 2015. They have no intention of casting him aside.
"We'll get through this," general manager Brian Sabean said. "Then we'll figure it out."
They also had no intention of giving Lincecum the Barry Zito treatment of 2010: leaving him off the roster for the World Series. Zito was grounded for all three rounds that year.
"There was never any thought of not having him on this roster," manager Bruce Bochy said on Monday. "Not just having him on the roster, but the fact that he could help us at some point."
The real question is where? The World Series rotation of Madison Bumgarner, Jake Peavy, Tim Hudson and Ryan Vogelsong is set. Lincecum hasn't made a start since Aug. 23. When Bochy has needed a starter to pitch long relief during the postseason, he has turned to Yusmeiro Petit, who responded with nine innings of scoreless, two-hit relief in two lights-out appearances -- one each against Washington and St. Louis.
Lincecum has weathered it all, although he seemed forlorn standing with his girlfriend outside the on-field celebration on Thursday night at AT&T Park after Travis Ishikawa hit the three-run, walk-off homer that eliminated the Cardinals and won the third NL pennant for the Giants in the past five years.
Lincecum's teammates have noticed and tried to act as a support system.
"Yeah, everybody on this team honestly is like family," said Bumgarner, Tuesday night's Game 1 starter for the Giants against Kansas City's James Shields. "Anytime anybody needs anything, everybody's there for them. He's one of the best teammates I've ever had and it's a pleasure to play with him every day. He's been a huge part of our success. He's in a tough spot having not pitched in so long, but I know when the time comes he'll be ready. So I'm not worried about it."
To that end, Lincecum has tried to stay ready. He threw a bullpen session on Sunday during a Giants evening workout session at Kauffman Stadium and felt good about it afterwards.
"It's always nice to get back out there on that mound when I haven't been out there too much," Lincecum said. "You just try to keep the tools tuned, and that's what I'm trying to do out there. It's easy for me to stay focused because of the moment. Because of where we are right now, there are so much heightened expectations. You just never want to be the guy who's not prepared when you're called on. That's just my perspective on it."
Certainly, there's no guarantee Lincecum will pitch anytime in the best-of-seven series. Prior to both the NL Division Series and the NL Championship Series, Bochy said he'd try to use Lincecum if the situation arose. It didn't.
On Monday, Bochy lamented that reality.
"I feel bad for him, the fact that he didn't get to pitch against Washington or St. Louis, because I think a lot of Timmy," said Bochy, who has been managing the Giants since 2007 after 12 years doing the same for the Padres. "He's been with me since I've been here."
The Giants believe there are so many moving parts to Lincecum's motion that if he's not completely in sync, he has no feel for the strike zone. Couple that with his diminished velocity. When hitters sit on Lincecum's fastball up in the zone, it's a recipe for failure. One veteran batting coach said he simply tells his hitters to "wait him out." But when he's right, there's no pitcher who's better.
So what's a manager to do?
"As far as Timmy, he took a good bullpen [session] yesterday, so I don't know," Bochy responded. "I can't answer that, but we need to have him ready, because you don't know what's going to happen in this game. We played 18 innings in Washington, and he was getting ready to come into the game. He's ready to go, and he's healthy. So it's an old adage with all these guys -- it's all hands on deck, and he's one of them."
Barry M. Bloom is a national reporter for MLB.com and writes an MLBlog, Boomskie on Baseball. This story was not subject to the approval of Major League Baseball or its clubs.