MadBum brings unique delivery, experience for Giants in Game 1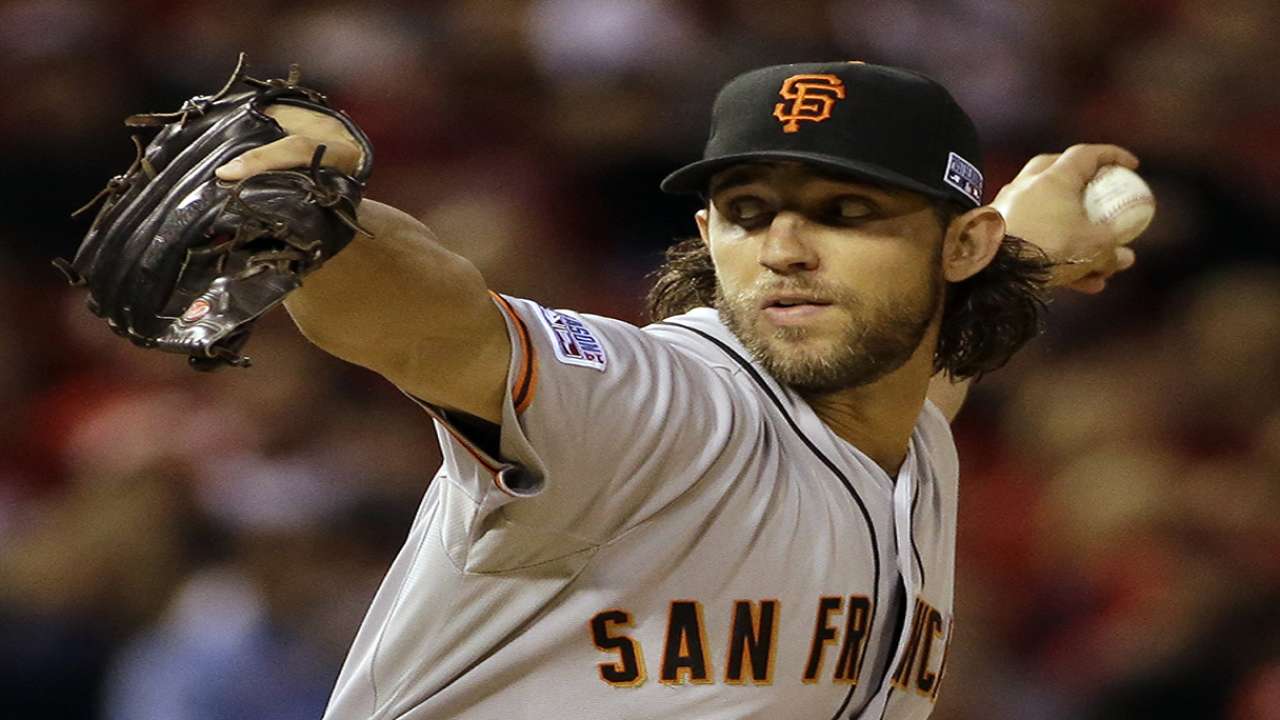 KANSAS CITY -- At first glance, Madison Bumgarner's delivery is an impossibility. It begins conventionally enough, with just the slightest twist of his torso away from home plate. But as Bumgarner transfers his weight from his left foot to his right, he swings the baseball oddly behind his head, swooping his arm down and releasing it at an extreme left-handed angle. The first time same-sided hitters catch a good look at the baseball, it appears to be hurtling toward the plate from behind them. Right-handers see the ball barreling in on their hands.
In full speed, it looks like mechanical anarchy -- a mess of arms and legs and impractical angles. Yet there is order to it. There is a foundation. There is regulation. When Bumgarner starts Game 1 of the World Series on Tuesday (4:30 p.m. PT on FOX, 5:07 p.m. PT first pitch), he will showcase one of the game's most unconventional deliveries, which he spent the past decade crafting into one of baseball's best.
"It just works for him," Royals pitching coach Dave Eiland said.
It works because Bumgarner has fine-tuned what was once a fast-paced delivery into an almost lethargic assault of the plate. As a prospect, Bumgarner possessed many of the same tools he has now, at age 25, but he struck out fewer batters and walked more of them. Like most young pitchers, his command suffered when he could not repeat his delivery.
The breakthrough came when Bumgarner learned to slow his mechanics without smoothing their unorthodoxy. He now brings the ball back far behind his head and almost pauses there, tempting opposing hitters to sneak a peek at his grip. Then he reverses action and delivers his pitches with what Royals hitter Billy Butler called "tremendous crossfire," creating an angle unique enough to befuddle most hitters -- with velocity difficult to anticipate from such a slow mechanical unfolding.
"It's a different angle than most guys use for sure," Giants pitching coach Dave Righetti said. "He's slowed his delivery down. He's very much under control."
The results have been plain to see. Bumgarner is coming off a fourth consecutive standout season and a second straight elite one. In the regular season, he pitched to an 18-10 record and 2.98 ERA over 33 starts, setting career highs in innings, strikeouts and strikeout rate -- and a career best in walk rate.
In October, Bumgarner has only improved. The left-hander has already pitched four times this month, including a four-hitter against the Pirates in the Wild Card Game. He is 2-1 with a 1.42 ERA, holding opposing batters to a .212 on-base percentage.
"Like all players, they get better," Giants manager Bruce Bochy said. "They work hard at trying to improve as a player. You never arrive as a player. That's what we try to remind these guys so you never stop trying to improve. Madison has done that."
"He's definitely a tough matchup," Butler said. "You just don't see it every day."
In some ways, Bumgarner's deception runs beyond arm action or mechanics. Hailing from Hickory, N.C., a rural patch of land sandwiched between the Blue Ridge Mountains and Tobacco Road, Bumgarner speaks with a drawl and talks slowly. He does not reveal much of himself when he does.
But Bumgarner is a voracious student of all things baseball. As a child, he watched Randy Johnson pitch on television and shaped his left-handed delivery after him. After arriving at South Caldwell High School as a "tall, lanky kid," according to his coach at the time, Jeff Parham, Bumgarner poured hours into the weight room.
"He ended up becoming such a beast," Parham said. "He was like a man among boys. By his junior year, the size he had was just so impressive. His demeanor, the way he handled himself on the mound, he was like a professional."
Now a bona fide pro, Bumgarner is still doing the same types of things, picking up tips from other pitchers he admires. Studying Jon Lester, Bumgarner learned to use all quadrants of the strike zone, helping him neutralize right-handed hitters despite his open delivery. When Bumgarner struggled to control the running game, he modeled his slide step after Clayton Kershaw's.
Bumgarner does not watch much video leading up to starts, trusting his own strengths over others' weaknesses. He spends his early innings gauging hitters' reactions, then alters his style if necessary. That is partially how, in National League Championship Series Game 5, Bumgarner retired 13 in a row after giving up three runs on five hits in his first 3 2/3 innings.
"I just get myself prepared and ready to go out and make pitches, and try to read the situation and make adjustments when I need to," Bumgarner said. "I don't want to have one game plan, and be stuck in that game plan if it's not working."
Rarely these days does that happen. Rarely does Bumgarner falter. And if the Giants are to win their third World Series in five years, giving Bumgarner three rings before his 26th birthday, they will need their NLCS MVP to be at his twisting, swooping, cross-firing best.
"He thinks and believes he's the best on the field when he's out there," teammate Tim Hudson said. "And any great pitcher throughout the history of the game, when they take that mound, they've got to believe the other team doesn't have a chance in heck to beat them. He's one of those guys."
Anthony DiComo is a reporter for MLB.com. Follow him on Twitter @AnthonyDicomo. This story was not subject to the approval of Major League Baseball or its clubs.