MLB.com Columnist
Anthony Castrovince
Crucial Giants-Royals World Series matchups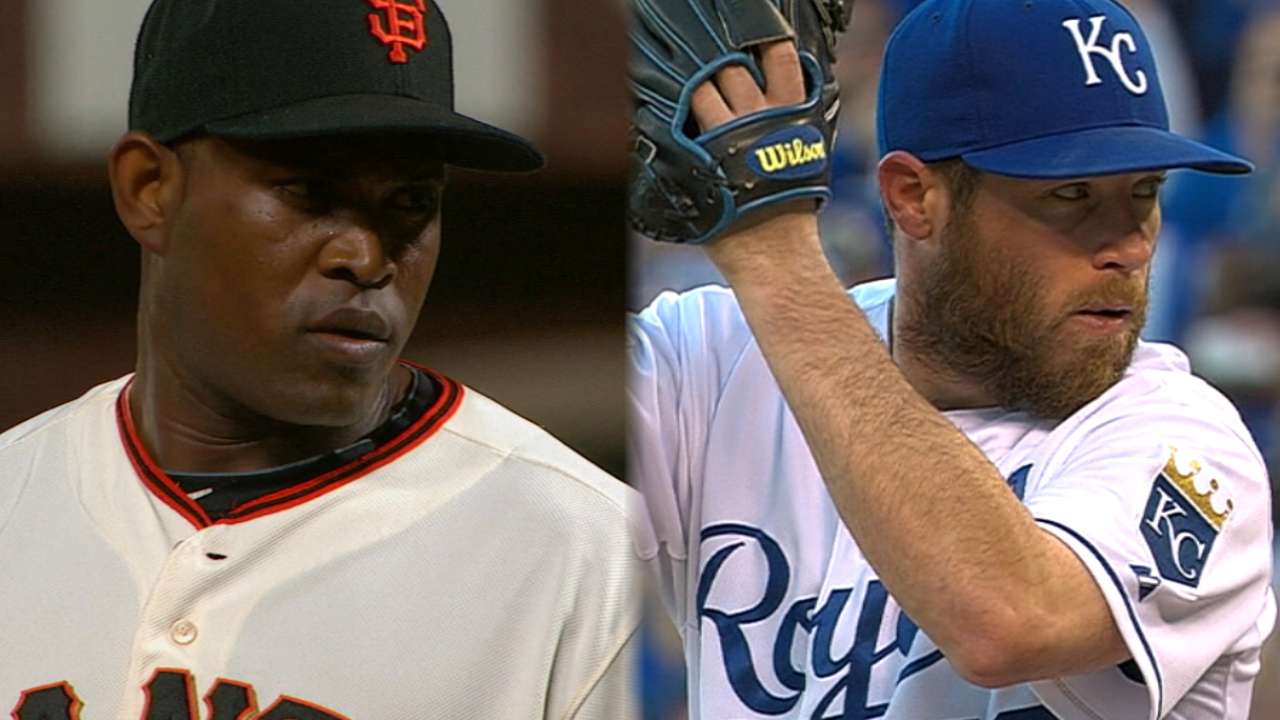 KANSAS CITY -- The fruitlessness of speculation at this stage is well-established by these Royals and Giants. Not only have they beaten the odds by becoming the first two Wild Card teams of the Wild Card Game era to advance to the World Series, but they've done it in dominant fashion, with a combined postseason record of 16-2, the best ever for two World Series participants.
It's doubtful any written word can properly prepare us for what's ahead in this World Series, but as these two Wild Card clubs begin battle at 8:07 p.m. ET (air time is at 7:30 p.m.) Tuesday at Kauffman Stadium and on FOX, some of us can't help ourselves. Here's an attempt (likely in vain) to pinpoint 10 matchups that could decide this Series.
1. The Royals' bullish bullpen vs. the Giants' bats.
There is no single separator in this or any postseason series to date than that back end of the Royals' bullpen. We really haven't seen anything like it on this stage in a generation (the 1990 Reds "Nasty Boys" are a popular comparison). And considering that starters not named Madison Bumgarner haven't exactly gone deep into games with great frequency this postseason, the Royals' bullpen strength should continue to be a key factor going forward.
In the ALCS round, Royals right-handers Kelvin Herrera, Wade Davis and Greg Holland retired 44 of 54 batters, striking out 15 and posting a 0.61 ERA. That's as dominant as you can get at this stage of the game. And the presence of lefty Brandon Finnegan -- the first player ever to participate in the College World Series and the real World Series in the same year -- has only added depth and matchup possibilities for manager Ned Yost, who has called upon his 'pen for 32 percent of the Royals' postseason innings pitched so far.
The Giants have to pounce on these guys in fastball counts. Or else just root for mistakes that, to date, have been few and far between.
2. The Giants' underrated relief corps vs. the Royals' bats.
Hey, let's not focus completely on the Royals relievers and sell that San Francisco bullpen short. It does have a 1.83 ERA this postseason, after all.
In such a volatile area in a volatile game, it's amazing that Santiago Casilla, Sergio Romo, Jeremy Affeldt and Javier Lopez remain the bullpen linchpins they were for the Giants in the 2010 and 2012 postseason. This 2014 club is probably even more reliant on the 'pen than those previous two NL championship squads were, and that's why the late-inning matchups are so essential.
Here's where it gets really interesting: Affeldt is currently in the midst of 18 straight postseason appearances without a run allowed. That dates all the way back to '10. Lopez, meanwhile, has allowed just three hits and one run in 10 1/3 innings of postseason play with the Giants.
These are important points for the simple reason that three of the prime pieces in the Royals' lineup -- Eric Hosmer, Mike Moustakas and Alex Gordon -- are left-handed. The Giants have the tools to suppress those guys late in games.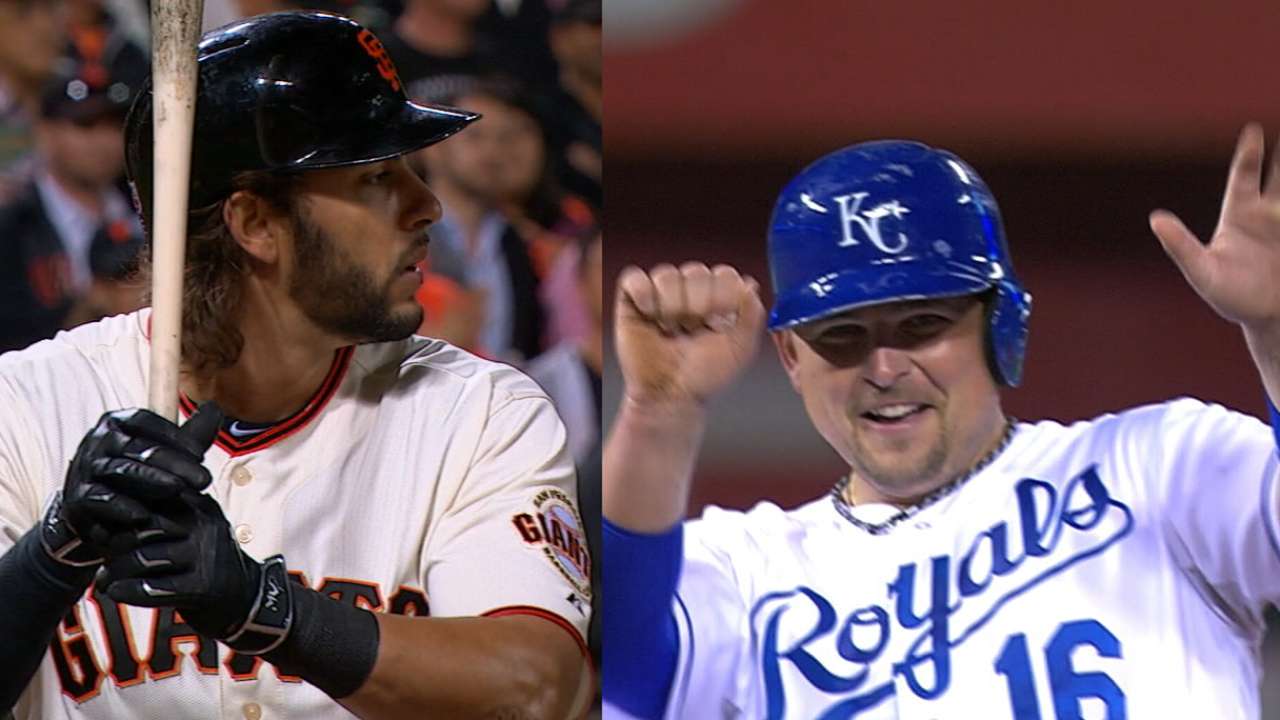 • Lineup differences between clubs
3. Billy Butler vs. Bumgarner.
As mentioned, Bumgarner, the NLCS MVP, is the only starter from either of these two teams whose postseason performance, in terms of dominating deep into games (he's gone at least seven innings in all four starts, and he has a 1.42 ERA and .170 average against), has truly stood out. It is imperative that the Royals get to him in Game 1, and doing so will be difficult given the aforementioned reliance on lefties and the fact that Bumgarner held lefties to just a .539 OPS (and one homer) this season.
So the time has definitely come for Butler to step up on the postseason stage. He was vital to this lineup when the Royals got hot in August and that might have to be the case again in Game 1.
This postseason, Butler is just 6-for-27 (.222), but he hit .321 against lefties during the regular season, and he's 2-for-3 with a homer and three RBIs against Bumgarner. Also of note, Butler is 14-for-33 with three homers, three walks and eight RBIs off Game 2 starter Jake Peavy. Perhaps Butler can rediscover those successes and ignite the Royals offense at home, before he is relegated to pinch-hitting duties in San Francisco.
4. James Shields vs. his nickname.
Not to totally harp on Game 1, but, seriously, Game 1 is huge. In the last 25 World Series, the winner of Game 1 has gone on to claim the crown 21 times. So this would be an awfully good time for "Big Game" James to prove his nickname is as much reason as rhyme.
That hasn't happened this postseason. Shields has allowed 10 runs in 16 innings, with three homers and five walks. Maybe he's gassed (he's thrown 3,915 pitches this calendar year, by far the most in the Majors), or maybe this stage doesn't suit him. Whatever the case, Shields needs to shake off recent history and be the tone-setter he's been for this rotation the last two years.
"I'm a big believer in amnesia," he said.
Yes, the Royals have a deep and devastating bullpen. But that bullpen has the potential to be over-exerted going forward, as Yordano Ventura showed diminished velocity and battled shoulder tightness in his last start and Jason Vargas and Jeremy Guthrie were both basically five-and-fly guys in the ALCS round. So it would sure help the Royals to get some length out of their ace in a pivotal Game 1.
5. The Giants' arms and positioning vs. the Royals' speed.
For all the attention the Royals' fleet feet deservedly received in advance of the ALCS, they managed just one steal in three attempts against the Orioles.
It wasn't just the O's pitchers living up to their reputation of being quick to the plate or Caleb Joseph's accurate arm behind the plate. It was also the unique positioning of first baseman Steve Pearce, who would set up some five feet from the bag while "holding" the runner, then scamper back to the bag for either a pickoff attempt or a basic deke job. It was weird, but it worked.
As one scout on hand said, "If I had to tell the Giants one thing about the running game, it's to go through the games and watch what Steve Pearce did."
So Brandon Belt could have as much of an impact here as Buster Posey. But for the record, Posey threw out 29.8 percent of opposing baserunners this season, which was not an elite percentage. And in this postseason, runners have successfully stolen on Posey three times in four attempts.
The onus is also on the Giants' pitchers to be quick to the plate. In the regular season, Peavy (one steal in four attempts while with San Francisco) and Bumgarner (seven steals in 17 attempts) were effective at guarding against the run, while runners were much more effective against Ryan Vogelsong (12 in 18 attempts), Tim Lincecum (22 in 28), Yusmeiro Petit (15 in 19) and Tim Hudson (15 in 18).
6. Giants pitchers vs. the "pound the strike zone" mindset.
Per FanGraphs.com, only the Nationals (63.3) had a higher first-pitch strike percentage than the Giants (62.8) this season. Ordinarily, that ability to pound the zone and establish yourself early in the count is considered a good thing. But against a team like the Royals, who finished second in the Majors in contact percentage, the Giants might have to rethink this strategy. The Royals are not a team prone to swinging and missing in the zone.
Actually, both of these clubs have done an excellent job of avoiding strike three this postseason. The Giants are averaging 7.05 plate appearances between strikeouts, while the Royals are averaging 5.44. Both marks are above the league average from the regular season. But for the Royals, especially, the put-it-in-play perspective is not a new one, and the Giants would be wise to try to use that against them.
7. The outfielders vs. the dimensions.
Travis Ishikawa's bat propelled the Giants into this World Series in the most dramatic way imaginable. But in Games 1 and 2 at Kauffman Stadium, the converted first baseman's glove could be a focal point.
Kauffman has the largest square footage of any outfield in baseball, and the home club's tendency to put the ball in play will test all of San Francisco's defenders, most notably Ishikawa in left and Hunter Pence in right (Gregor Blanco has filled in admirably for the injured Angel Pagan in center). Bruce Bochy will also have the option of playing Juan Perez in left.
"I don't see any changes right now with how we're going to start the game, and that's Ishi in left field," Bochy said. "But we know we have that option of a guy that's probably a little faster."
And when the Series shifts to San Francisco, Royals outfielders will also be challenged. They can clearly cover a lot of ground (there are times when it seems Lorenzo Cain is capable of simultaneously manning all three spots), but the quirky layout of the outfield wall at AT&T Park will definitely take some getting used to.
8. Royals pitchers vs. the Panda.
Pablo Sandoval is a .325 (41-for-126) career hitter in the postseason, and he's reached base in 23 straight postseason games. Vargas (3-for-9, one walk) and Guthrie (3-for-6, two doubles) are the only two Kansas City pitchers who have faced the Panda more than a few times, and they've both struggled to get him out.
In general, though, the lefties on the Royals -- Vargas, Finnegan, Danny Duffy and Tim Collins -- could all be important weapons in neutralizing the switch-hitting Sandoval. He was 0-for-3 in his only at-bats as a right-handed hitter thus far this postseason, and he hit just .199 from the right-hand side this season.
9. Bochy vs. Yost.
Well, here we go again. Yost -- arguably the most criticized strategist in the game -- matching wits against a skipper with growing Cooperstown credentials. Last round, it was billed as Yost vs. Showalter. How'd that turn out?
Yost simply had the magic touch in the LCS. For instance, in Game 2, when he had Moustakas, his biggest power threat, lay down a sacrifice bunt in a lefty-on-lefty matchup that didn't favor the slugger, that tactic worked out wonderfully, with Moustakas advancing what turned out to be the winning run. And the Royals' bullpen has been so good that Yost has been able to put it on cruise control. Whether it's bunting or sacrificing their bodies to snag an out, the Royals have shown a real unselfishness on this stage that's worked wonders for them, and, anecdotally, Yost has helped instill that in them. So give him a little credit, eh?
That said, Bochy is the one who has been there, done that, entering his fourth World Series and gunning for his third win. The aforementioned success and stability of the bullpen is ultimately a credit to him putting the right guys in the right spots without overworking anybody. And the "cockroach" mentality this club has taken on is also a credit to its cunning leader.
So we'll see if either skipper pushes the wrong button at the wrong time. But going in, both of these guys are on a managerial "hot streak," so to speak.
10. Both clubs vs. the "10th man" element.
The pent-up frustration of a 29-year playoff drought has come roaring out of the mouths of Royals fans this October. They have created one of the loudest home environments in baseball during this postseason run. AT&T Park, meanwhile, has long been able to boast that trait.
So it will be interesting to see if either club gets rattled on the road. One would think this might be the one area in which the Royals' relative inexperience compared to the Giants might come into play. But they sure didn't look rattled in Angel Stadium or Camden Yards, did they?
Anthony Castrovince is a reporter for MLB.com. Read his columns and follow him on Twitter at @Castrovince. This story was not subject to the approval of Major League Baseball or its clubs.