Texas' Williams hits big homer in Fall League action
Prospect enters game in third inning, belts a two-run jack to pad lead for Surprise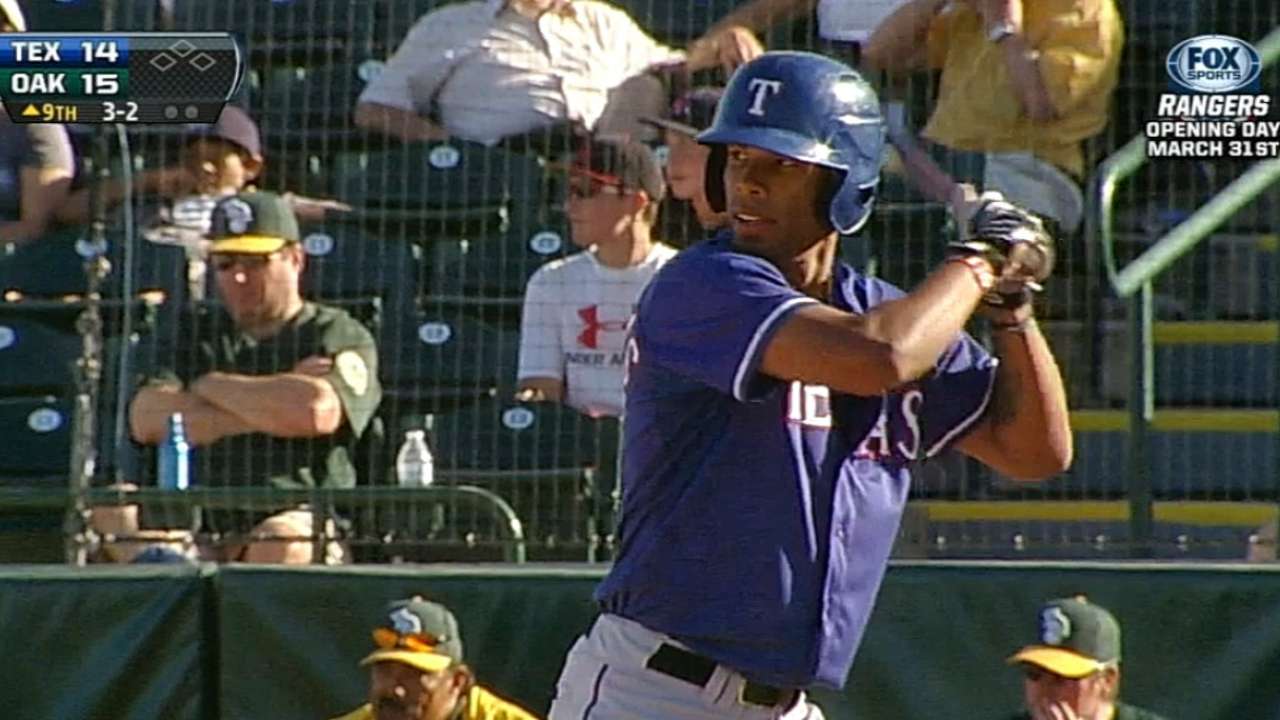 MESA, AZ. -- Nick Williams didn't expect to play Monday, but that didn't stop him from coming through with the game's big hit. Williams, the Rangers No. 4 prospect, made his entrance as an injury replacement in the third inning and later drilled a two-run home run to lead the Surprise Saguaros to a 6-5 win over the Mesa Solar Sox.
Williams, a former second-round draftee in the Texas Rangers' organization, progressed all the way to the Double-A Texas League this season before coming out to the Arizona Fall League for extra work. His homer was his first of the AFL campaign, and he's batting .300 through his first 10 games.
"It's going good," said Williams of his time spent with the Saguaros. "At first, I remember feeling like … you'll probably play two or three games, come play in the sand. But I've been playing every day. I've been enjoying it on and off the field. I've been with a great group of guys. Our team is awesome. And yeah, it feels a lot better actually, playing every day, playing top talent, because it's a lot of learning."
Williams hit .292 with 13 home runs in 94 games for Class A Myrtle Beach this season, but he struggled after a late-season promotion to Double-A Frisco. The 21-year-old hit just .226 with one home run in 15 games for Frisco, but he persevered despite being one of the youngest players in the league.
Monday was supposed to be a day off for Williams, but he was inserted into the game after starter Rusney Castillo injured his thumb. Williams doubled in his first at-bat and scored to help give Surprise a 4-3 lead after five innings, and he came back in the sixth to blast a two-run shot to left field.
"That was the second time this has happened, and it caught me off-guard," he said of entering the game late. "So I was like, 'Well I'm just going to take a deep breath and be patient and find my pitch.' "
Mesa took the game's first lead with two runs in the first inning, but Surprise battled back to make it a 2-2 game in the second. Mesa scored once more in the second to take the lead, but Surprise starter Keith Couch worked through the fourth inning and earned the victory due to Williams' heroics.
Burch Smith pitched a scoreless inning for Surprise, and Cincinnati signee Raisel Iglesias made his debut stateside with a perfect sixth inning in relief. Iglesias signed out of Cuba during the summer. Carlos Gonzalez got the save but also allowed a run to Mesa in the ninth inning of the win.
Sean Nolin started for Mesa, working two innings and allowing two runs. Mesa reliever Roberto Osuna pitched two innings and took the loss after surrendering two runs in the fourth. The Solar Sox pushed the potential tying run to second base in the ninth, but that runner was picked off to end the game.
Williams said he's working on recognizing and hitting off-speed pitches in the Arizona Fall League, and he said that his home run felt good for one simple reason. Williams has hit the ball well this fall, but he had yet to go deep, and he said Monday that it meant a lot to finally hit one out.
"I was like, 'Geez, I keep hitting the fence and the warning track,' " he said. "I was like, 'I wonder if I'm finally going to get one out this go-round.' But yeah, it feels good to get that first one out of the way."
Surprise improved to 6-6, and Mesa fell to 5-6. Williams, a Texas native and left-handed hitter, said his AFL season is a capper to a pretty productive year.
"Yeah, I'm pretty pleased with it. It went all right," Williams said of his season. "But a lot to improve on as far as simple things. But yeah, as far as the whole year, I think it went pretty good."
Spencer Fordin is a reporter for MLB.com This story was not subject to the approval of Major League Baseball or its clubs.