Tale of the tape: Giants-Royals, Game 1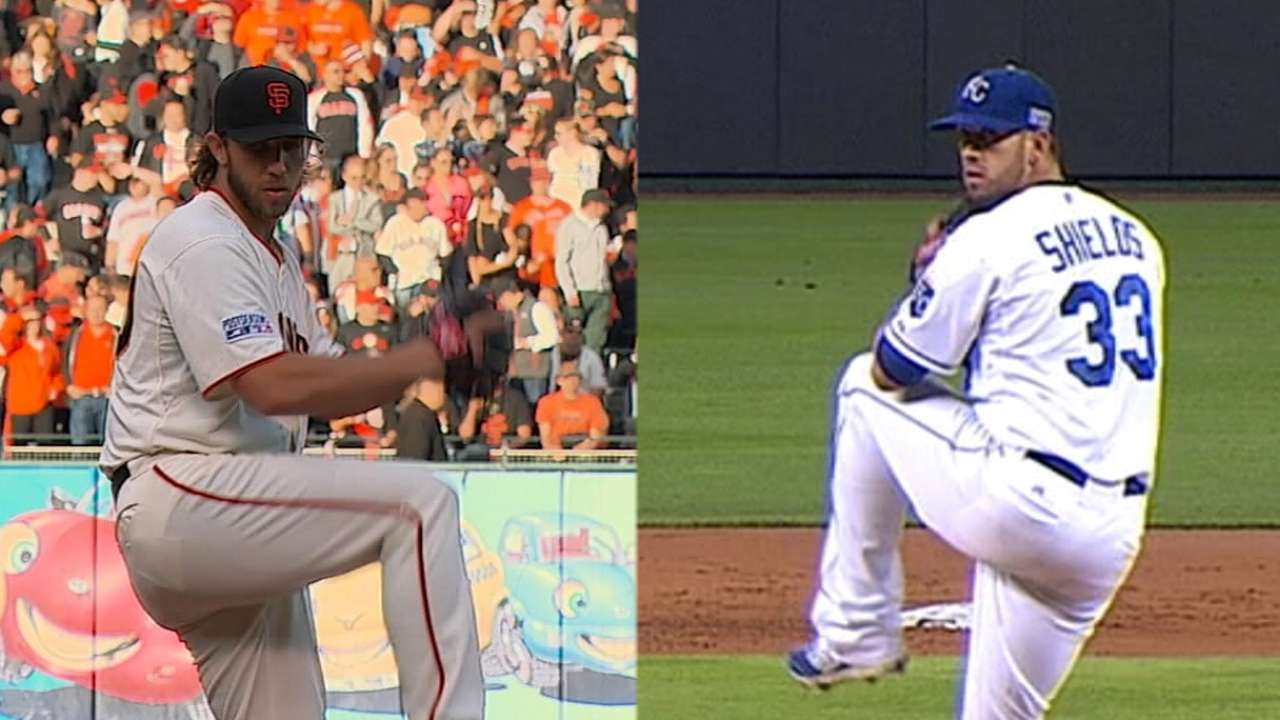 Madison Bumgarner
Against the Royals
2014: 1 GS, 0-1, 3.38 ERA
Career: 1 GS, 0-1, 3.38 ERA
Loves to face: Nori Aoki (0-for-13), Alcides Escobar (1-for-6, 2 K)
Hates to face: Billy Butler, 2-for-3, HR, 3 RBIs
Game breakdown
Why he'll win: Because all he's done is win this postseason. In his four October starts, Bumgarner owns a 1.42 ERA, a .212 opponents' average and a strikeouts-to-walks ratio of 28-to-5. The Giants have won three of his four starts, including Game 5 of the National League Championship Series that sealed series MVP Award honors for Bumgarner and punched San Francisco's World Series ticket.
Pitcher beware: If the Royals are going to get to Bumgarner, they should do it early. In his 33 regular-season starts, he surrendered 41 hits and 21 runs in the first inning, most of any frame.
Bottom line: Bumgarner retired the final 13 Cardinals batters he faced in the NLCS, and there's no reason he shouldn't similarly stifle the Royals. He is a true ace.
James Shields
Against the Giants
2014: 1 GS 1-0, 0.00 ERA
Career: 1 GS, 1-0, 0.00 ERA
Loves to face: Hunter Pence (0-for-11, 3 K)
Gregor Blanco: 4-for-7, 3B, 3 RBIs
Game breakdown
Why he'll win: Because he's done it before, working a four-hit shutout at Kauffman Stadium opposite Tim Hudson on Aug. 9 for a 5-0 Royals win. Shields surrendered only one hit over the final five innings of that game and struck out Pablo Sandoval to end it.
Pitcher beware: Shields has never exactly earned the "Big Game James" moniker bestowed upon him in the Rays' Minor League chain, going 3-4 with a 5.19 ERA in his first nine career postseason starts, including a 5.63 ERA in his three starts this year.
Bottom line: Positioned for a pair of starts opposite Bumgarner, this would be a very good time for Shields to earn his nickname.
Adam McCalvy is a reporter for MLB.com. Read his blog, Brew Beat, and follow him on Twitter at @AdamMcCalvy. This story was not subject to the approval of Major League Baseball or its clubs.