Finnegan set for World Series after college run
Experience at TCU earlier in year prepared rookie southpaw for big stage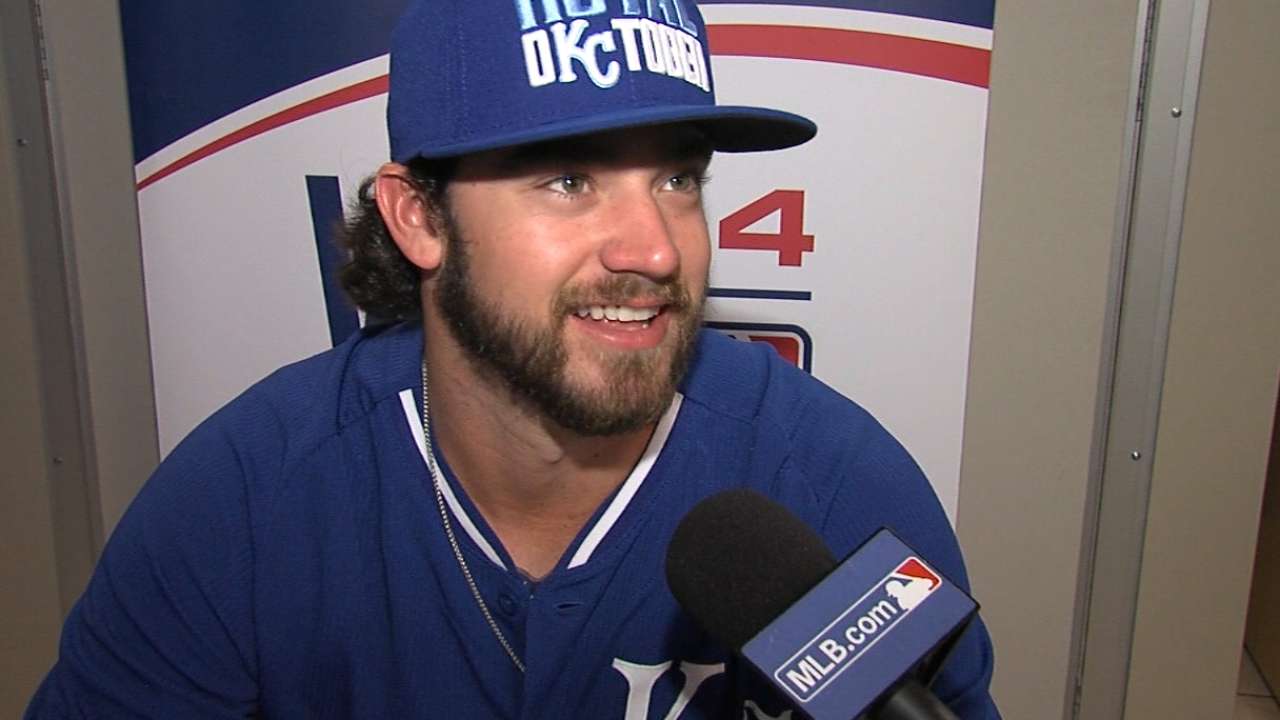 KANSAS CITY -- Sitting in his criminal justice classes four months ago at Texas Christian University, Brandon Finnegan could not wait to be done with college so he could go play professional baseball.
The Horned Frogs were poised to make a postseason run and Finnegan was set to become a first-round Draft pick. But he barely could have imagined what was in store for him -- "a whirlwind" he called it -- during the next couple of months.
TCU made it to the College World Series. He was drafted 17th overall by the Royals in June's First-year Player Draft. And then the Royals promoted him to the main roster in September. If he appears in a game during this World Series, he will become the first player to play in both the College World Series and World Series in the same year.
"I'm living two kids' dream in one year," he said.
Finnegan tossed eight innings and allowed one unearned run in TCU's 3-2 loss to Virginia in 15 innings on June 17 in Omaha. Two days later, the Horned Frogs lost 6-4 to Mississippi and were eliminated
He started his professional career at Class A Wilmington, where he went 0-1 with a 0.60 ERA in five starts. The Royals liked what they saw and promoted him to Double-A Northwest Arkansas and put him in the bullpen with hopes that he could move quickly. In eight appearances, he posted a 2.25 ERA and 13 in 12 innings. On Sept. 1 came the call to the big leagues as a September callup. He did not disappoint, with a 1.29 ERA and 10 strikeouts in seven innings.
The Royals have a secret weapon, one they unleashed this postseason. The apparently unflappable Finnegan has emerged as the fourth option in Kansas City's dominant bullpen -- behind the trio of Greg Holland, Wade Davis and Kelvin Herrera -- with a record of 1-0 and a 4.15 ERA in five appearances.
Finnegan seems to be enjoying the ride, especially when he walks around town and people recognize him. He said every time a fan has stopped him for a picture, he has happily obliged.
"It's cool. I'm 21. I wasn't expecting that to happen this quick, but it's awesome," Finnegan said. "Still the same old Brandon I was before I got called up, just grinding through the season trying to win a World Series."
TCU's run in the College World Series lasted just three games. Finnegan believes that experience has helped him get through the postseason and can help going forward.
"The difference is, in the World Series for college they're not there for one team, they're there just to watch," Finnegan said of the fans. "Here, they're there for one team and one team only."
Finnegan still keeps in touch with his teammates from TCU, regularly exchanging text messages and conversations across social media.
His friends have spotted people wearing Royals jerseys around the TCU campus in Fort Worth, many with Finnegan on the back of it. His former teammates have gathered around to watch each Royals' playoff game eagerly anticipating Finnegan coming in from the bullpen.
"They've been going from the practice field straight to the DVR," Finnegan said.
Back when he was sitting in class, he could not wait to get out and go play baseball. Now he misses college, at least the part he shared with his teammates.
"But I can get used to this," Finnegan said laughing and smiling as he did for most of the day on Monday.
He paused and added: "But I don't want to go 0-2 in the World Series."
Jamal Collier is an associate reporter for MLB.com. This story was not subject to the approval of Major League Baseball or its clubs.